Crew deals Lind to M's for trio of Minor Leaguers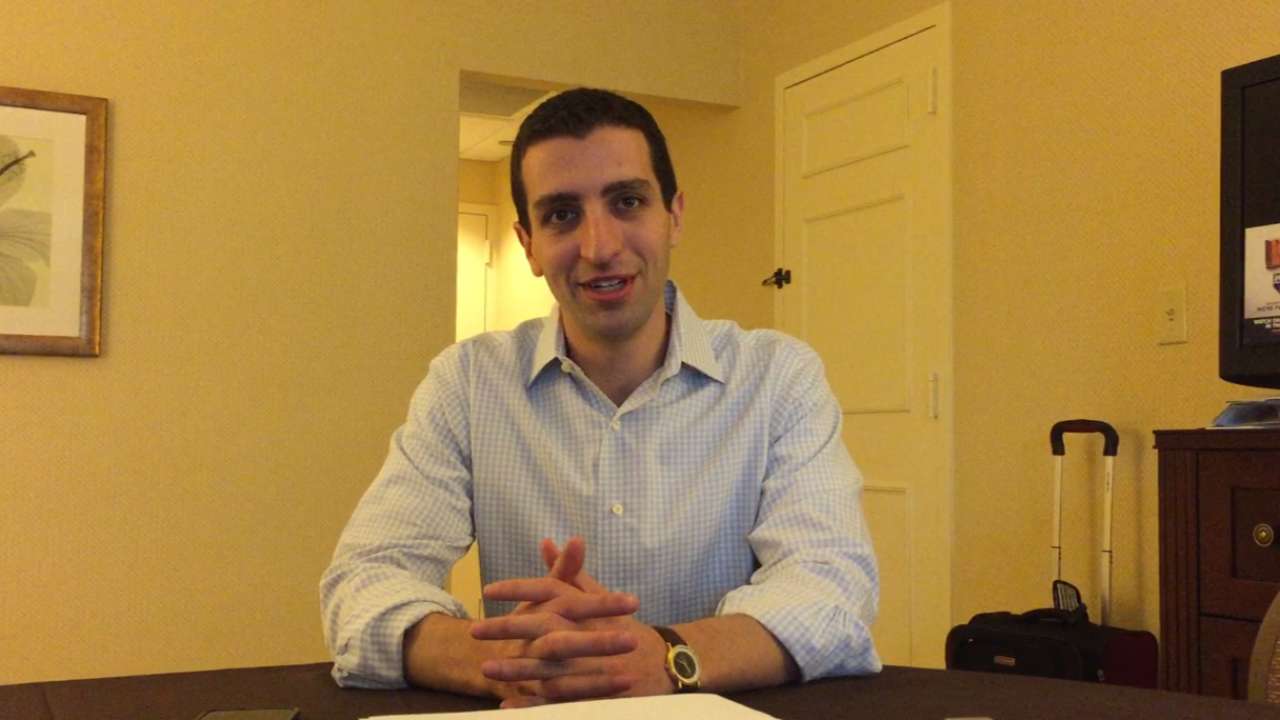 NASHVILLE, Tenn. -- The Brewers' rebuild kept rolling Wednesday, when general manager David Stearns traded first baseman and cleanup hitter Adam Lind to the Mariners for a trio of teenage pitching prospects.
Lind is the eighth Major Leaguer traded away by Milwaukee this year, and the seventh since July. All have fetched younger players in return as part of the Brewers' strategy to reload the farm system. Wednesday's return included players much younger: right-handers Daniel Missaki, Carlos Herrera and Freddy Peralta.
Herrera is 18 and Missaki and Peralta are 19. Missaki is the most advanced of the prospects, going 1-2 with a 3.41 ERA in six starts at Class A Clinton last season before undergoing Tommy John surgery in May. His rehab had advanced to the long-toss stage, and the Brewers anticipate Missaki being ready to pitch soon after the start of the Minor League season.
Peralta could begin his Brewers career at Class A Wisconsin. Herrera will probably head to the Rookie-level Arizona League.
"Whenever you acquire players who are farther away, there is more variability," Stearns said. "In a deal like this, we are really targeting that type of variability to find an impact-type pitcher, even if it is multiple years down the road.
"We had conversations with multiple teams about players at all different levels ... including at the Major League level for Adam Lind, and ultimately we felt like this was the best package of total value that we could get back."
Acquired in a December 2014 trade for pitcher Marco Estrada, Lind hit .277/.360/.460 in his lone season with the Brewers, leading the club with 87 RBIs and ranking third with 20 home runs. Just as notably, he played in 149 games and started 138 times at first base. The 138 starts were a high for Lind, who has a history of back issues, and the most starts for a Brewers first baseman since Prince Fielder departed via free agency following the 2011 season.
The Brewers exercised their $8 million option on Lind with the intent to trade him. Many teams checked in, including six "legitimately interested teams," Stearns said. After exchanging proposals, three of those teams remained engaged to the end.
What separated the Mariners' offer from the others?
"Really, the potential upside that we could get back in the deal," Stearns said. "To get three players back as pitchers, all of whom we like, we felt was a unique opportunity."
Lind was not surprised to be traded.
"I didn't necessarily anticipate this week, but definitely this offseason at some point," he said. "I kind of figured I wasn't going to be back. Today was the first time I had talked to Stearns, and probably the last time. I just figured if he didn't ever call me or reach out, I probably wouldn't be back."
As for heading to Seattle, Lind said, "I always enjoyed playing there. You know, I had a fortunate experience that I got to watch Edwin Encarnacion and Jose Bautista hit for a long time [in Toronto], and now I'll get to watch Nelson Cruz and Robinson Cano hit a lot, and work with [Mariners hitting coach] Edgar Martinez. It will be a good experience for my baseball career."
Lind's departure leaves the Brewers with a hole at first base. One potential replacement is 27-year-old Jason Rogers, a career .290/.372/.466 hitter in the Minor Leagues who has bounced between a variety of positions. He fared well at the plate in 86 games with the Brewers in 2015, hitting .296 with a .367 on-base percentage and 12 extra-base hits in 152 at-bats.
"Jason Rogers proved in limited opportunity last year that he can hit Major League pitching," Stearns said. "He is an option. We are also going to evaluate all external options from both free agency and trade."
Adam McCalvy is a reporter for MLB.com. Follow him on Twitter @AdamMcCalvy, like him on Facebook and listen to his podcast. This story was not subject to the approval of Major League Baseball or its clubs.