MLB.com Columnist
Jonathan Mayo
Braves rebuild in big way with Miller trade
D-backs send No. 1 overall pick Swanson in Winter Meetings blockbuster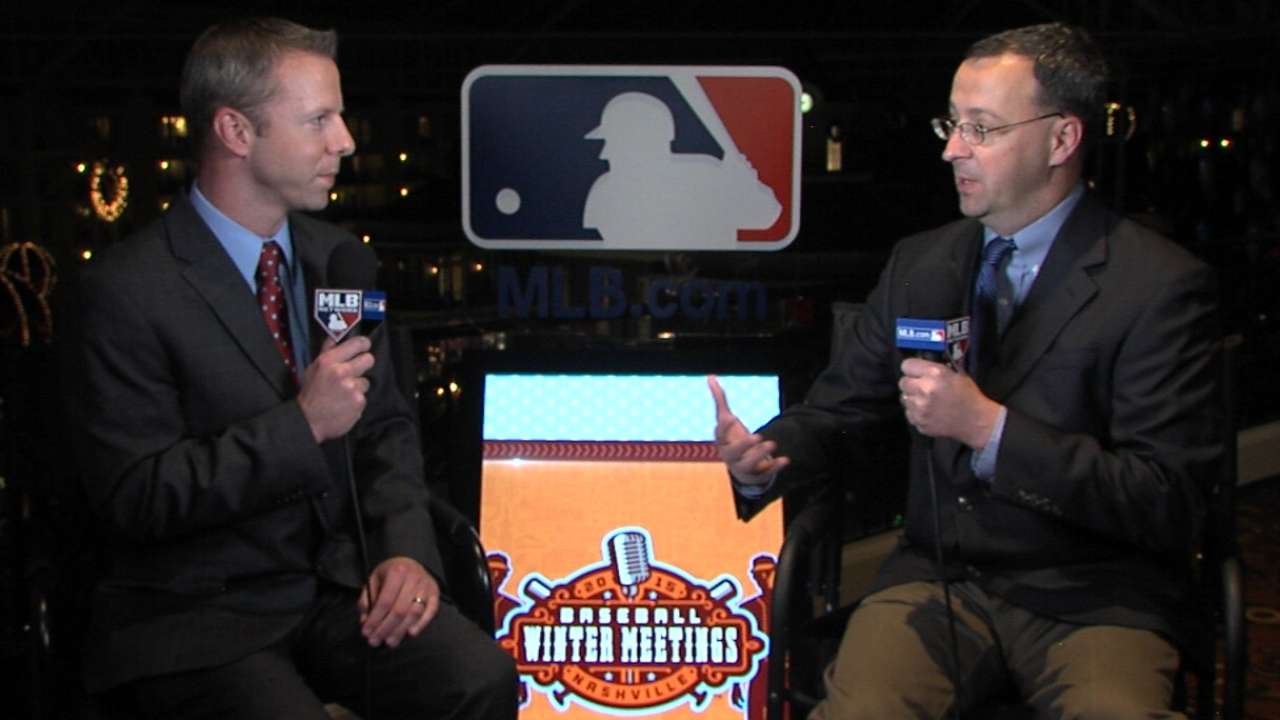 NASHVILLE, Tenn. -- The first blockbuster trade of the 2015 Winter Meetings also included two highly rated prospects and created a little history in the process.
When the Braves sent Shelby Miller (and Minor League lefty Gabe Speier) to the D-backs on Tuesday, they received a trio of players: outfielder Ender Inciarte and top prospects Dansby Swanson and Aaron Blair. Swanson, the No. 1 pick in the 2015 Draft, is ranked No. 10 on MLBPipeline.com's Top 100 list and becomes Atlanta's top prospect. Blair comes in at No. 4, sitting at No. 61 on the Top 100.
A year ago, Swanson would not have been able to be a part of a trade like this, or at least it couldn't be officially announced that he was. At last year's Winter Meetings, the Padres, Rays and Nationals pulled off a three-team deal. It became known fairly quickly that Trea Turner, a 2014 first-round pick by San Diego, was the player to be named later, but rules dictated that members of the most recent Draft class could not be traded until a full year after they were drafted. Turner then played half a season in the Padres' Minor League system before officially moving to his new organization.
The rule was changed so that new draftees could be dealt following that year's World Series, with Logan Allen becoming the first draftee to be dealt, from the Red Sox to the Padres, in the Craig Kimbrel deal. Swanson, obviously, is a much higher-profile trade piece and is just the third No. 1 overall pick to be dealt as a Minor Leaguer by the team that drafted him, joining Adrian Gonzalez, whom the Marlins sent to the Rangers in 2003, and Shawn Abner, who was traded by the Mets to the Padres in 1984.
Keep track of traded prospects
The Vanderbilt product raised his profile considerably during his junior season, moving from second base to shortstop and helping to lead the Commodores back to the College World Series championship for the second year in a row, although this time, they fell short against Virginia. Always thought to be the top college position player in the class, Swanson did two things to raise his profile and make him the clear-cut choice for No. 1 pick.
First, Swanson proved he could stick at shortstop, though he hadn't played there since high school. He has the hands, speed and arm strength to stay there long-term. Secondly, Swanson proved to be a much more dangerous hitter than many anticipated. He's always had a solid approach at the plate, and with his speed, on-base skills and bat control, he looks like a perfect top-of-the-order type hitter. Swanson showed more power than expected and could have Major League average pop -- say, 15-18 homers per year -- when all is said and done.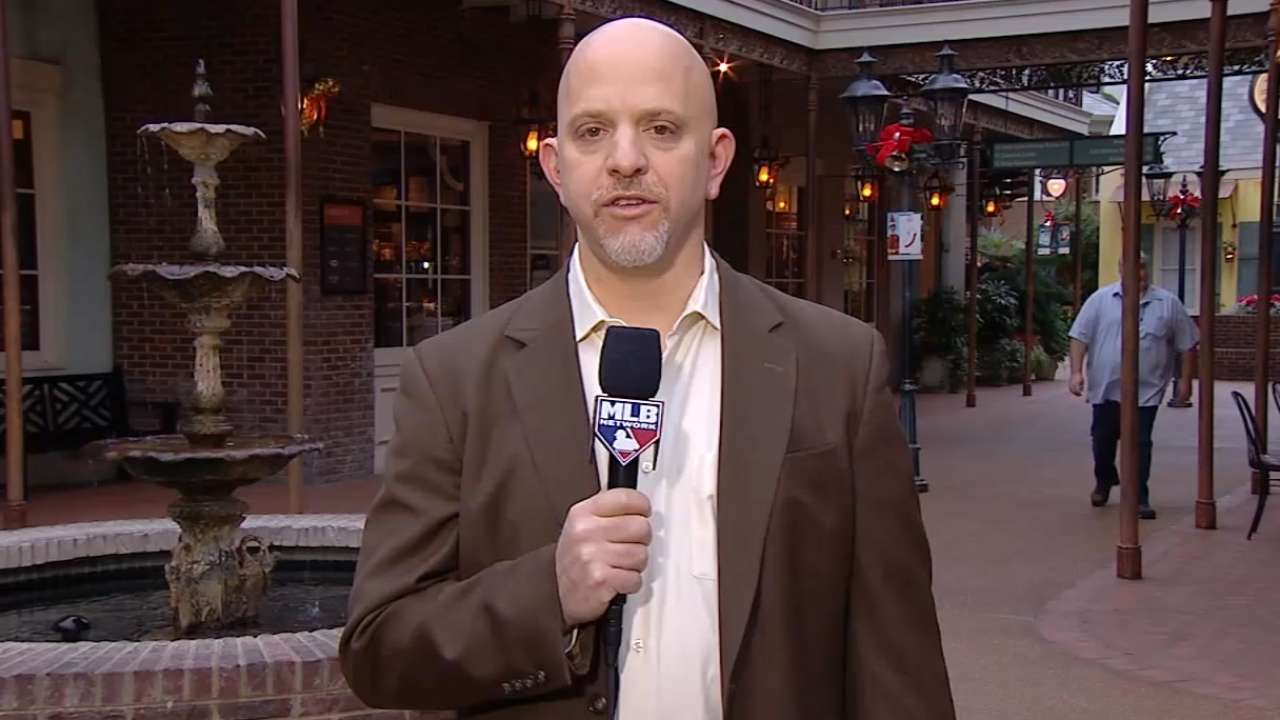 While Swanson's debut after signing for $6.5 million was delayed after he was struck in the head by a Yoan Lopez pitch during a simulated game, that should not slow his progress too much as the ascends the Braves' ladder. Seeing him reach Atlanta by the second half of the 2017 season isn't unreasonable. It's worth noting that the newly acquired Erick Aybar is a free agent after the 2016 season, and the Braves don't have another shortstop who'll be in front of Swanson, although he and Ozzie Albies give Atlanta two of the more exciting up-the-middle prospects in the Minors.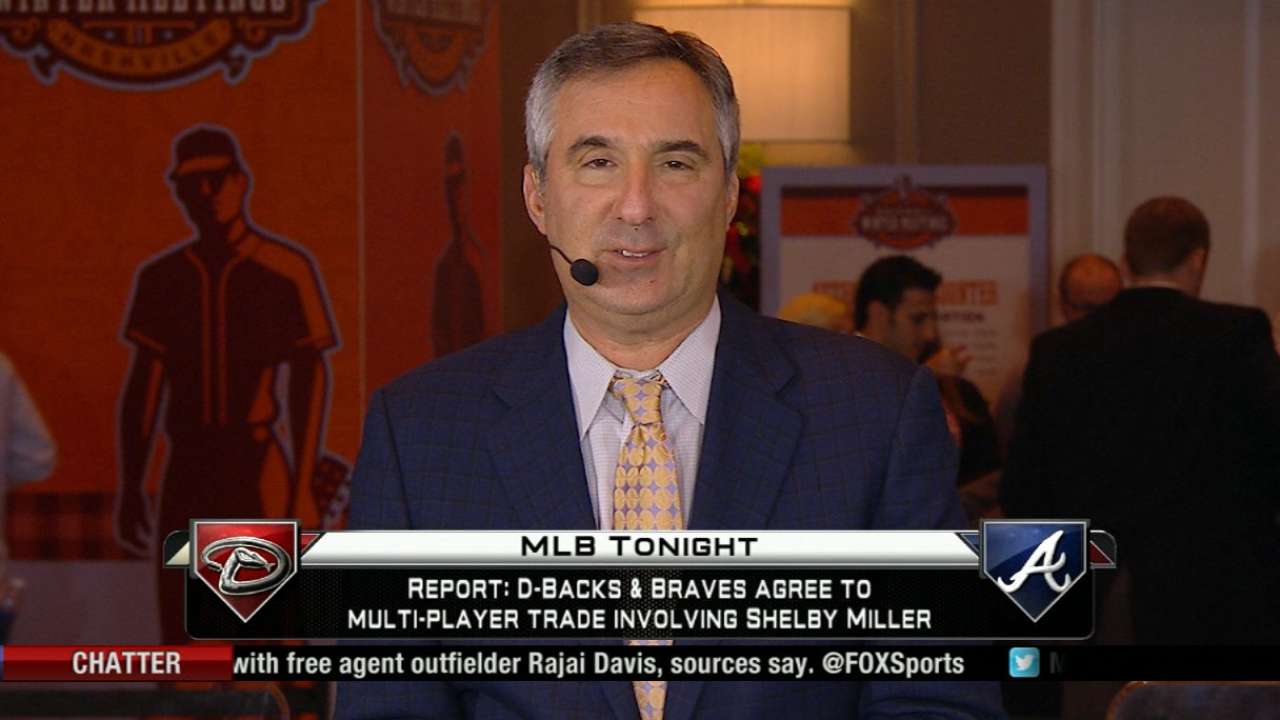 Even though the Braves will have to wait a little while to get to see Swanson in the big leagues, they likely won't have to delay seeing Blair. The D-backs' second selection in the 2013 Draft (No. 36 overall) had moved very quickly through their system, splitting the year between Double-A and Triple-A in just his second full season. In the process, he tied for the organizational lead in wins, finished second in ERA, fourth in strikeouts and fifth in batting average against. Blair compiled those numbers over 160 innings, many of them coming in the hitter-friendly environment of Triple-A Reno.
At 6-foot-5, 230 pounds, Blair fits the bill as a future rotation workhorse, and he's thrown 314 2/3 innings over his first two full seasons of pro ball to back it up. But he's more than just a healthy arm. Blair has a very good three-pitch mix with command of all of them. He'll sit in the low-90s with his fastball, but he can reach back for more. Blair's changeup is his next-best weapon and it's above average, and his breaking ball has improved tremendously as a pro. He throws strikes and gets a good amount of ground-ball outs.
Braves fans trying to figure out who will take Miller's spot in the rotation may not have to look further than this trade. Blair shouldn't be expected to lead the staff, but he will be given every opportunity to win a rotation spot in Spring Training.
Parting with a young, established big league arm isn't easy to do, and the D-backs get good Major League value in the 25-year-old Miller, who is arbitration-eligible for the first time and won't be a free agent until after the 2018 season. But it's hard not to like the high-end value the Braves got for the right-hander. For the second time this offseason, Atlanta used the value of a young, under-control big leaguer to restock the farm system. But while the Braves did get Sean Newcomb and Chris Ellis in the Andrelton Simmons trade with the Angels, they stepped up their game a little bit more in obtaining Swanson and Blair.
Jonathan Mayo is a reporter for MLBPipeline.com and writes a blog, B3. Follow @JonathanMayo on Twitter. This story was not subject to the approval of Major League Baseball or its clubs.