Rays remain in 'listening mode' at Meetings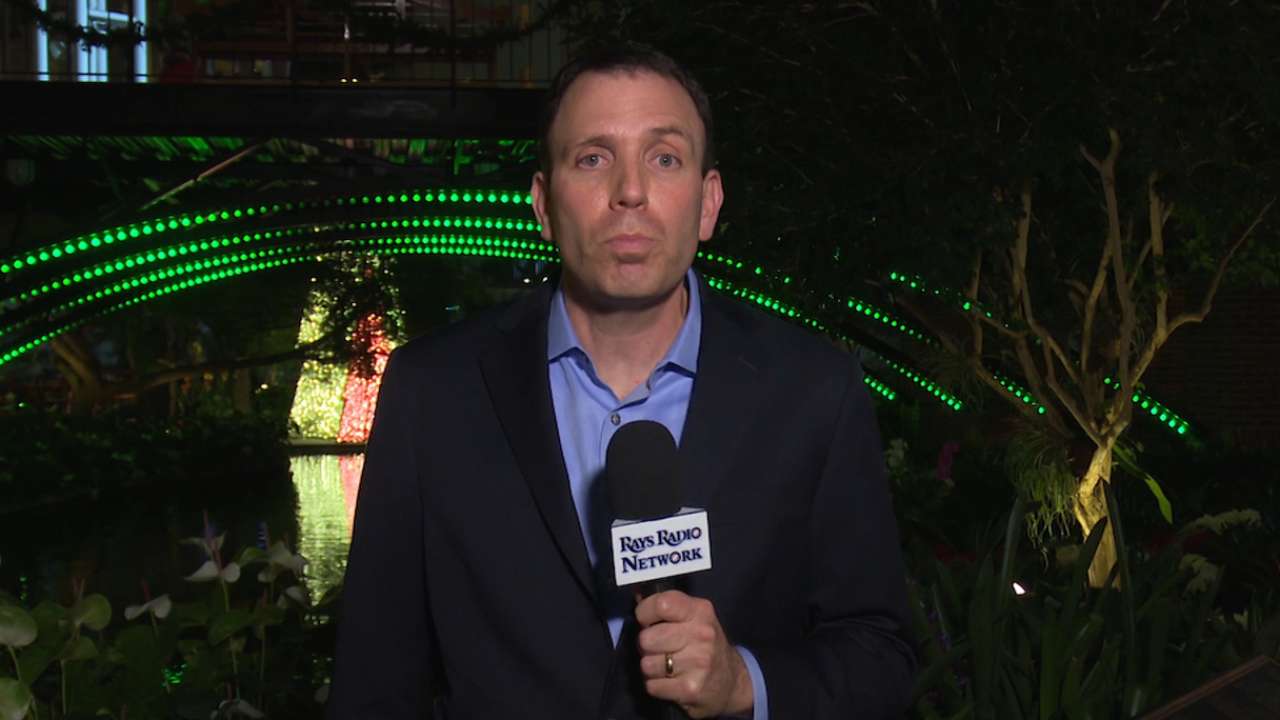 NASHVILLE, Tenn. -- The Rays are in a good position at this year's Winter Meetings. They have players other teams want, but they don't have to make a deal to improve what already appears to be a balanced and flexible club.
Thus they have spent the first two days at the Gaylord Opryland Hotel in more of a "listening mode" according to Erik Neander, vice president of baseball operations, and have felt "no pressure" to make a deal.
"I don't think we came in feeling like we have a lot to do," Neander said. "The team we have, especially in the wake of the Seattle move [last month], is something that going into the season we feel good about -- the quality of the team and the overall functionality of it. So coming into this week, we didn't have expectations to necessarily get something accomplished."
The Rays arrived in Nashville having already experienced a busy offseason, acquiring shortstop Brad Miller, first baseman/outfielder Logan Morrison and right-hander Danny Farquhar in a Nov. 5 trade that sent right-hander Nathan Karns, left-hander C.J. Riefenhauser and Minor League outfielder Boog Powell to the Mariners. They also traded right-hander Kirby Yates to the Indians after he had been designated for assignment. On Wednesday night they acquired catcher Hank Conger from the Astros.
One of Monday's trade rumors had the Rays and Cubs looking to become trade partners in a deal that would have sent infielder Javier Baez to the Rays for a starting pitcher. Right-hander Alex Cobb and left-hander Matt Moore were both mentioned as possible targets.
That rumor appeared to cool on Tuesday.
One thing remains certain, given the climate that has spawned big deals for starting pitchers -- David Price, (seven years for $217 million with the Red Sox) and Zack Greinke (six years, $206.5 million with the D-backs): Doing business grows more difficult for the small-market Rays.
"It's a different shopping aisle," Neander said. "I think it has always been a different shopping aisle. The prices have continued to escalate, and that does make life more difficult. But to the extent that it impacts where we put our focus, I don't think it's a whole lot different, certainly this year, where we have the vast majority of our team under control and we're able to move forward. The challenge is similar. I don't think it really affects our focus in any meaningful way."
On the flip side, baseball's current climate translates to the Rays' stable of young starters being a valued commodity.
"Yeah, I guess relative to the money that's thrown around, potentially, to some extent [the Rays starters have a higher value]," Neander said. "But it's up to other clubs to decide on that. What they think."
To that end, one industry source responded "no doubt" when asked if the Rays starters are more coveted and have more value in the market that now exists.
That group includes Chris Archer, Jake Odorizzi, Drew Smyly, Cobb, Moore, Erasmo Ramirez and Matt Andriese, with prospects Blake Snell and Taylor Guerrieri knocking on the door.
Thus, if any team hopes to pry away a member of that group, it's going to be at the cost of an impact player, at least in theory.
"I think generally speaking, we feel like we have a team that's fairly deep and flexible," Neander said. "I don't think [there's] any one particular area where we're really deficient in a sense, so [upgrades are] more difficult to identify and explore."
Neander allowed that such an impact player could come in the form of a top prospect, too.
"Any time there's an opportunity to acquire impact, we try to at least be mindful of that opportunity and what it would require from us to make it happen," he said.
So the Rays will continue to listen, because they can. They're in a position to drive a hard bargain, or they will simply stand pat.
Bill Chastain is a reporter for MLB.com. This story was not subject to the approval of Major League Baseball or its clubs.