MLB.com Columnist
Lindsay Berra
Selig honored with Roland Hemond Award
Former Commissioner recognized for contributions to the game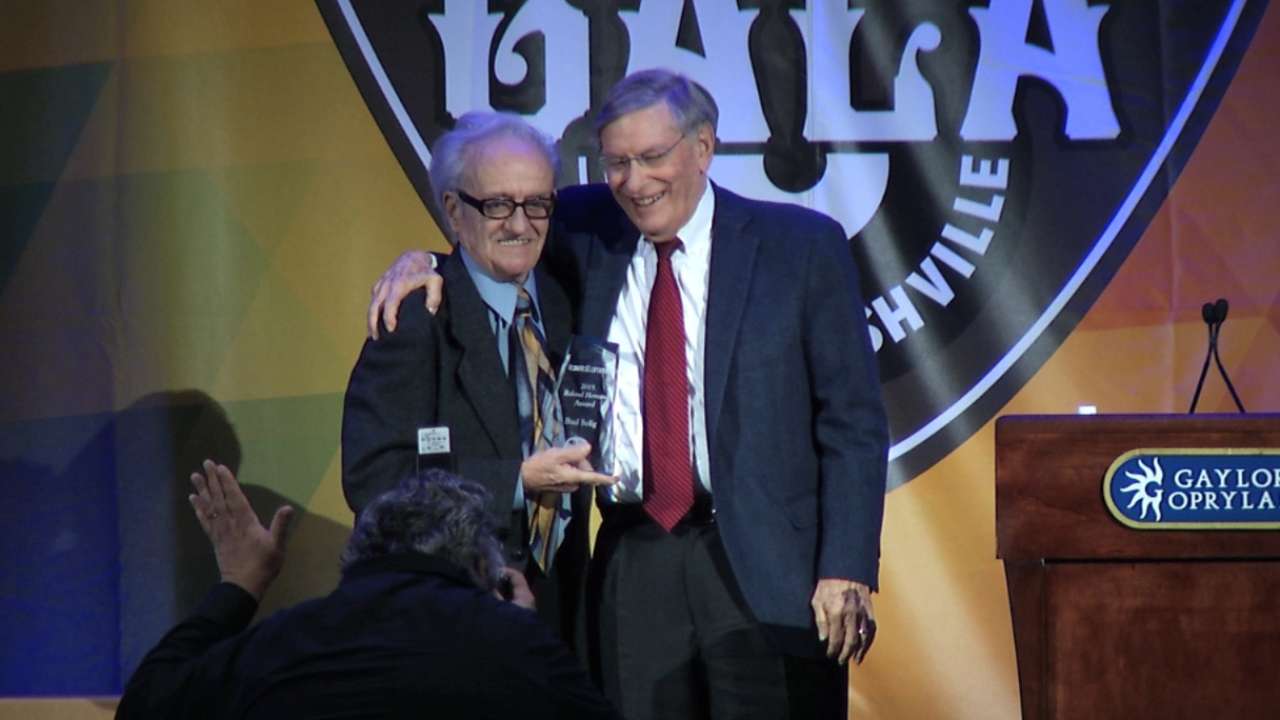 NASHVILLE, Tenn. -- Former Major League Baseball Commissioner Bud Selig was honored Tuesday night with the Roland Hemond Award for contributions to the game at Baseball America's annual awards gala at the Winter Meetings.
The award was presented to Selig by Hemond himself, who is 86 years old and a special assistant to the president of the Arizona Diamondbacks.
"It didn't take us long to realize Bud Selig was the man who should get this award," Hemond said, citing the innovations made in baseball under Selig's tenure. "Bud was a great fan and he has run baseball as a commissioner for the fans."
Hemond and Selig have known each other for more than 60 years. They met in 1953, when Hemond, then the assistant scouting director for the Braves, moved from Boston to Milwaukee with the team. At the time, Selig was working for his father's automobile leasing agency.
"Roland, we have known each other for 55 years, and all that proves is you and I are old," Selig joked. "Roland's contributions to this sport have been remarkable. It is a wonderful honor to receive this award, but a greater honor because you presented it."
Hemond held various other positions in baseball, including scouting director for the then-California Angels, general manager of the Chicago White Sox and Baltimore Orioles, and executive vice president of the Diamondbacks.
Selig went from fan to minority owner of the Braves to owner of the Brewers. In 1992, he became the Acting Commissioner of baseball, and was named the official Commissioner in 1998. He marshaled in the Wild Card, Interleague Play, revenue sharing and instant replay. He was instrumental in the organization of the World Baseball Classic in 2006, helped increase baseball revenues by over 400 percent and saw annual record-breaking attendance.
Selig said he was proud of the competitive balance in Major League Baseball today, and of the fact that money is no longer the sole determining factor between winning and losing; he cited the fact that all 30 teams have made the playoffs in the last decade.
"During my commissionership, there was more change in those 23 years than in the previous hundred," Selig said. "The sport changed and got more popular, but we were able to do it while keeping the same passion that makes this sport remarkable."
Selig closed with a line from his last speech as Commissioner, given last January at the 2015 New York Baseball Writers' Association dinner.
"When you analyze my career," he said, "what you've seen is a little boy's dreams that this time came true."
Lindsay Berra is a columnist for MLB.com. This story was not subject to the approval of Major League Baseball or its clubs.