Reds have to adjust Winter Meetings strategy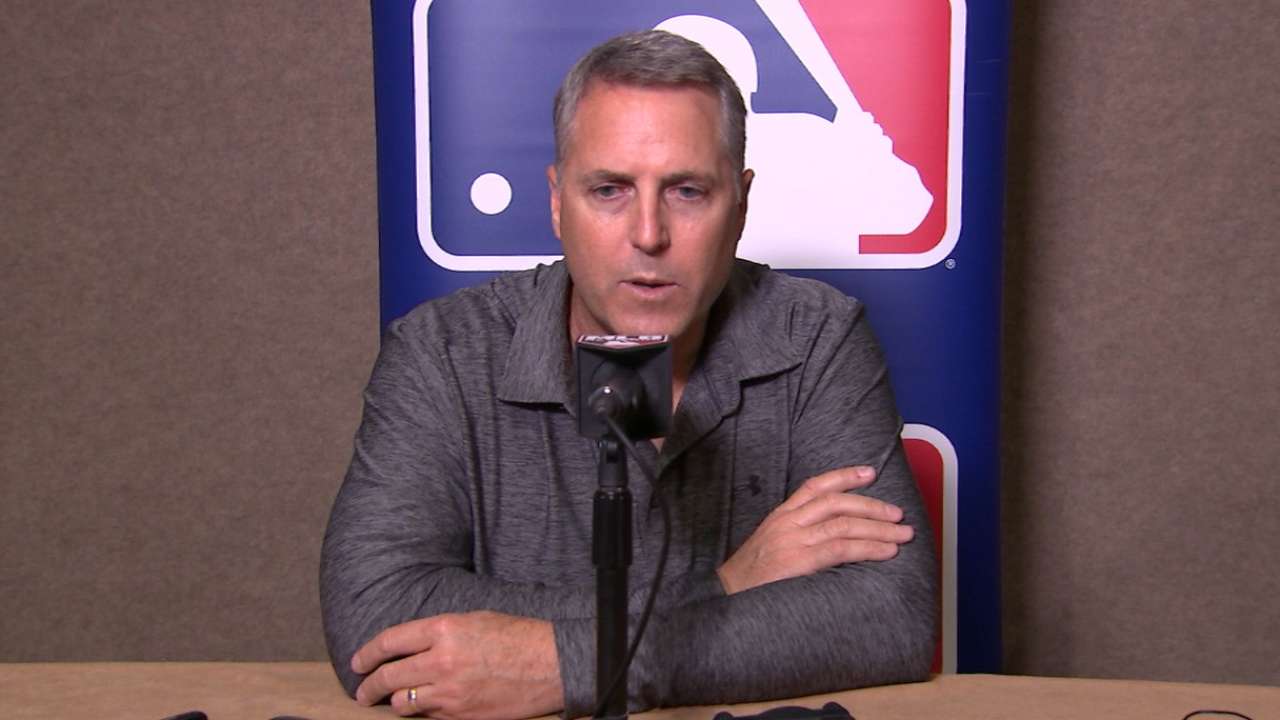 NASHVILLE, Tenn. -- As they rolled south from Cincinnati to Tennessee, the Reds were confident they would make a trade during the Winter Meetings. But following the developments with closer Aroldis Chapman, who was the club's top priority to move this offseason, those expectations have lessened substantially.
Cincinnati was close to trading Chapman to the Dodgers on Monday until a police report surfaced alleging that Chapman was involved in a domestic incident at his home in South Florida. It's unlikely he will be dealt until Major League Baseball completes its investigation under the new domestic violence policy.
"I think we're still hopeful of getting something done this week. It's going to be harder. Not that deal [for Chapman], but any kind of deal," Reds president of baseball operations Walt Jocketty said on Tuesday. "There still seems to be a lot of interest in our guys, but it's not really moving fast. That could change. We've seen deals come together quickly before, but I don't get the sense there's enough serious talk."
Cincinnati is willing to field offers on any player as it works to rebuild. Jay Bruce and Todd Frazier remain the next logical targets to be moved.
Jocketty and general manager Dick Williams were engaged in talks throughout the day.
"We had a few meetings," Jocketty said. "We met with two or three clubs. We talked to agents. We talked to several clubs by phone. We talked about the Rule 5 again."
"You learn something from every meeting with another club," Williams added. "Some take you closer, some don't. But you learn something from every meeting."
The Reds did make moves within their own front office, promoting Nick Krall and Sam Grossman. Both will become assistant general managers.
"They both worked extremely hard over the eight years they've been here," Jocketty said. "They will be, and have been, part of our leadership and now they're being recognized as being part of that leadership group. It's well deserved."
Krall, 38, has been with the Reds for 13 seasons -- most recently as senior director of baseball operations. Grossman, who turns 37 on Dec. 22, has been in the organization for nine seasons and just completed his first year as senior director of baseball analytics.
The exact division of their new responsibilities has yet to be determined. Both Krall and Grossman have backgrounds in analytics, but have also worked on the scouting side. The Reds have been growing its efforts in analytics in recent years, following an industry-wide trend.
"It's an endorsement of those young guys, and [player development director] Jeff Graupe, that have been with us," Williams said of the promotions. "We're not bringing in guys over them right now. These guys are continuing to grow."
Mark Sheldon is a reporter for MLB.com. Read his blog, Mark My Word, follow him on Twitter @m_sheldon and Facebook and listen to his podcast. This story was not subject to the approval of Major League Baseball or its clubs.