Mets move on with Zobrist off the board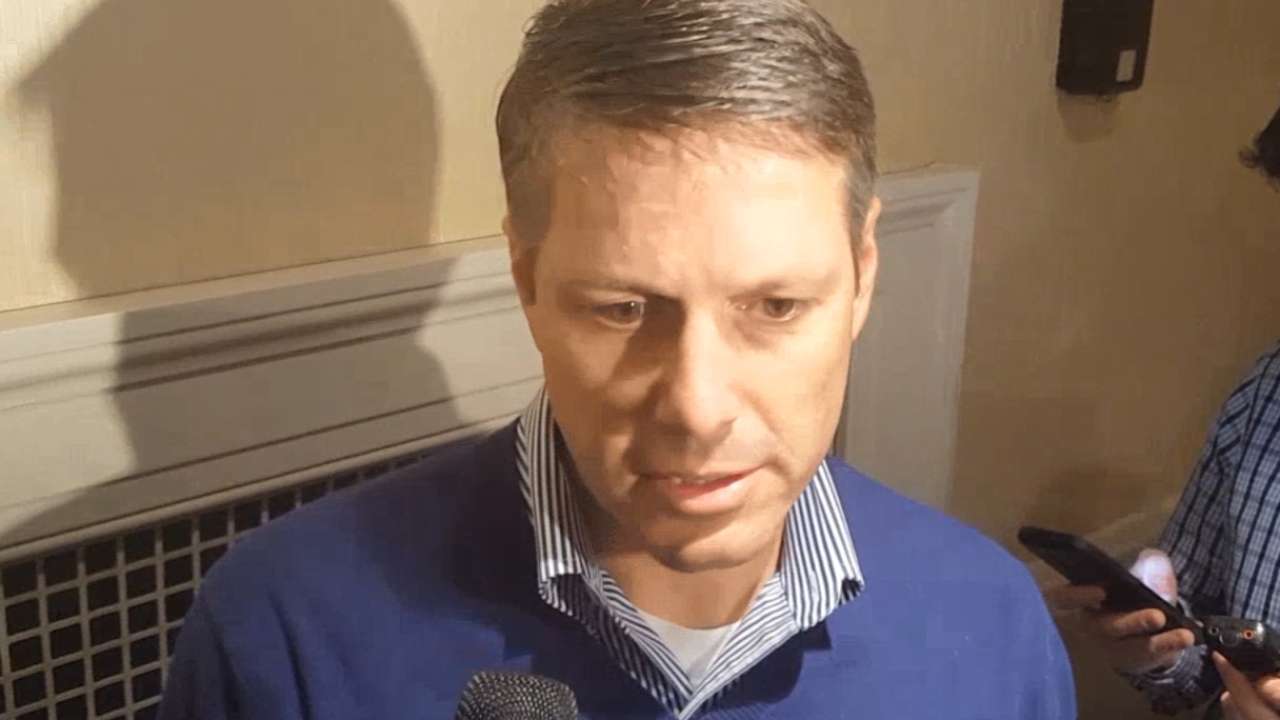 NASHVILLE, Tenn. -- Believing that a text message would be more relatable than a phone call, Terry Collins fired off his sales pitch to Ben Zobrist early on Tuesday. His message was simple: "We want you."
But Zobrist did not want the Mets. The versatile infielder agreed to a four-year, $56 million deal with the Cubs on Tuesday evening, taking him out of play for a Mets team that had positioned him as their clear top choice at second base.
"It's disappointing, I'm going to be honest," assistant general manager John Ricco said. "He's a guy we thought fit very well for us -- I will say that. But we've been through many situations where you have to adjust and adapt. That's why you have a plan that has multiple options and don't go all-in on any one of them. I think we'll be fine."
The Mets believe that Zobrist's final decision had less to do with dollars and cents than it did with geography, family and other such intangible factors. In Chicago, Zobrist will be reunited with Joe Maddon, his manager with the Rays from 2006 to 2014. He will also be closer to his home in Nashville.
"I don't think this was about money," Ricco said, adding that Zobrist reached out to him early Tuesday evening to disclose his decision. "It was about him finding a place that fit. I think he liked a lot about what we were, [but] he has some history with the manager in Chicago and it's a little closer to home for him. He made that decision, and we'll move on."
With Zobrist off the board, the Mets have no singular path before them. They have checked in multiple times with their own free-agent second baseman, Daniel Murphy, but they don't appear willing to pursue him as seriously as they did Zobrist. Other clubs that lost out on Zobrist, such as the Nationals and Giants, may pursue Murphy with more vigor than the Mets.
The Mets have maintained for weeks that such everyday options as Howie Kendrick are not on their radar -- they valued Zobrist in large part for his versatility -- so they may well go into next season fielding rookie Dilson Herrera at second base, with Wilmer Flores forming the other half of the double-play combination. Neither player is more than an average defender, though both have the potential to be above-average at the plate.
Those discussions will solidify in the coming days and weeks as the front office regroups and redefines its offseason plan behind GM Sandy Alderson. Though Ricco noted that losing Zobrist allows the Mets to allocate more money to their other primary needs -- namely, a left-handed center fielder and at least one reliever -- it's also possible they could save a good bit of that cash for the Trade Deadline. Re-assessing the free-agent and trade markets is now the top priority.
"We have a plan that Sandy's put in place," Ricco said. "With free agency, you have to have multiple options in front of you. So we'll continue on with the plan, with Sandy's leadership, and look to improve the club.
"We knew this was a possibility all along, so it's not a complete shock. We have a plan to move forward from this, and we wish [Zobrist] the best of luck."
Anthony DiComo is a reporter for MLB.com. Follow him on Twitter @AnthonyDiComo and Facebook, and listen to his podcast. This story was not subject to the approval of Major League Baseball or its clubs.