Mariners to try Hultzen in relief role
Lefty drafted 2nd overall in 2011, limited by injuries in Minor Leagues
NASHVILLE, Tenn. -- Danny Hultzen, the second player selected in the 2011 Draft, will be tried in a bullpen role next spring as the Mariners look to resurrect a career sidetracked by shoulder injuries the past three seasons.
General manager Jerry Dipoto said the 26-year-old southpaw is eager to undertake the change. Hultzen was designated for assignment last month but cleared waivers and was outrighted to Triple-A Tacoma. Even though he's off the 40-man roster now, he remains in the Mariners' long-range hopes.
"Danny is a great kid," Dipoto said Tuesday at the Winter Meetings. "It's unfortunate it's worked out the way it has. But as I told Danny, I want to see him pitch in the big leagues. He deserves that. He works so hard, he's so prepared and so talented, it would be a shame if he never gets the chance to realize that dream."
Dipoto was with the D-backs when they drafted Hultzen out of high school, but he chose to go to Virginia and was selected by Seattle three years later, one spot ahead of Arizona. Dipoto said he has told Mariners scouting director Tom McNamara that every MLB team would have taken Hultzen in that spot.
"He was one of the best college pitchers I ever saw," Dipoto said.
But after missing all of 2014 and throwing just eight innings last season as he returned from rotator cuff and labrum surgery, Hultzen will now pursue relief.
"We're going to try a new avenue," Dipoto said. "He'll come to Spring Training with the idea we'll deploy him as a bullpen guy and just see how it works. I don't know how quickly we're going to look to bring him back. We're not going to ask him to bounce back four times a week, but we'll find out if he can handle that type of duty.
"He said, 'Anything I have to do,'" Dipoto said. "He was assuming that would be the next step and said he'd be ready. He's a gamer."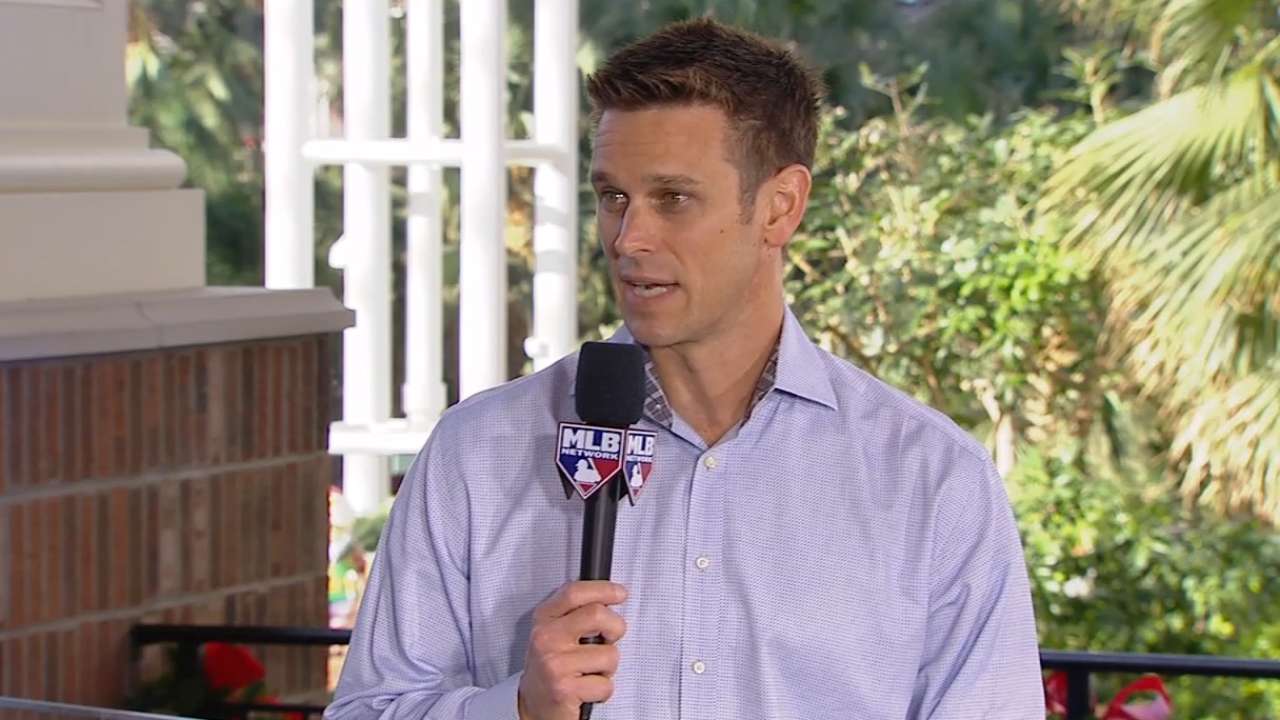 In other Mariners news on Tuesday:
• Dipoto said the rotation, "barring anything unforeseen," will likely be something in the order of Felix Hernandez, Wade Miley, Taijuan Walker, Nathan Karns and James Paxton, with Vidal Nuno working as a swing candidate or reliever.
Left-hander Mike Montgomery, who is out of Minor League options, will be given a chance to compete for the fifth-starter spot, and "if that doesn't work out for him, the bullpen is an option," Dipoto said.
• The Mariners are in the market for first-base help and have talked with free agent Mike Napoli and made trade inquires with the Brewers about Adam Lind, among others. But Dipoto isn't ruling out the possibility of Jesus Montero -- who is also out of options -- being part of the mix next season in a platoon role.
"He could be. He had a great Triple-A year. He's done what he can do in the Minor Leagues," Dipoto said. "It's his time to be a big leaguer. Certainly as it pertains to at least the right-handed portion of a platoon, he's an option for us. We have to find out how he handles the defensive duties. But he can swing the bat. One thing I can say is we do believe Jesus can hit. We're going to find out if that fits for us or not."
• Outfielder Mike Baxter signed a Minor League deal and will be invited to Major League camp. The 31-year-old hit .246 in 57 at-bats with the Cubs last season and has put up a .228/.333/.331 line in 417 at-bats over six seasons with the Padres, Mets, Dodgers and Cubs.
Greg Johns is a reporter for MLB.com. Follow him on Twitter @GregJohnsMLB, read his Mariners Musings blog, and listen to his podcast. This story was not subject to the approval of Major League Baseball or its clubs.