Beane hints that A's will be active at Meetings
Bullpen and rotation help a priority for team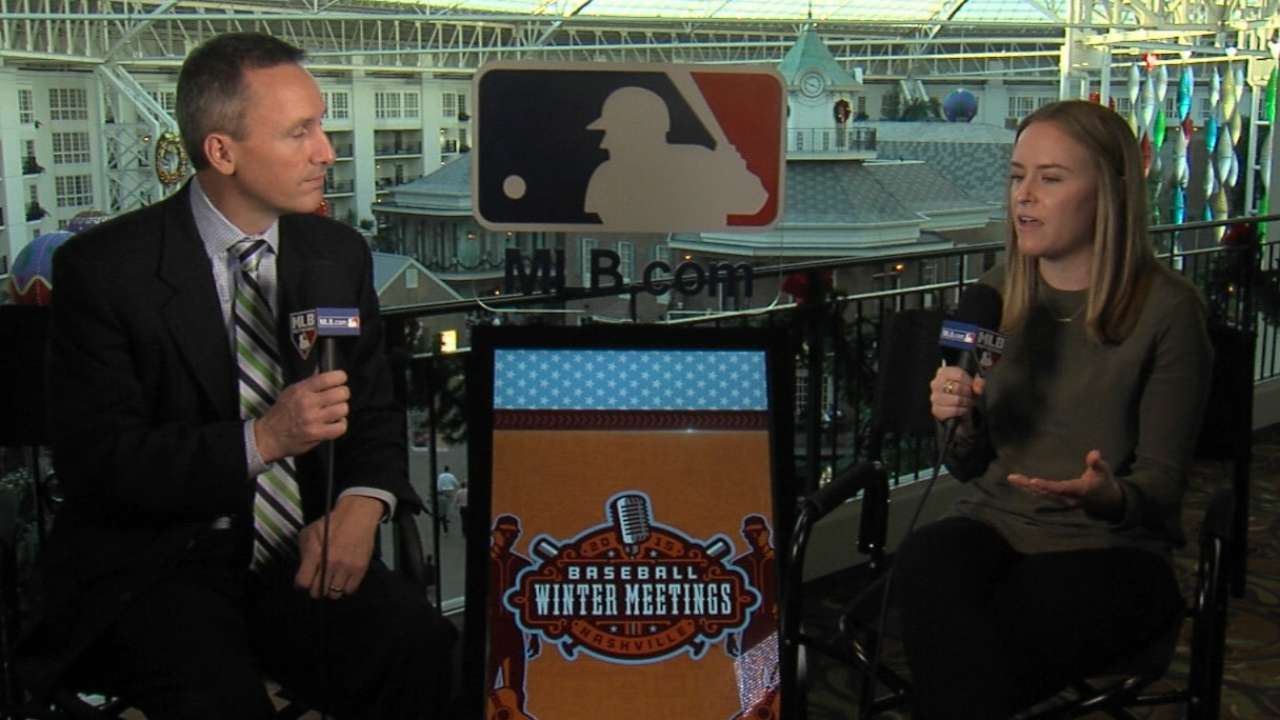 NASHVILLE, Tenn. -- The A's have yet to make a splash at the Winter Meetings, but vice president of baseball operations Billy Beane suggested on Tuesday that they won't stay quiet for too long, .
Beane didn't divulge specifics, simply saying the club has "a few other things going on," but pitching -- bullpen help and perhaps a veteran starter to slot behind ace Sonny Gray -- remains a priority on his wish list, and the A's have trade chips in versatile infielders Brett Lawrie and Danny Valencia to acquire some.
Late Tuesday, Beane swung a minor trade, acquiring Minor League right-hander Trey Cochran-Gill from Seattle in exchange for righty reliever Evan Scribner, who posted a 4.35 ERA with 14 home runs allowed in 60 innings for the A's last season.
"We were productive before we got here, and I think when we leave here, we'll feel satisfied with where we are at this point in the year," Beane said.
Even before arriving in Nashville on Monday evening, Beane's crew had bolstered a weak bullpen by acquiring Liam Hendriks and Ryan Madson, whose three-year, $22 million deal is expected to be formalized Thursday, following his physical. The rotation, meanwhile, got a low-risk, high-reward, low-money ($6 million for one year) signing in Rich Hill.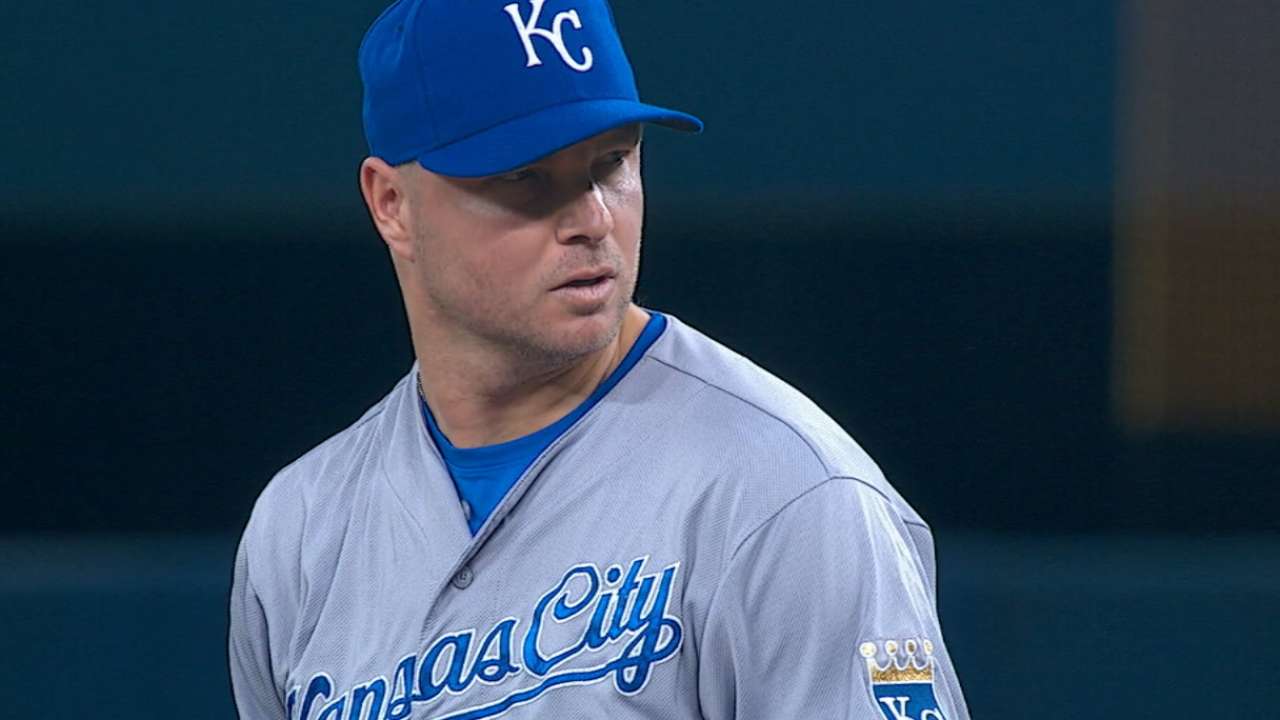 Beane also joked Tuesday he was in on Zack Greinke when he learned the right-hander was demanding "only $35 million," before realizing, "Oh, per year?"
But even the next tier of available starters -- ex-Athletic Scott Kazmir included -- could prove too costly for the A's, with Beane noting, "We're starting to become a little bit limited in terms of payroll."
When asked about rebound candidate Cliff Lee's potential price tag, Beane deemed it "probably more than we have."
"We're looking at some veteran guys right now," manager Bob Melvin said. "Whether or not we'll be able to sign them, I'm not sure yet. If we're done as far as the starters go, I think we have enough guys to compete, but we're always looking to add guys. Because of the amount of younger guys we have, in particular, a veteran guy is something we're looking at right now."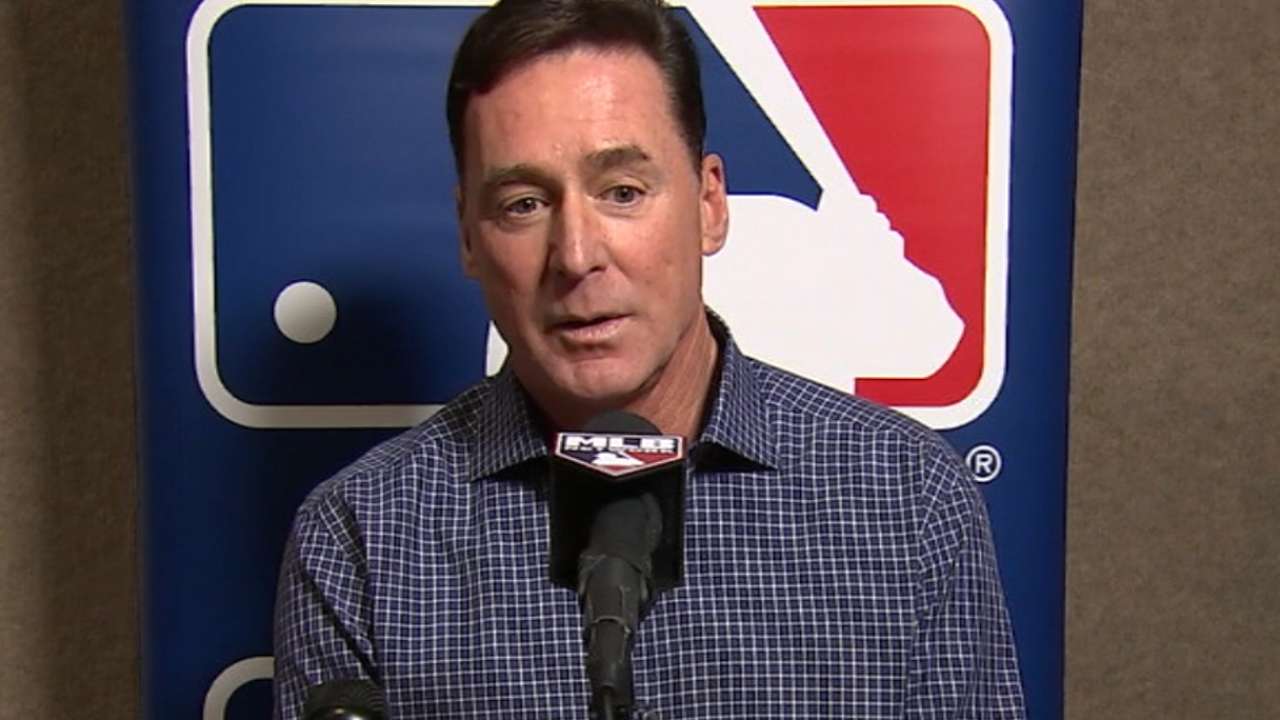 Behind Gray, the A's have several promising arms in-house to join Hill: Jesse Hahn, Kendall Graveman, Chris Bassitt, Sean Nolin and Aaron Brooks, along with Jarrod Parker, who will enter Spring Training healthy after suffering an elbow fracture in May while rehabbing from his second Tommy John surgery. Both Melvin and Beane said Tuesday they still view Parker as a starter.
The bullpen, meanwhile, will feature closer Sean Doolittle and a pair of hard-throwing setup men in Madson and Hendriks. Right-handers Ryan Dull and Fernando Rodriguez and southpaw Marc Rzepczynski can be penciled in, too, combining for a significantly improved group.
The A's finished 19-35 in one-run games last season, a trend that reflected ongoing bullpen issues.
"I think the fact that we're addressing the issues we had last year right away goes a long way in making everybody feel a little bit better," Melvin said. "You look at numbers of the team last year, the one-run losses, how many close games we lost, and then you, as an organization, you sit down and try to figure out what went wrong, and I think our guys do as good a job as any.
"The areas that we're targeting right now are the ones we were a little bit deficient in, and I think we're off to a good start."
All the while, the A's have been able to keep hold of their top prospects, unwilling to part with pieces they view as vital to sustained success.
"We're trying to walk that balance between keeping our younger players but also try to win as many games as we can," Beane said. "That's how we've always done it. We've never created a game plan where we're like, 'Hey, see you in five years.' Whatever we have available to us, we're going to try and win as much as we possibly can within the confines of that payroll.
"I think our market demands it. I think we demand it of ourselves."
Jane Lee is a reporter for MLB.com. This story was not subject to the approval of Major League Baseball or its clubs.