Brewers being patient with volatile relief market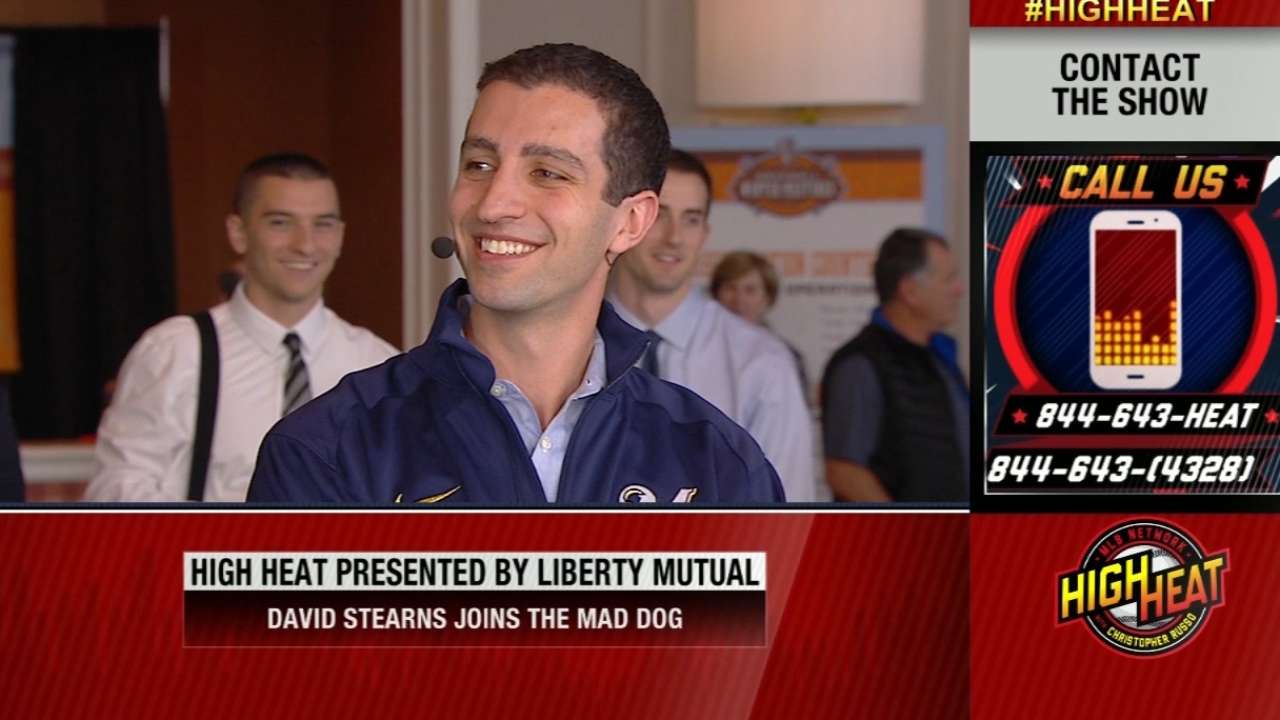 NASHVILLE, Tenn. -- Even after trading closer Francisco Rodriguez to the Tigers last month, Brewers officials view their bullpen depth as a strength and have been listening to interest in some of those relievers leading up to this week's Winter Meetings.
"The free-agent activity to date," GM David Stearns said Tuesday, the same day the Rockies awarded two-year contracts to Jason Motte and Chad Qualls, "and some of the trade activity to date has indicated that there is a premium being placed on quality Major League relief pitching."
Asked whether it was possible he'd trade another reliever, post-Rodriguez, Stearns said, "That's a possibility, certainly."
There's only one player in the Brewers' bullpen mix who will earn significantly more than the Major League minimum salary. Left-hander Will Smith is arbitration-eligible for the first time after posting a 3.21 ERA in 154 relief appearances for the Brewers over the past two seasons. He's a player of interest to a number of teams seeking relief, including the Mariners and Twins.
Smith, Jeremy Jeffress and Corey Knebel are all candidates to close games for the Brewers in 2016. They lead a crop of hard-throwing relievers.
But trade talks on the bullpen front and others were extremely quiet Tuesday, though Brewers officials met with agents for current and prospective players and brainstormed trade scenarios.
"Deals can start and stop at a moment's notice," Stearns said.
Other news and notes from the Winter Meetings
• Speaking of Smith, the Brewers have yet to open contract discussions with their three arbitration-eligible players -- starter Wily Peralta, shortstop Jean Segura and Smith -- and are more likely to aim for one-year agreements instead of multiyear deals.
• The team is "likely" to make a selection in Thursday's Rule 5 Draft and might make more than one, according to Stearns. By virtue of their record in 2015, Milwaukee owns the fifth overall pick, and pro scouting director Zack Minasian and director of baseball operations Karl Mueller have been running the Brewers' research.
Players selected in the Major League portion of the Rule 5 Draft cost $50,000, and must remain in the Major Leagues the entire following season or be offered back for half the price.
"A lot of the players [Minasian and Mueller] have identified, I've already had the experience of doing research on them or having seen some of them play. I'll certainly have opinions and thoughts on some of these guys as well. [You want to select] the guy who has the best chance of staying. The point of taking a guy in the Rule 5 is accessing future Major League talent and capability. In order to do that, you need a guy who can stick on your roster the entire year."
• The Brewers have hired Dan Turkenkopf as director of research and development while parting ways with a pair of longtime baseball operations officials. Scott Martens left the organization after 28 years in player development after turning down a reduced role to pursue other options. And Dan O'Brien is out after 13 years as a special assistant to the general manager.
Turkenkopf will oversee a research department that has quietly grown in recent years.
"That encompasses all of the information sources that we're trying to aggregate," Stearns said. "Compiling them in a streamlined and efficient manner, and then helping us analyze it and hopefully make intelligent decisions."
Stearns also provided some clarity to former assistant GM Gord Ash's new role as vice president of baseball projects, saying Ash would continue to play some role in the Brewers' medical department in addition to advance scouting.
"Gord has a lot of institutional knowledge about the Brewers, and he knows the answers to a lot of the questions that Matt [new assistant GM Matt Arnold] and I may have, coming in from the outside," Stearns said.
Adam McCalvy is a reporter for MLB.com. Follow him on Twitter @AdamMcCalvy, like him on Facebook and listen to his podcast. This story was not subject to the approval of Major League Baseball or its clubs.