MLB.com Columnist
Alyson Footer
Winter Meetings auction bids rolling in
Bidding live through Thursday night on MLB.com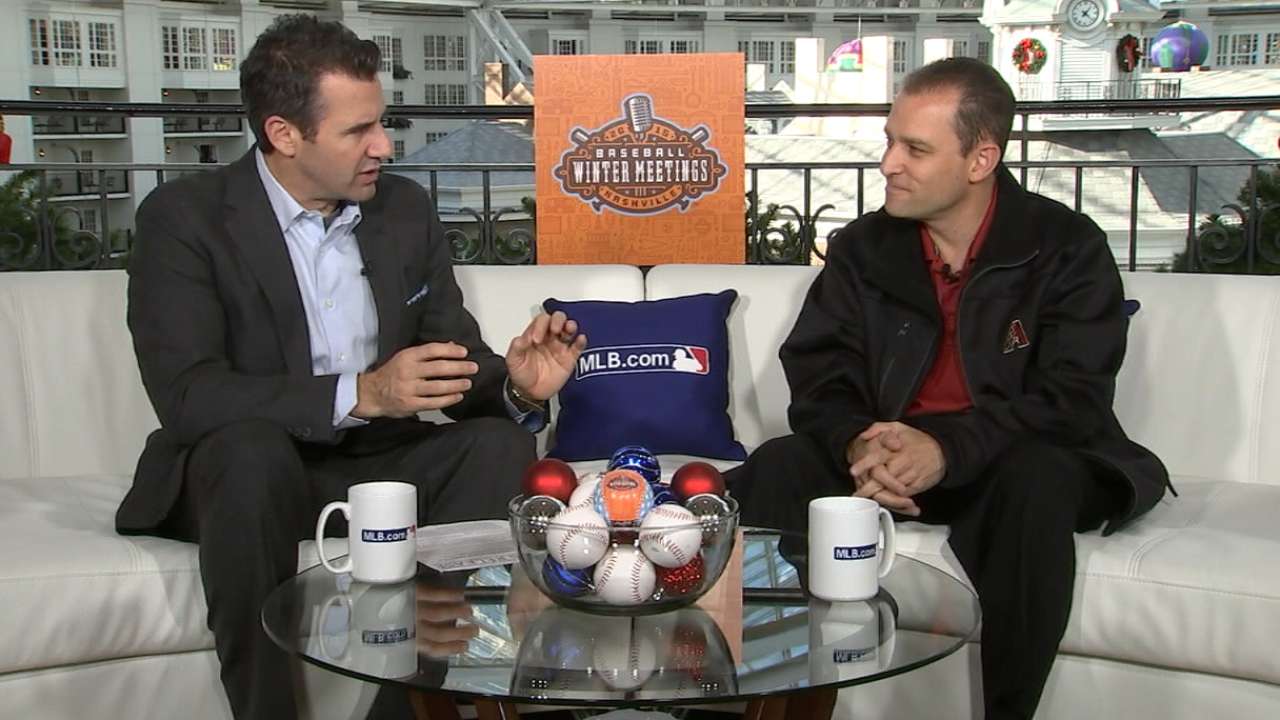 NASHVILLE, Tenn. -- Only a few hours remain in the Winter Meetings charity auction, and as expected, the bidding process has escalated as top-shelf items are generating high-dollar interest.
Two items have exceeded the $7,000 mark -- a Giants package that includes lunch with general manager Bobby Evans and field passes to watch batting practice ($7,025) and MLB's offering of an All-Star game behind-the-scenes experience ($7,025).
• BID NOW: Winter Meetings charity auction
Bidding will close Thursday at 9 p.m. ET.
The Winter Meetings charity auction offers items that cannot be found anywhere else, except in this yearly event, now in its fourth year and offers unique experiences that can only be described as once-in-a-lifetime.
In the last 48 hours, several items have jumped to the top of the bidding list. A meet and greet with Dodgers Hall of Fame broadcaster Vin Scully, for example, has reached $6,575. The Mets Spring Training round-trip experience is up to $5,324, and the Cardinals' Fantasy Camp package is up to $4,050.
The Nationals' offer of lunch with the coaching staff and manager Dusty Baker has generated $5,800 in bids. Lunch with Blue Jays pitcher Marcus Stroman is also garnering a lot of interest, drawing $3,250 so far.
Hosted by Major League Baseball, MLB Advanced Media, MLB Network and the 30 clubs, the auction is designed to raise awareness and funds for cancer research. It has raised nearly $500,000 since its inception and was inspired by the numerous employees, friends and fans of the game who have been affected by cancer.
The public relations directors of all 30 clubs have spearheaded the effort, and because they have direct, personal relationships with the players and support staff, they have been able to go above and beyond to come up with auction item ideas.
A significant portion of the proceeds from this year's auction will go to three entities: Stand Up To Cancer, a longtime partner of Major League Baseball, Do It For Durrett, in honor of the late Texas Rangers ESPN.com beat writer Richard Durrett, who passed away suddenly last year, and the YouCaring page established for Miami Marlins Sun Sentinel beat writer Juan C. Rodriguez, who is currently battling a brain tumor.
Alyson Footer is a national correspondent for MLB.com. Follow her on Twitter @alysonfooter. This story was not subject to the approval of Major League Baseball or its clubs.