Indians staying active with talks at Meetings
Club prefers to acquire offense without dealing from solid rotation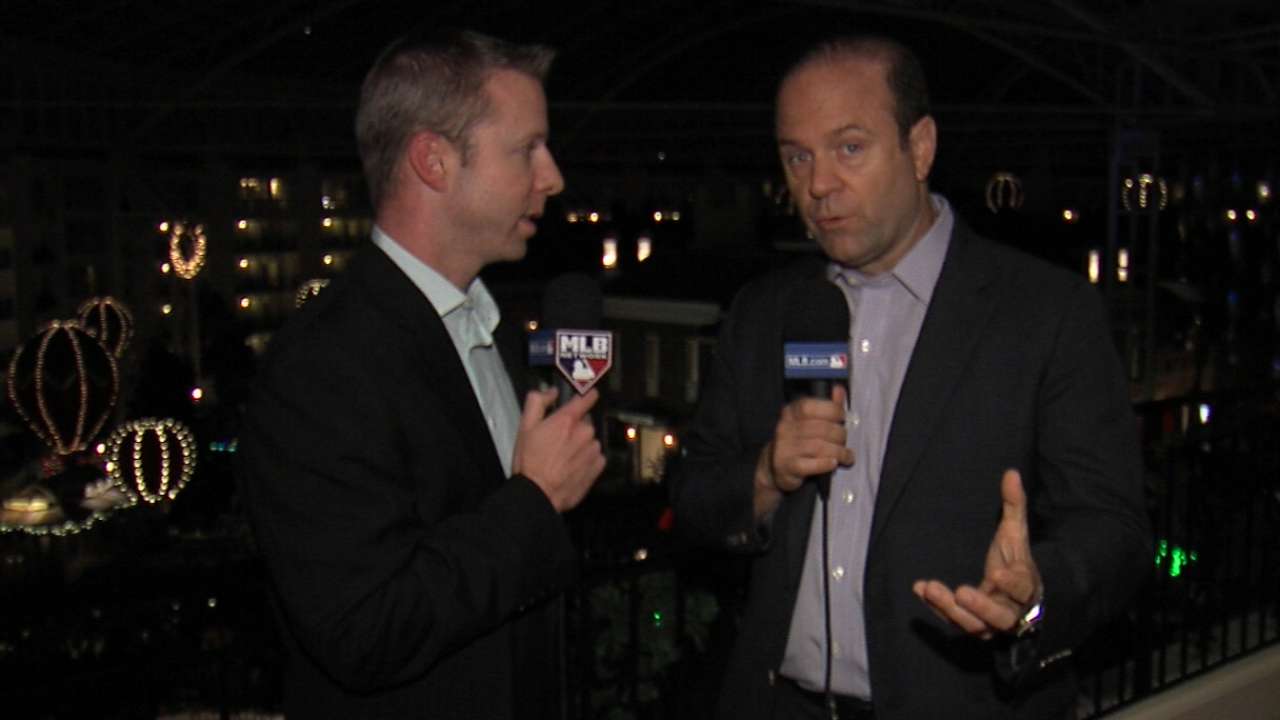 NASHVILLE, Tenn. -- The Indians have had non-stop meetings over the past two days, gathering with rival clubs and holding internal sessions to pore over a plethora of roster possibilities. It is a safe bet that a majority of teams have at least asked about the availability of Cleveland's starting pitchers.
The Tribe's preference, however, is to avoid subtracting from the rotation if it pulls the trigger on a trade to upgrade the offense. The Indians have prospects to offer, along with a variety of other players of value. One under-the-radar trading chip would be backup catcher Roberto Perez, who could be a starting catcher for many teams around baseball.
Perez convinced Cleveland of that with his showing last season.
"He reinforced our belief that he can be a very good starting catcher in the Major Leagues," president of baseball operations Chris Antonetti said on Tuesday at the Winter Meetings. "He handles the pitching staff really well, receives well, controls the running game extraordinarily well, manages the game, and he did a good job offensively, too, contributing in key spots."
Antonetti and the Cleveland contingent met Tuesday with an assortment of teams, including Texas. The Rangers are on the hunt for starting pitching help, so inquiring about the likes of Corey Kluber, Carlos Carrasco, Danny Salazar or Trevor Bauer makes sense. The Rangers also have a stated need for catching help, making Perez a potential target for them as well.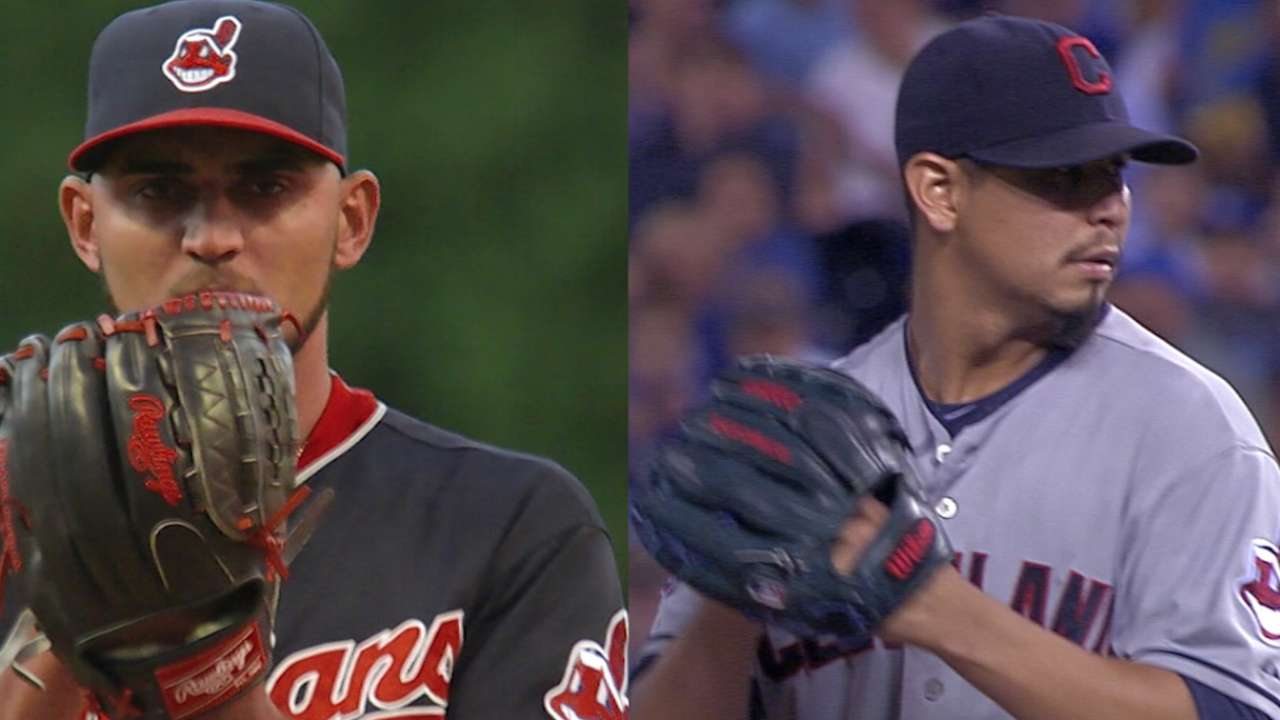 The Indians have a need for offense, and could use the outfield, corner infield spots or the designated hitter role to add upgrades. If it is possible to use a player with upside such as Perez, or dip into the prospect pool for trade pieces, Cleveland would rather go that route than deal away a starting pitcher and weaken a rotation that could be the team's key to October.
"I would imagine," Antonetti said, "if you surveyed the landscape around baseball, there isn't any team where Carrasco or Danny or some of our other guys wouldn't be better than at least one of their five guys. That type of pitcher, especially a starting pitcher, opens up interest to almost any team."
Antonetti reiterated, though, that the club would need to essentially be overwhelmed by an offer to trade any of its starters.
"We're not looking to trade any of these guys at all," he said. "That's not something that we're motivated to do. But, again, for any player, there's a right value where it would make sense. So, our criteria would be, 'Does it make us a better team in 2016 and beyond?' All of those guys are very meaningful parts of our 2016 team, so any trade would have to meet a pretty high criteria to make it."
Antonetti estimated the Indians have engaged in talks with 20-plus teams over the past two days, and have discussed around 25 of their players (both from Major and Minor League rosters). During a 20-minute sit-down with reporters, Antonetti's phone buzzed a handful of times.
"Every day, it's literally hundreds of exchanges," Antonetti said, "whether it's meetings or phone calls or text messages."
Worth noting
• The Indians have reportedly discussed a one-year contract (plus an option for 2017) with free-agent outfielder Rajai Davis, according to Cleveland.com. Davis, 35, hit .258 (.746 OPS) in 112 games with Detroit last year and can offer depth for all three outfield spots.
• It was reported on Monday that the Indians are among a handful of teams who have expressed interest in A's infielder Brett Lawrie. ESPN's Buster Olney reported on Tuesday that Cleveland does not appear to be a "natural landing spot" for Lawrie.
• According to Nick Piecoro of the Arizona Republic, the D-backs and Indians have had some trade talks. Cleveland was reportedly willing to offer Salazar in exchange for center fielder A.J. Pollock. For now, though, the D-backs are not motivated to move Pollock.
• As for Perez, who will turn 27 on Dec. 23, the Braves reportedly have expressed interest, according to Cleveland.com. Any team that needs catching will likely inquire with the Tribe about the backstop, who rates as both an above-average defender and hitter behind starting catcher Yan Gomes.
According to Fangraphs, Perez posted four Defensive Runs Saved in 538 1/3 innings, marking the third-fewest innings among the 15 catchers with at least four DRS last season. He led the Majors with a 39-percent caught-stealing rate among catchers with at least 40 attempted stolen bases against them. Perez also was 4.7 runs above average in terms of pitch framing, per StatCorner.com.
Offensively, Perez turned in a .228/.348/.402 slash line with seven homers, 17 extra-base hits, 21 RBIs and 33 walks in 226 plate appearances. Among the 45 Major League catchers with at least 200 PAs last year, Perez ranked fourth in walk percentage (14.6), sixth in on-base percentage (.348), 10th in weighted runs created plus (110), 12th in Isolated Power (.174) and 15th in WAR (1.7).
"It gets overlooked a little bit," Antonetti said of the catching tandem of Gomes and Perez. "I think that's one of the strengths of our team. We talk a lot about our rotation and other aspects of our team, but to have two quality catchers, Yan and Roberto, is really helpful for us."
Jordan Bastian is a reporter for MLB.com. Read his blog, Major League Bastian, follow him on Twitter @MLBastian and listen to his podcast. This story was not subject to the approval of Major League Baseball or its clubs.