Cooper accepts responsibility for Samardzija's down year
White Sox pitching coach looks forward to 2016 after right-hander leaves via free agency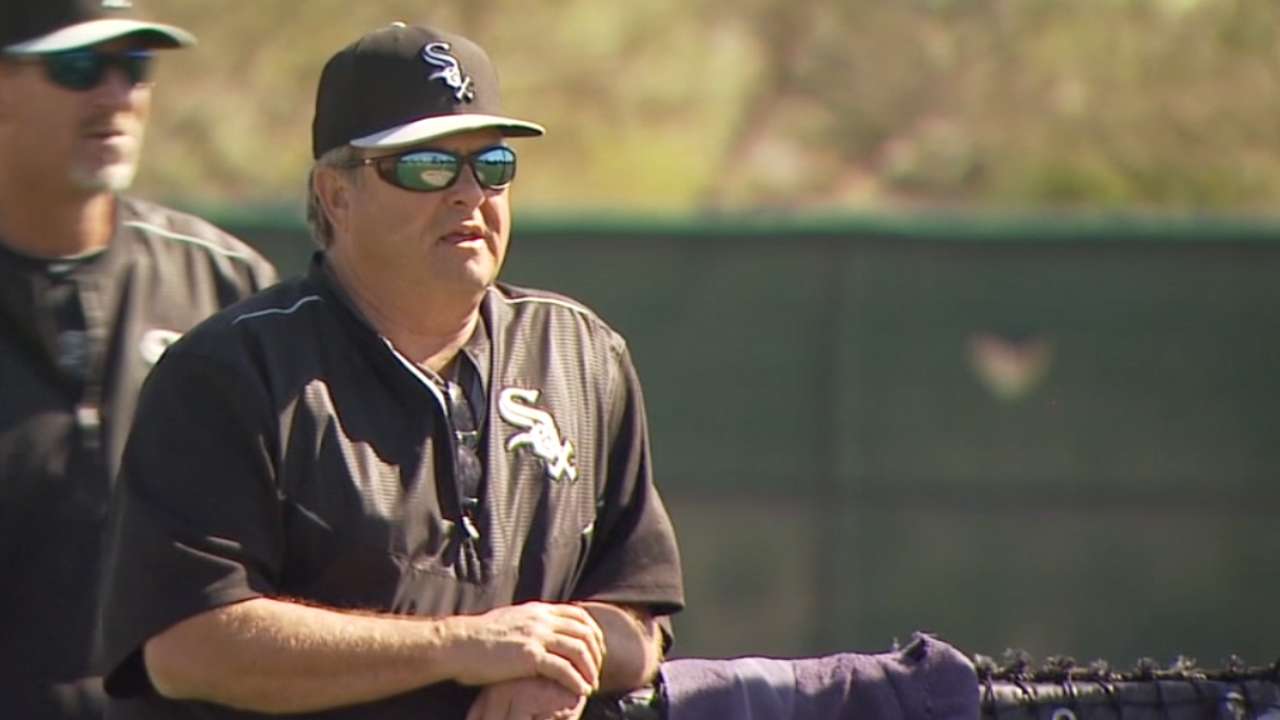 NASHVILLE, Tenn. -- There doesn't need to be a list of accomplishments placed in front of Don Cooper for the White Sox pitching coach to feel confident about his successful tenure.
Jeff Samardzija's 2015 season on the South Side would not fall in that category.
"Sometimes it works out, sometimes it doesn't," said Cooper, who lives 30 minutes outside of Nashville and visited the Winter Meetings site on Tuesday. "I have a goal for each and every one of the guys and try to make as much improvement and get as much mileage out of each guy that we've got, and that's not only this year, last year. It's been since Day 1.
"I know my successes, in my mind, nobody else's. I'm not looking to live up to anybody else's stuff. And I know ones I consider failures, [Samardzija is] one that I look at, 'Man, I failed.' It didn't work out the way any of us would have wanted."
Cooper was quick to add that his comments were not meant as anything negative toward Samardzija. Cooper considers the right-hander a quality pitcher who has many great assets, wishing him nothing but the best after agreeing to a five-year, $90 million deal with the Giants.
White Sox general manager Rick Hahn and manager Robin Ventura were not surprised by Cooper placing the blame on his shoulders, with Hahn calling it a credit to Cooper and a class move. Hahn also didn't believe a lack of communication or some sort of disconnect between the two became the ultimate issue.
"There was open and honest communication on a regular basis," Hahn said. "There might not have been full agreement on what was going to be the remedy, but that's not totally atypical, especially when you have a veteran guy who's had success and sort of feels like he knows, and he does know more than anybody how he feels and what he's doing and what he thinks are his keys to success.
"It's any coach's job when asked, or when appropriate, to share what he sees, and why he thinks he's not having success or what he needs to do to get better. And I think any player just wants a coach to be honest with him, and our guys always are."
Samardzija's 4.96 ERA in his one season with the White Sox no longer holds Cooper's focus. He said Tuesday that the itch for baseball is starting to take over, studying some video in the White Sox suite and mapping out his starting pitchers' Spring Training schedule. He's already excited to see the 12 pitchers when camp breaks for the regular season.
"I've seen it before," Cooper said. "If you have enough guys have good years, you have a chance to go to the playoffs, and that's always the goal, to get to the playoffs and possibly win another world championship. I would like to get at least one more before I'm gone."
Scott Merkin is a reporter for MLB.com. Read his blog, Merk's Works, follow him on Twitter @scottmerkin, on Facebook and listen to his podcast. This story was not subject to the approval of Major League Baseball or its clubs.