Winter Meetings interview with Bruce Bochy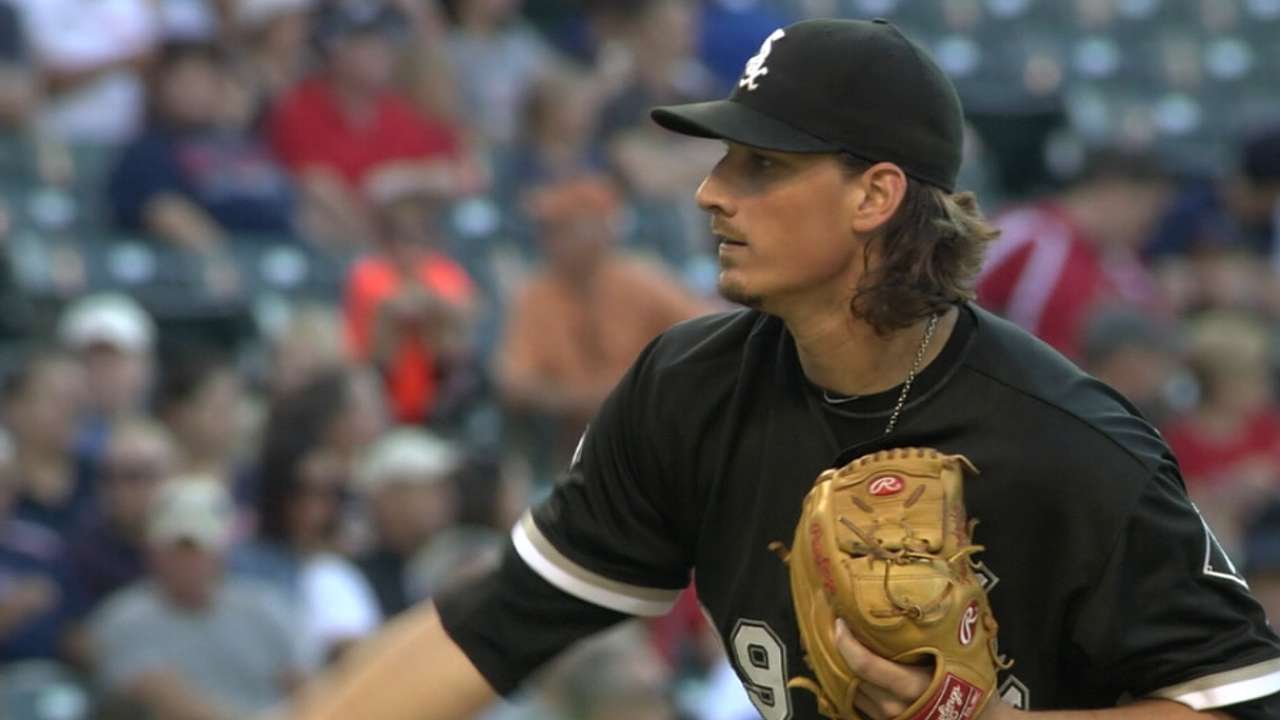 Q. What was it that attracted you guys to Samardzija and what have you seen that maybe you can tweak and get him back to where he was two years ago?
BRUCE BOCHY:: Well, he's got the equipment. Jeff's always had great stuff. He's really had a nice career. Last year had his hiccups, but, you know, we certainly like what we're working with, and we look at him as a guy that's starting to come into his own. He's young, he's got a young arm. He's got velocity, sink. He's got all the pitches that can make him successful. Hopefully we can do our part and help out, but I think he's primed to come into his own. That's how we felt and that's why we signed him, and we're excited to have him. He's a guy that can carry some innings for us, get us deep in the game, something that our pitching staff could use.
Q. How much did the ballparks in your division and for a guy that gives up some fly balls come into the equation, knowing he probably could do better with you?
BRUCE BOCHY:: You know, it plays a little part. We do look at that. We're into analytics and we are in a pitcher's-friendly park that does benefit a guy that pitches at 18 feet and gives up fly balls, that's fine with us. He does sink the ball and he can get ground balls. There's a little bit of a margin of error when you pitch in our ballpark, or in our division, we have a couple parks that are hitter's parks. But, regardless, this is a guy that was on our radar, and we wanted him.
Q. Greinke was also on the radar. How much did you want him?
BRUCE BOCHY:: Yeah, we're looking at everybody. I mean, if you look at our club, we have a team out there across the infield, outfield, and we have a rotation now, a bullpen. But we're looking at all the options. He's a great pitcher. He was a guy that it's obvious we had a lot of interest in, didn't work out, but who wouldn't have interest in a Zack Greinke.
Q. Looking at what you might be able to add to the lineup from a free agent standpoint in terms of a bat, what would be an ideal sort of fit for you, left-handed, right-handed, power hitter, on-base-guy? What would be your sort of wish list?
BRUCE BOCHY:: I think we look at the player first and see what he would bring. We've gone both ways. If you look at what we've done in left field, for example, we've had Burrell, Morris and Aoki. I think we look at the complete player and make that call. Ideally, I mean, I think we're pretty balanced with the lineup. We would be fine going with a left-handed batter, right-handed batter, if we were looking to have somebody go out in left field to help out Gregor Blanco. We're keeping our options open there. We have a lead-off hitter. We have guys in the heart of the order. We have the flexibility to get, really, any type of player that we think would make us better, whether it's a power guy or a speed guy, regardless, it's not a situation where we think we need a left-handed batter or a right-handed batter.
Q. Are you pretty committed right now to moving Angel back to the lead-off spot?
BRUCE BOCHY:: Yeah, right now he's our lead-off hitter. He had to deal with some injuries, but I liked what he did last month. He healed up. He's a different player. I thought he was running well, covering ground like he did before the injury. So the plan is to lead him off.
Q. Is Angel strictly a centerfielder or can he play some left?
BRUCE BOCHY:: I'm sure he can play left. If you ask him, he's going to be more comfortable in center field because that's where he's been for the most part. But I'm sure he could go over to left field. I've never really addressed that with him yet. And I'm saying yet; not that I'm looking to, but I think he's a good enough athlete where he could go there.
Q. Why so much faith in him after the last two years?
BRUCE BOCHY:: Well, he's our centerfielder. I think you have to keep the faith and belief; that's always part of the equation when you look at guys that are signed and with you. I know he's looking at next year as a very big year for us, for him. He wants to come into Spring Training completely healthy. That's why he had cleaned up with the knee at the end of the year, and he seems good to go.
Q. With Greinke down in Arizona, how does that shake up your division?
BRUCE BOCHY:: I didn't hear the last part.
Q. With Greinke now in Arizona, how does that shape up your division now?
BRUCE BOCHY:: Well, I think you look at it as a much more balanced division. Every team has their guy, their horse. Kind of I think changes the look of the division with the parity now that's in Arizona, L.A. and us, and of course San Diego. I know they were hoping to have a better year than they had last year, but they have the talent there, and of course Colorado we had a lot of trouble with. But it's a very, very balanced division. That's how you have to look at it. With Greinke going to Arizona, I think they are definitely a team to be reckoned with. They have good young players, position players. They have got Corbin back. So they have a nice, strong rotation, bullpen. That move made them a lot better club.
Q. What was your reaction when you saw that Greinke signed with Arizona?
BRUCE BOCHY:: You know, we were in the mix. We were hoping to get him. But, you know, after they got him, you move on. There's no point in really having any kind of reaction because it's over. That's part of the business. It's baseball. So we took the next step and signed Samardzija, and that's the best thing we could have done. We all just said, okay, we'll move forward from this.
Q. Have you personally talked to any of your major players who ended up last year hurt, maybe Hunter and Angel?
BRUCE BOCHY:: I've talked to Hunter, and he says he's doing well. I'd like to see him golf; that's what he's been doing the last two, three weeks, taking up a little bit of golf. So I said, I've got to see this. But really I'll touch base with him here after the meetings here and talk to the rest of them. Talk to Buster and Duffy and a few of them. There's a few of them that I haven't connected with.
Q. Do you have an update with Matt?
BRUCE BOCHY:: You know, I haven't talked to Matty, but he has to be looking forward to Spring Training and getting a new season started. That's the great thing about our game; the season is over, it's a new slate. So he's got a lot to be I think encouraged by, like we are, from his last game. He felt great. He's going to have more time from the surgery and that should benefit him, his arm. He's the type of guy that's going to be working hard this off-season. I don't have concerns about that. I know Dave Groeschner, our trainer, he spends a lot of time with Matty, and he fills me in on how these guys are doing. Currently our training staff is out visiting all the players. Carl is with Jake Peavy right now. That's what we do. So they are checking out all of them and they give me a report.
Q. Do you see any connection between the health issues your team had last year and having been on a long playoff run the year before?
BRUCE BOCHY:: I don't think so. I think you look at the type of injuries that we had, and Pence got hit by a pitch in Spring Training, and that had nothing to do with the Postseason run. And of course Matt's surgery. The one guy you may say we had some concern with, and we really didn't but a lot of people did, but Madison Bumgarner, but he went out and had a great year. I don't think the injuries had anything to do with the previous year. We had, really, five concussions. That's unheard of. We had to break a record there. It's unfortunate. But there's no correlation between that and going through the Postseason the year before. No, I don't buy into that. Panik, he tweaked his back. I still don't think the year before had something to do with that.
Q. I guess you realize the number of Japanese media surrounding around you, even if you don't have Aoki, another Japanese guy, Kenta Maeda, is supposed to be posted anytime today. What kind of information do you have, and tell us how interested you are in adding him to the rotation?
BRUCE BOCHY:: Bobby Evans could answer that a little bit better than me. We looked at the video. I mean, we have interest in a player like this. Every club I think is intrigued by him. Good talent. But I can't tell you how much interest is going to be there with ownership. A lot depends on where you are at with the budget and those things. But certainly a great talent.
Q. I know that it was reported that Ben Zobrist (indiscernible) ballpark in San Francisco. Did you have an opportunity to chat with him at all?
BRUCE BOCHY:: I did. We spent a little time together. I've always respected Ben, the player that he is, high-character guy. He's had a nice career, a big year for him, World Series, baby. We were excited about having a chance to spend some time with him, which is the norm now. There's a few players we're talking to. We get a chance to know them and they get a chance to know us, get their appetite for maybe coming to San Francisco, or ours. That's part of the process.
Q. Where do you think a player like him might fit in position-wise, his role?
BRUCE BOCHY:: You know, that's something we talked to him about, and I'll just leave that. I don't want to go into that right now. He's not our property. Yeah, he's a free agent, so I'll leave that conversation between us.
Q. You've been managing for awhile. Over the years have you noticed a change in what it means to manage and the role?
BRUCE BOCHY:: Managing the what?
Q. Managing.
BRUCE BOCHY:: Oh, the role. I think the biggest change probably is, I mean, you look out here and you see all of you, the social media, the information that's out there for everybody, analytics, metrics. We have a baseball channel now, MLB. There's probably more for a manager today than when I first came up because of the information we get. We have tremendous baseball operations, and it stacks up on the desk, the stuff that you get. That's probably where the game has changed a little bit. You have to process all this to have your team prepared, whether it's defensively with the shifts or offensively, all the info that we get. It's not quite as simple as it used to be. But, you know, that's the fun part. That's why hopefully I've done a better job at working or using my coaches more, because it's not something that you can do on your own anymore.
Q. Do you ever find yourself having to ignore some of that data?
BRUCE BOCHY:: I don't know if I ignore, but I try to take what I want and use. Some of it I don't find quite as useful, to be honest, but it's great to have. You know, it's something that I think you learn from every game, too. Well, maybe I should have spent a little more time in that area on something. But really, other than that, I don't think anything's changed too much.
Q. You said the division would be more balanced and rounded with Greinke going to Arizona. Were you relieved, or are you relieved --
BRUCE BOCHY:: You know, I don't want to use that word, "relieved." We feel like we have a strong club, a good club; that we're going to contend. And we did last year, despite all our injuries, to go toward the end of September and still be alive, I'm proud of that and of how the guys kept fighting. I don't look at another club and hope, you know, something happens there or they don't get somebody. I just have to worry with what we have.
Q. You were mentioning your coaches. When you pick up a Samardzija, how confident are you that Dave Righetti can maximize what somebody's got?
BRUCE BOCHY:: Well, I've got who I feel is as good a pitching coach as there is in baseball, Dave Righetti. I think he's done a lot for our pitchers, and you can't help but learn from Dave. He started, he relieved, he's got a great way about him. He knows the mechanical part of it. And we have another pitching coach in the bullpen, Mark Gardner, who certainly has helped in working with these pitchers. So the two of them complement each other well and they do a good job of making the pitchers better.
Q. You have two guys you've used quite a bit. What's the initial feel with the roster you have right now, who would be your best option as a long reliever? And, also, Trevor Brown -- is that going to be open in Spring Training?
BRUCE BOCHY:: Yeah, we're going to stay open-minded there behind the plate. My hope is that Susac comes in in great shape and he's healed up and gets back to being who he was the year before. He was battling that all year. The good news is with what happened was Brown comes up and does a great job. Competition, it's the best thing you can have. So hopefully they push each other, so they will be battling in Spring Training. A guy like Petit is not easily replaced. I can't thank him enough for the role that he played for us, long relief, short, always wanted the ball, started, pitched some beautiful games as a starter. This is the tough part of the game when you lose somebody like Yusmeiro because he's such a class guy, great teammate. But you have to make moves, unfortunately, and so I wish him nothing but the best. And just like Hector, you know, Hector had all these injuries he had to deal with, and, you know, if you had asked me three, four years ago, I would have told you Hector was going to be starting somewhere in the Major Leagues. That's how much I thought of him. He had a lot of setbacks between concussions and injuries.
Q. Regarding Yusmeiro, I guess, Game 2 with Washington --
BRUCE BOCHY:: Unbelievable game. Yeah, that one ended up perfect game he just missed. I mean, this guy did some remarkable things in the role that he had, to go in a playoff game like that, on the road. I mean, one mistake, the game's over, and to give us that kind of effort is something I'll never forget. But the great starts that he had, he's just such a reliable guy that we're going to miss.
Q. How much did he allow you to manage the bullpen the way that you want and avoid overworking guys over the course of the season?
BRUCE BOCHY:: I've said this so many times: You have to have a guy in the bullpen that you can use like that. They save the other guy. They really help keep your bullpen freshened up. If you don't have that guy, then you end up really running all of them in the ground, and he was that guy for us. He was able to handle that role. He was resilient, never had any arm issues. There was times when I threw him three, four innings; next day, he says, Hey, I'm good to go. You know, that's invaluable for a club. We'll see what happens here, because we'll have to replace him. We have some options that we've been talking about.
Q. Heston is a possibility?
BRUCE BOCHY:: Chris coming in, you know, competing right now as a starter. But, sure, a guy like that can be an option. Really depends on what we end up doing.
Q. Does it take a special kind of mentality to be able to do that role, because a lot of guys think of themselves, I'm primarily a starter or I'm a guy that works out of the bullpen.
BRUCE BOCHY:: No, it does. It's not an easy role. You're so close to being that fifth starter, and it's only human for these guys to want to do that because it probably helps their career. It takes an unselfish player to do that role and accept that role, and the only way you're going to be good at it is to accept it, which he did. And part of it was, you know, Yusmeiro went up and down. I know he wanted to stay in the Big Leagues, and sometimes it's that second or third time when you go down, you just want to be in the Big Leagues and you learn to appreciate it a little more, and that's what I saw from him. Not that he ever complained when he was younger, but he realizes it's not that easy to play our game to stay up in the Major Leagues. He was willing to do any role to stay, and he did a nice job.
Q. I think you said the day after the season that you hoped to bring in one more reliever, and if so --
BRUCE BOCHY:: Again, you've to really -- if you look at our pen, we have our pen. But if we see something out there that makes sense, works, and is going to make us better, we're going to keep our eyes open, ears and eyes open for somebody out there that could fit in our bullpen. If not, I mean, we've got a pretty good bullpen. You look at the lefties, righties we have, I'll take it.
Q. The Dodgers on the back end, how do you stack up Chapman (indiscernible)?
BRUCE BOCHY:: You know our guys, the numbers speak for themselves, what Romo has done, Casilla. We've got a veteran left-hander down there. Of course the kids came up and did a nice job for us. We're comfortable with our bullpen.
Q. You went back and forth with Romo and Casilla as a closer. How delicate is that as a manager, telling a guy who has been a closer to be in that setup role?
BRUCE BOCHY:: It can be, that's why it's so critical to have the right type of players on your club, that are willing to set aside their own agenda and do what's best for the club and they buy into what you're doing, and that's doing the best thing to help your club win. Both Romo and Casilla have gone back and forth, and they have been fine with it. And I think the best thing you can do is keep communicating with them, be honest with them. That's how it's worked; the fact that we have those guys who are willing to maybe take a little lesser role and be the setup guy, or vice versa. I could take Casilla right now and say, you're going to be our setup guy. I think he'd be fine, I do. They are willing to set their ego aside and help us out in any way they can.
Q. It seems like there's also been communication between which might have helped.
BRUCE BOCHY:: Yeah, I'm sure. They are friends, teammates. Obviously helps when you have success. When you don't have success, it makes it a little tougher; they can question things a little bit easier. But when it's worked, I think they are willing to accept it a little bit easier.
Q. You said Maeda has a good talent. Have you seen him pitch?
BRUCE BOCHY:: In video. In our baseball ops, we have all the video of everybody, a lot of players in Japan.
Q. Is there anything special about him?
BRUCE BOCHY:: He looks like he knows what he's doing. He can pitch. Got great command. He looks like he has good poise out there, very confident-looking guy. But he's a pitcher. He doesn't try to power his way through. He's smart.
Q. A lot of people in baseball now are talking about how because pitchers do worst third or fourth time through the order, that you should limit starters innings. Do you have any thoughts on that?
BRUCE BOCHY:: I don't quite agree with that, but the numbers are what they are. If they are that consistent, I think you have to be aware of them, which we are. We have a tremendous group of guys, our baseball ops, that they keep up with that. The problem you run into is that you've got to have somebody getting you deep in the game because that bullpen is going to get worn down, too. I know there's clubs that are trying to shorten things up and go to the bullpen a little quicker, but at some point, you're going to have a couple guys that eat those innings. That's old-school thinking, but it's still I think critical to success in the year so you don't wear out your guys in the bullpen.
Q. The follow-up to that is you don't really see guys like Bob Stanley anymore who could come in and work multiple innings a lot. Is that something that we should see?
BRUCE BOCHY:: Well, I think it's important you have a couple guys on your staff that can go multiple innings. Petit was one of those guys for us, Kontos. There's times when I've used my setup guys an inning-plus. But the two-, three-inning guys I think are as important as that one-inning closer, because, again, those are the guys that keep you from using your late-inning guys too much. But if you're talking about your setup guy or closer doing that, I don't think you're going to see that anymore. You may see the four-out, five-out save occasionally. Of course, in Postseason it changes, but you just want those guys available as much as you can have them ready to go. So I think that's where the game is going to remain the same.