Atkins: 'We're a little bit closer' to making a move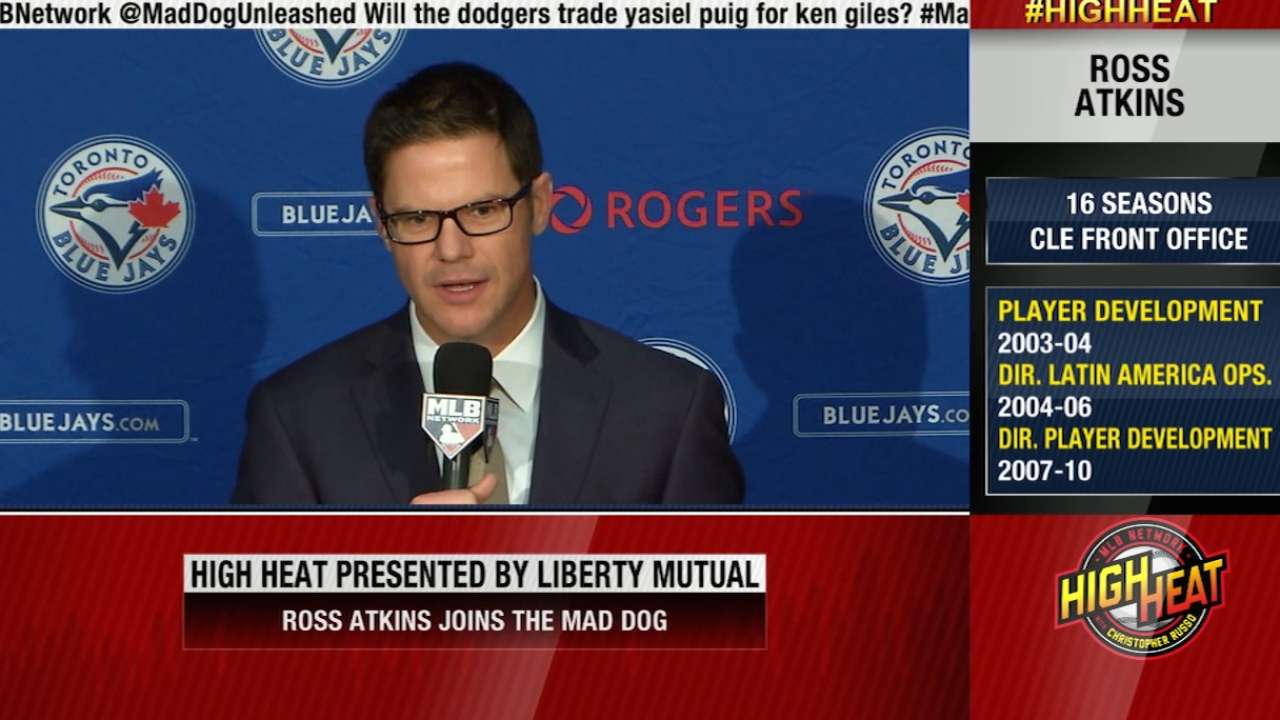 NASHVILLE, Tenn. -- The Blue Jays have remained very quiet during this week's Winter Meetings, but general manager Ross Atkins believes his team is getting closer to making a move.
Toronto remains in the market for depth in the starting rotation, and it will look to add at least a couple of relievers. But to date there have not been any moves made at the Gaylord Opryland Resort & Convention Center.
Atkins was vague on details during his first scrum with the media on Tuesday afternoon and wouldn't commit to whether the rotation or bullpen is a bigger priority. But he did claim the Blue Jays are beginning to make some progress to complement the current roster.
"Every day we're a little bit closer," Atkins said late Tuesday afternoon. "We sat down in these chairs probably at 7:30 a.m. this morning and this is the first time we've gotten up. A couple of different rooms we moved out of and into, but we spent all day working closer to making our team better and feel better about a couple of the discussions we've had."
The Blue Jays appear more likely to get most of their work done through free agency rather than trades. Toronto doesn't have a lot of depth at the upper levels of its Minor League system, and there seems to be a desire within the organization to hang onto its remaining top prospects.
Free agency would make more sense for a team that is not only looking to contend in 2016, but also lay the foundation for success in future years as well. The problem is that the Blue Jays have a projected payroll of approximately $135 million. While we know it will go up from there, it remains to be seen by how much.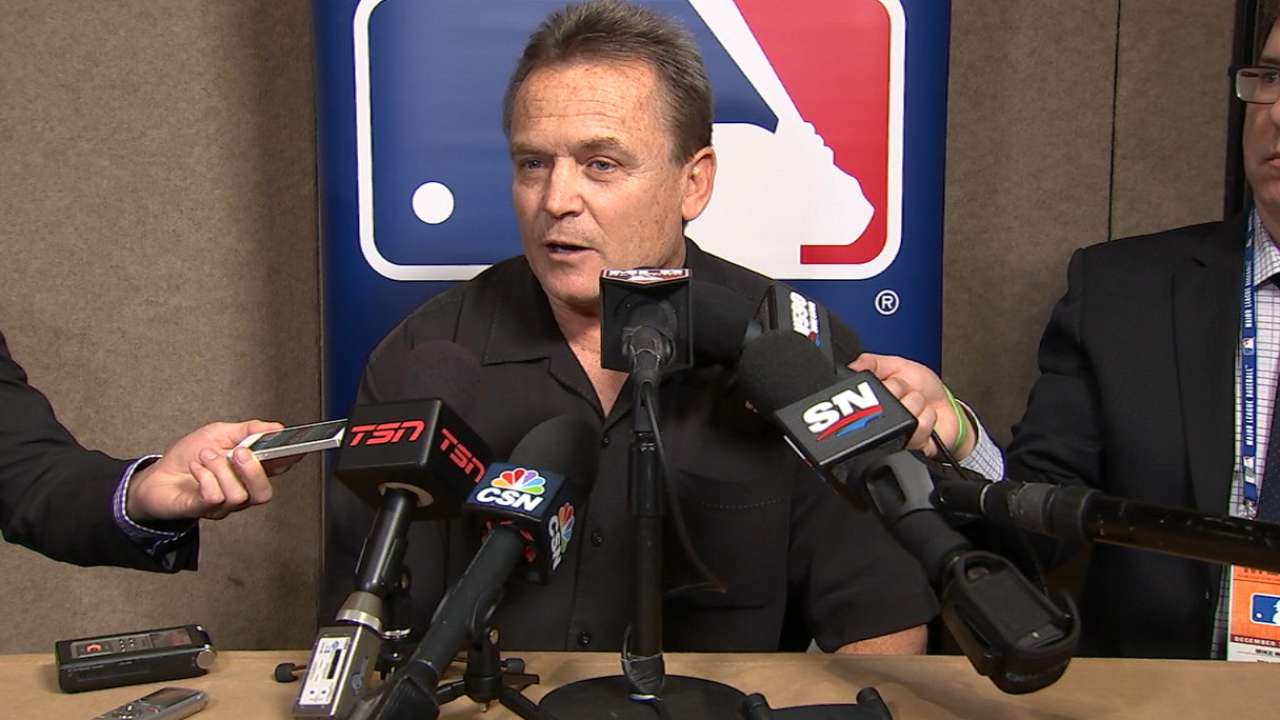 Tony Sipp, Casey Janssen, Craig Stammen, Tommy Hunter and Joe Blanton are among the relievers who are still available, while Neftali Feliz and Al Alburquerque were recently non-tendered by the Tigers.
"We've talked both, but today we made a little more progress in free agency because of how we feel about our 2016 team," Atkins said of free agency and trades.
"Not going to comment on specific players we're targeting, but really feel good about the progress we made here with the time we've had. Excited about tonight, tomorrow morning, and we're a little bit closer every day to making the team better."
Worth noting
• Toronto currently has four starters -- Marcus Stroman, Marco Estrada, R.A. Dickey and J.A. Happ -- with guaranteed jobs while Drew Hutchison and Jesse Chavez are expected to compete for the final spot. Atkins was asked whether he would be willing to add another starter with a secure spot or whether the Blue Jays would prefer to keep that a competition. The GM declined to get into specifics.
"What we're working towards is depth and making sure we can get through a season of 162 [games]," Atkins said. "We want as much of that as we can get, and we need to be creative in doing so and don't want to paint ourselves into a box."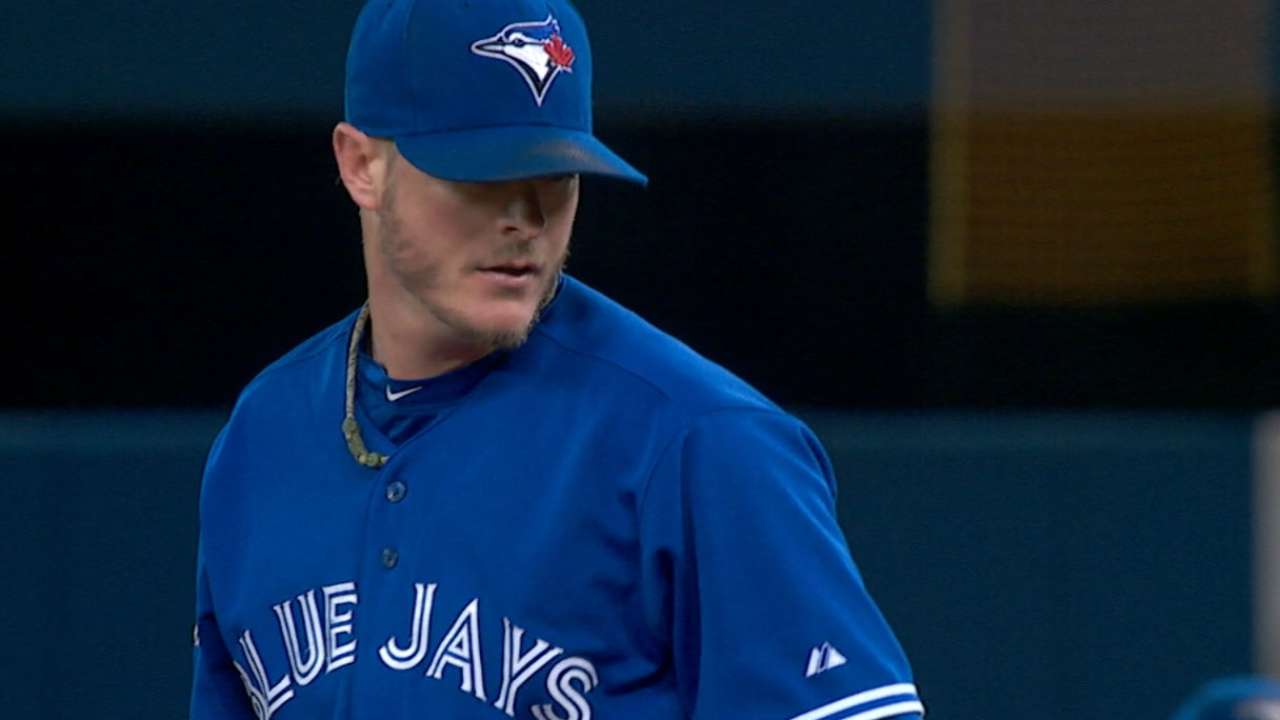 • Outfield is one area where the Blue Jays have a lot of depth. Kevin Pillar, Jose Bautista and Ben Revere are the projected starters, but Toronto also has Michael Saunders and Dalton Pompey on the 40-man roster. It appears to be one spot where the Blue Jays could look to make a move.
"I would say that is an area of opportunity potentially, and really, I think it's about being creative," Atkins said. "That's an obvious area where we could have a piece in addition to the way the team is set right now, but really it's about being creative and thinking about how we make the team better today and tomorrow."
• Dickey is a resident of Nashville, and he stopped by the Gaylord Opryland Resort & Convention Center to meet Atkins for the first time. Atkins was officially hired on Dec. 4 to become the club's new general manager.
"We spent some time with R.A. [on Sunday] for about an hour; he came in and sat down with us," Atkins said. "He and I have some common things in our past. We're the same age actually and have some good mutual friends, so I enjoyed talking to him, enjoyed getting to know him a little bit further."
Gregor Chisholm is a reporter for MLB.com. Read his blog, North of the Border, follow him on Twitter @gregorMLB and Facebook, and listen to his podcast. This story was not subject to the approval of Major League Baseball or its clubs.