Kiermaier takes pride in defensive calling card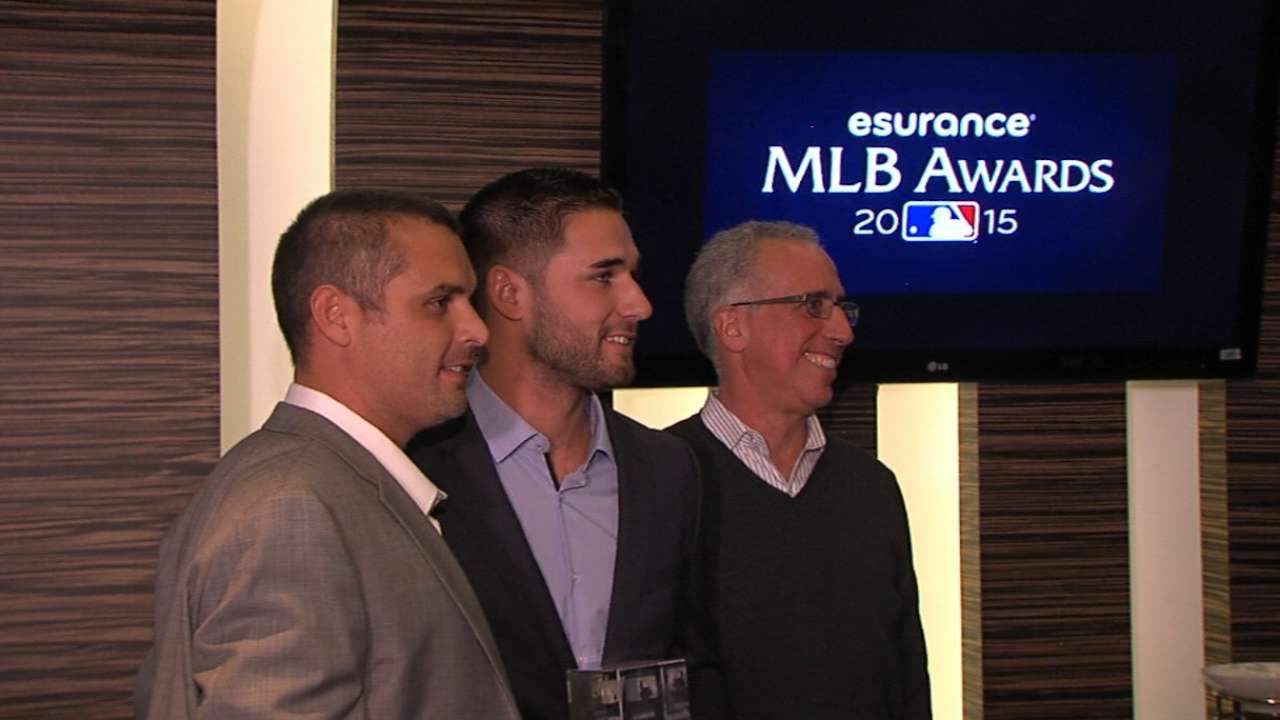 Baseball's analytical and scouting communities don't always see eye to eye, but Rays center fielder Kevin Kiermaier may have united both with his defensive brilliance in 2015, and for his efforts he took home a treasure trove of accolades, including the Esurance MLB Award for Best Defensive Player.
"I can't believe that all of this is happening," Kiermaier said on Tuesday at the Winter Meetings in Nashville, Tenn. "Winning the Gold Glove and Platinum Glove and now the Esurance Defensive Player of the Year for the whole MLB, it's just blowing me out of the water."
• Complete 2015 Awards coverage
Kiermaier was presented his trophy -- called a GIBBY (Greatness in Baseball Yearly) -- at Tuesday's Esurance MLB Awards reception. In attendance were several of the game's biggest names, including the Esurance MLB Award winners for Best Manager and Best Executive -- Joe Maddon of the Cubs and Dayton Moore of the Royals, respectively -- and a handful of other A-listers.
By most defensive metrics, Kiermaier was far and away baseball's best fielder in 2015, nearly lapping the field in UZR/150 (40.7; second was right fielder Jason Heyward, with 22.3) and Defensive Runs Saved (42; second was shortstop Andrelton Simmons, with 25).
Meanwhile, Kiermaier was worth five victories over a replacement-level player at his position, according to Baseball-Reference.com's defensive Wins Above Replacement (WAR). For reference, someone with 5.0 WAR overall -- which encompasses offense, defense and baserunning -- would be considered an All-Star in most years.
His excellence was also confirmed by Statcast™, which showed what most observers already knew: Kiermaier can track down balls -- as evidenced by his 88.8 percent average route efficiency -- and generate throw velocity as well as anyone in the sport. In fact, he tied Carlos Gomez for first in baseball with five outfield throws of at least 100 mph during 2015; no other player had more than two.
Kiermaier, a 31st-round Draft pick in 2010, said dazzling defense has long been his calling card.
• Kiermaier out to take his game to new heights
"I was always the smallest one in my class growing up, so I wasn't out here hitting a bunch of home runs. But I could stand out defensively," he said. "I think I've just always taken so much pride in it where it's just elevated my game so much as far as that goes.
"I know that it's something that can keep me around the big leagues for many years to come."
The Esurance MLB Awards annually honor Major League Baseball's greatest achievements as part of an industry-wide balloting process that includes five components, each of which accounts for 20 percent of the overall vote: media, front-office personnel, retired MLB players, fans at MLB.com and Society for American Baseball Research voters.
Individual awards were presented for 24 categories, including Best Major Leaguer, Everyday Player, Bounceback Player, Social Media Personality and Postseason Performer. Winners were also recognized for the year's Best Offensive Play, Defensive Play, Moment, Single-Game Performance, Social Media Post, Celebrity Fan and Fan Catch.
Nominees were judged on their bodies of work from the entire season -- from Opening Day through the postseason -- and selected after a careful review of all 30 clubs.
Zachary Finkelstein is a reporter for MLB.com. This story was not subject to the approval of Major League Baseball or its clubs.