Phillies' Mackanin, Klentak on the same page
New skipper, GM predicate relationship on communication
NASHVILLE, Tenn. -- Matt Klentak and Pete Mackanin seem to be getting along just fine since they first met in October.
The Phillies named Mackanin their manager in 2016 before they hired Klentak as general manager in October. General managers often prefer their hand-picked men in the dugout, but both said Tuesday they expect no problems next season.
"I think if we're collectively doing our jobs the right way and communicating the way that we need to that there should never be an issue," Klentak said. "There should never be a time where I want something to happen that he's doing the other way. As long as we're communicating, which we will, there shouldn't be an issue."
"We're always going to talk," Mackanin said. "I'm open to any suggestion. He gets the players for me, and I run the team with his input. And I give him input on which players I'd like to have, so he makes that final decision. Ultimately he ends up making my decision too. If he tells me he wants this guy playing a little bit more, I'm open to it. I get it. I might not agree with it, but in the end if he tells me to do it, I'll do it."
Mackanin later discussed numerous topics during his media session at the Winter Meetings:
Who's in center field? Mackanin called Odubel Herrera one of the better defensive center fielders in the National League, but he knows the Phillies just acquired Peter Bourjos last week. Bourjos is regarded as one of the best defensive center fielders in baseball.
So who plays center?
"In my mind right now, [Herrera] is the incumbent center fielder, which doesn't mean it won't change in the spring," Mackanin said. "As hard as he worked towards accomplishing his goals defensively last year, I want to make him -- I don't want to discourage him after doing such a good job for us."
• Full Winter Meetings interview with Pete Mackanin
Interestingly, Mackanin also said Herrera could get some time at second base in Spring Training. Herrera played primarily second base in the Minor Leagues before joining the Phillies last season. But the Phillies have other outfielders coming through the system, so if they need to make room for somebody, Herrera could transition to second to keep him in the lineup.
"It might come to that," Mackanin said. "I'm not looking to do that right now, but it may happen. But I don't want to. He had such a great showing defensively that I don't want to, like I said, discourage him from making him think it was all for nothing."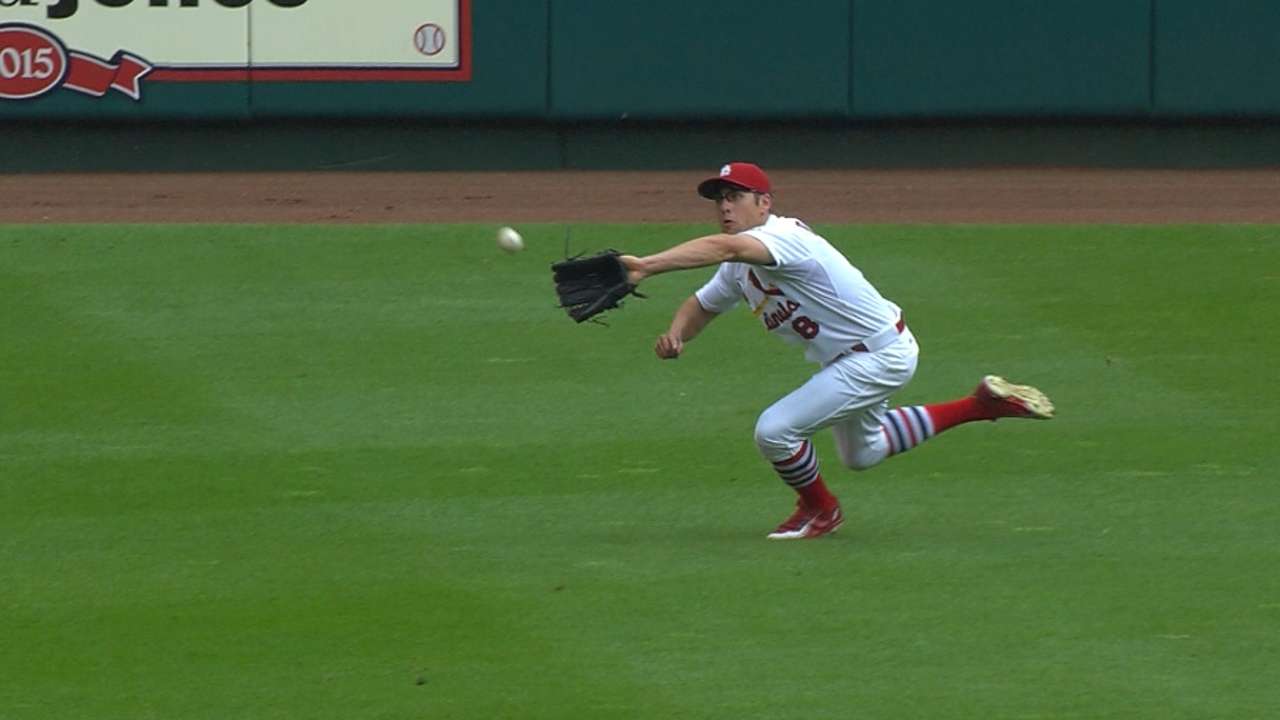 Bourjos will play: The Phillies did not acquire Bourjos to sit on the bench. The Phillies believe he will perform better offensively if he plays on a more regular basis.
"There's a lot of people that feel that he's better than the way he's played the last few years," Mackanin said. "I'm one of them."
Franco's D: Third baseman Maikel Franco had a fine rookie season offensively, but he struggled defensively at times. He committed 10 errors in 75 games at third.
"I think he got a little careless, and we're going to see a Gold Glove-type performance out of him defensively," Mackanin said. "He felt like he let himself down last year. We know he's better."
Todd Zolecki is a reporter for MLB.com. Read his Phillies blog The Zo Zone, follow him on Twitter and listen to his podcast. This story was not subject to the approval of Major League Baseball or its clubs.