Cubs thrilled to add Lackey to their fold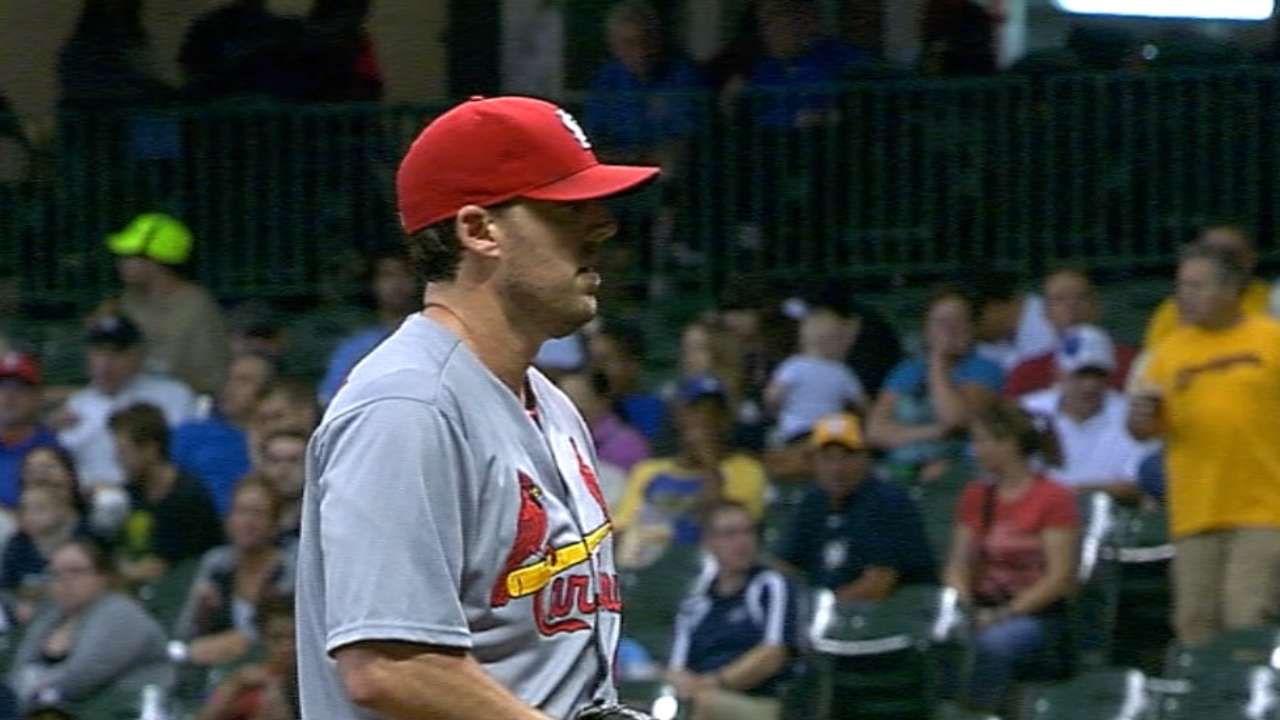 NASHVILLE, Tenn. -- The Cubs added a key piece to the rotation on Tuesday, formally announcing the signing of free agent John Lackey to a two-year, $32 million contract.
"It's really exciting to get John," Cubs manager Joe Maddon said of the addition, announced at the Winter Meetings.
Maddon and Lackey were first together in Anaheim, and the right-hander helped the Angels win the World Series in 2002, winning Game 7 against the Giants. Maddon quipped that the pitcher's performance in the postseason "actually helped pay for my daughter's wedding -- I was very grateful for many years for that."
Lackey, 37, will be slotted in behind his former Red Sox teammate Jon Lester and National League Cy Young winner Jake Arrieta. Not a bad combination.
"He's one of the best competitors I've ever been around," Maddon said. "He demands a lot on a daily basis when he plays, of himself and his team, and I love it. I really believe the particular kind of edge that John provides is really going to be helpful for us moving forward. I like the idea of coming off the year we had to add this kind of personnel to the group I think it will benefit us even more. Our veterans within the group are spectacular and now you get to add John Lackey."
The Cubs are coming off a 97-win season and trip to the postseason for the first time since 2008. They reached the NL Championship Series, only to get swept by the Mets. With Lester, Lackey and Arrieta, the Cubs now have three pitchers who were ranked in the top 15 ERAs in the NL in 2015.
Lackey was 13-10 with a career-best 2.77 ERA in 33 starts with the Cardinals last year, and finished ninth in the Cy Young voting after matching his career high in starts. His 218 innings pitched were second-most in his career.
Maddon said he felt Lackey will be a perfect fit on the Cubs.
"I like the edge, I love the edge. Edge is good," Maddon said. "I know how supportive he is. He's a great teammate, how supportive he'll be with the entire group, but I also know that, when he plays, he's going to demand the guys are ready to play.
"I think he's good for us," Maddon said. "He's almost a perfect fit for us after the season we just had."
With the addition of Lackey, the Cubs' 40-man roster now is 38.
Cubs president of baseball operations Theo Epstein contacted Lackey early in the offseason to express their interest in the right-hander. Epstein knows him well, having signed Lackey to a five-year, $82.5 million contract in December 2009 with the Red Sox.
"We had the chance to get Lackey done on a contract that made sense for him and for us," Epstein said. "We're glad we got it done because we think he's a real quality pitcher and person."
Fantasy spin | Fred Zinkie (@FredZinkieMLB)
By signing with the Cubs, Lackey has an excellent opportunity to be a valuable back-of-the-fantasy-rotation asset in shallow leagues during 2016. The right-hander will be hard-pressed to replicate his 2.77 ERA from last season, but a mark in the mid-3's -- close to last year's 3.59 FIP -- should be attainable. And given Chicago's standing as a young, talented bunch on offense and defense, the veteran would seem to be in solid position for a lofty win total.
Carrie Muskat is a reporter for MLB.com. She writes a blog, Muskat Ramblings. You can follow her on Twitter @CarrieMuskat and listen to her podcast. This story was not subject to the approval of Major League Baseball or its clubs.