Price's former managers laud lefty ace
All expect Boston's new acquisition to thrive with Red Sox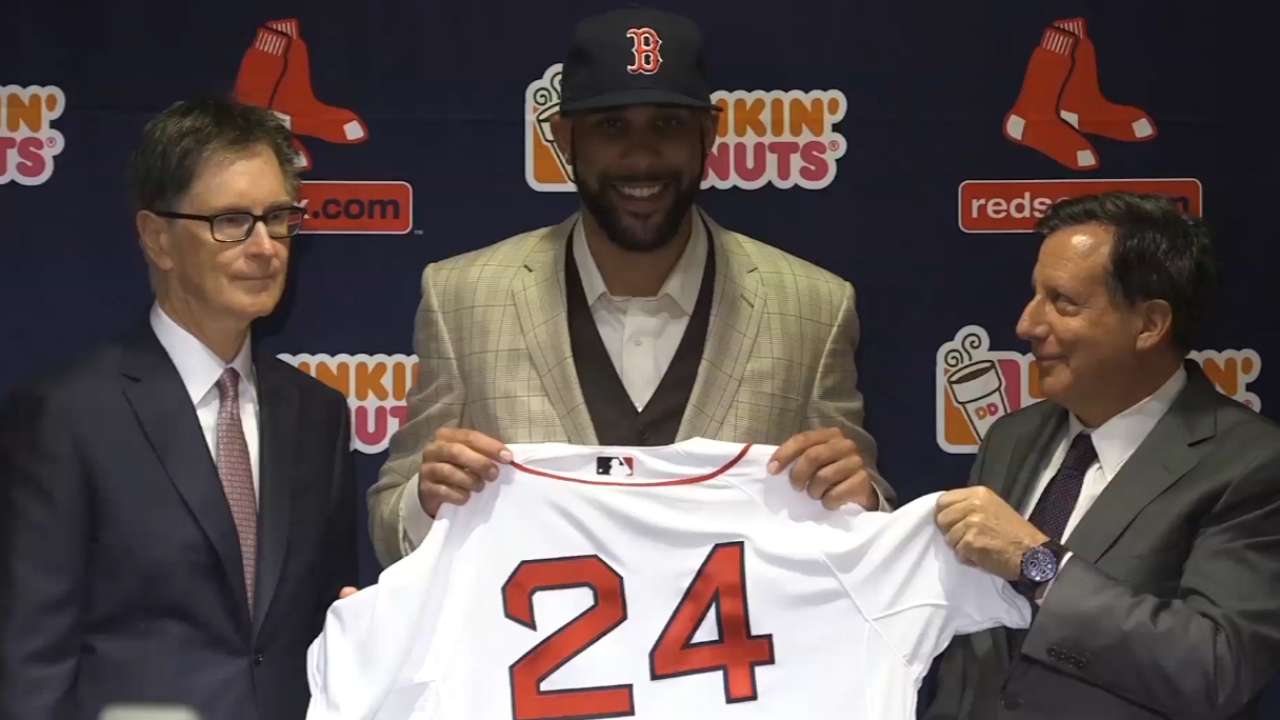 NASHVILLE, Tenn. -- In 2016, John Farrell will become the fourth person to manage David Price during his Major League career. Judging by the glowing words from Price's first three skippers, the lefty ace will almost instantly become a favorite of Farrell, his teammates and the city of Boston.
And while quite a few players have had at least a tough first year transitioning to a big market after signing a mammoth contract, nobody seems to think Price will be fazed by his move to the Red Sox.
"He's going to love it. He's not going to change," said Cubs manager Joe Maddon, who was Price's manager with the Rays from his debut in 2008 until being traded to the Tigers in July 2014. "What you've seen up to this point you're going to see there. He's going to pitch the same. Off the field, the community is going to love him. He's going to get involved."
Brad Ausmus managed Price for one year in Detroit, but it was enough to get a taste of why the lefty carries so much respect around the game.
"He just really cares about the game and the people around him, and he wants to win," said Ausmus. "He was a joy to have. I've had ... friends in the game who their clubs were interested in David Price [call] me about him, and I said, 'Listen, I can't say a bad thing about this guy, I really can't.' He's above board on every aspect."
In fact, Price's rapport with his teammates is so strong that Ausmus thought he might wind up in the National League just so he could hit all season and be more in the middle of the action.
"D.P. is a guy that would come out early with position players and hit with them. He really enjoyed the game of baseball," Ausmus said. "He was like a kid. He wanted to have those little things around him to entertain him, whether it's cribbage with his teammates or taking batting practice, early batting practice with his teammates. I always felt like he wanted to experience that. That's the only thing that surprised me about the signing is I thought he would go to a National League club."
Blue Jays manager John Gibbons got Price for the stretch run in 2015, a time in which Toronto played postseason baseball for the first since 1993. Though Price wasn't in Toronto the whole year, his presence played a large role in the overall success of the club.
"From a personal standpoint, what he did for us last year, he really basically got us over the top," Gibbons said. "If we didn't acquire him, there's a good chance we don't make the playoffs. He was that good for us. They're getting the best, no doubt about it. His career speaks for himself. He's one of the elite pitchers in the game, and he always has been."
Price defies all the stereotypes about pitchers and position players forming their own cliques.
"His teammates are going to love him, because when that guy is not playing, he's more supportive, or as supportive as anybody I've ever met as a starting pitcher who is not playing that day," Maddon said. "He's transparent. That's who he is. There's nothing fabricated. That's who he is. I don't anticipate anything to change."
"I'm happy for him," Ausmus said. "He's a good guy and got a good contract."
Ian Browne is a reporter for MLB.com. Read his blog, Brownie Points, follow him on Twitter @IanMBrowne and listen to his podcast. This story was not subject to the approval of Major League Baseball or its clubs.