Kiermaier out to take his game to new heights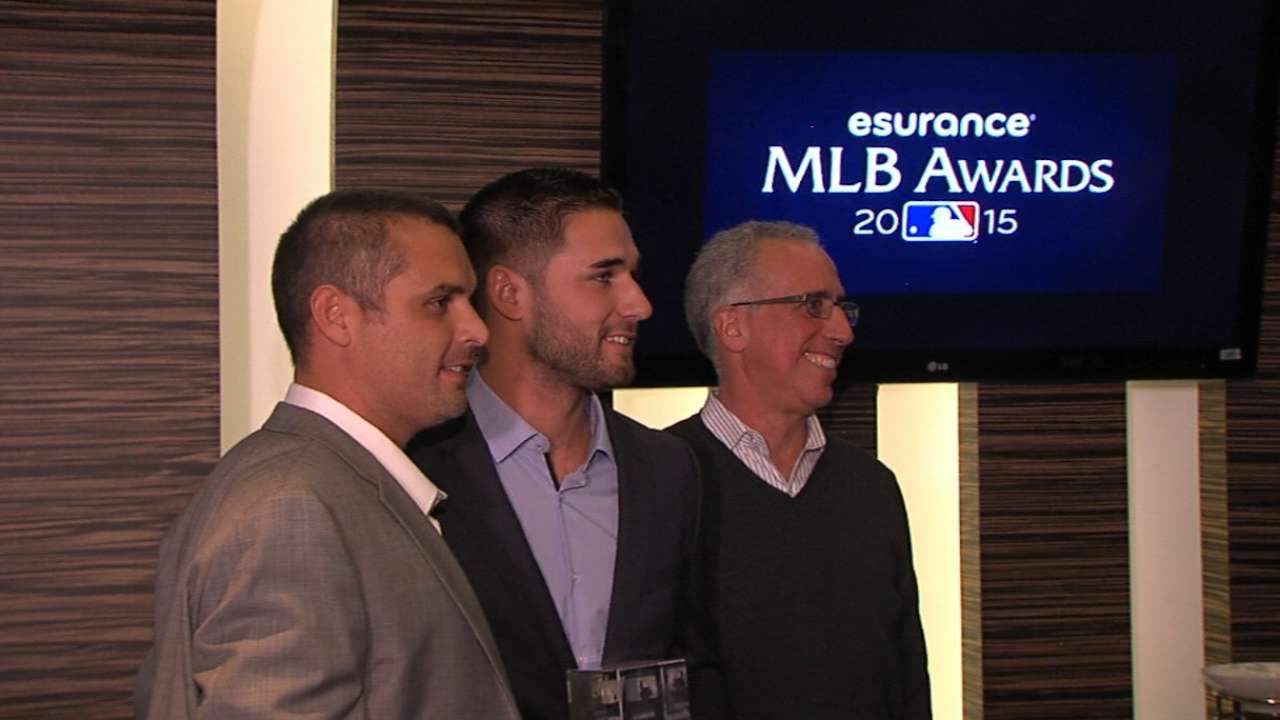 NASHVILLE, Tenn. -- Coming off a breakout season, Kevin Kiermaier is motivated to be even better in 2016.
The Rays' standout center fielder arrived in Nashville on Tuesday to receive his Esurance Defensive Player of the Year Award. Hours before receiving his award, he spoke about what's ahead for the coming season.
"I'm in the best shape of my life right now," Kiermaier said. "I plan on continuing to work hard right up until Spring Training. I think a lot of my teammates and people are going to notice that I really got after it this offseason. That's something that I take a lot of pride in."
Continuing to improve offensively is front and center in Kiermaier's mind. Kiermaier had a .263/.298/.420 slash line in 2015. Add to that 10 home runs, 40 RBIs and 18 stolen bases, and one can see an emerging offensive player. He actually credited an injury to his right thumb for helping him improve this past season.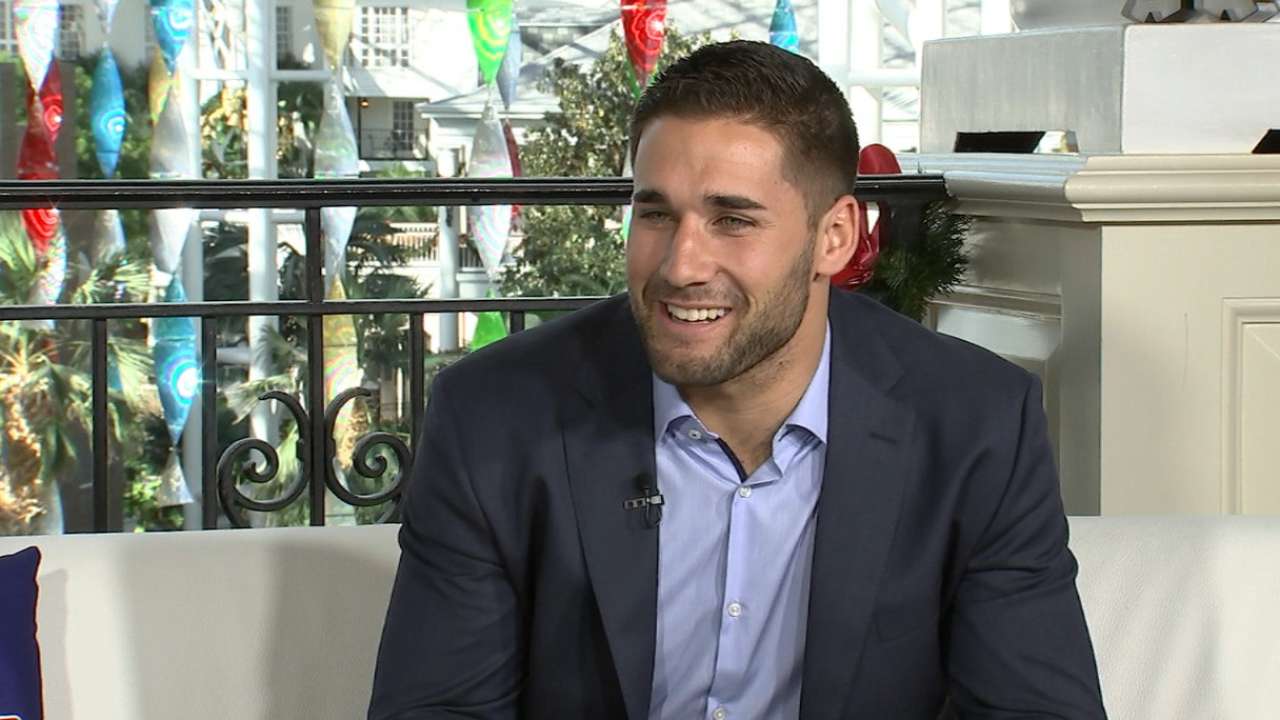 "When the Mets came into town [in August] and I hurt my thumb, I was so much better from there on out," Kiermaier said. "I finally figured out what I want to do with my approach and my swing.
"The last two months of the season, I went with a less-is-more approach. I cut down on the strikeouts. I had much better at-bats and I was just so happy about how everything unfolded. I just told myself, 'I'm going to learn from this,' [with] what happened with my thumb. And I'm going to take this and use it for the rest of my career. Anytime you can learn from something like that and use it to your advantage, it's going to help you, so I'm already excited [about Spring Training]."
Kiermaier chuckled while noting that manager Kevin Cash and bench coach Tom Foley both threatened to take a hammer to his thumb in the future so he would continue to adhere to the same offensive approach.
Now Kiermaier can't hide his excitement about his evolving offense.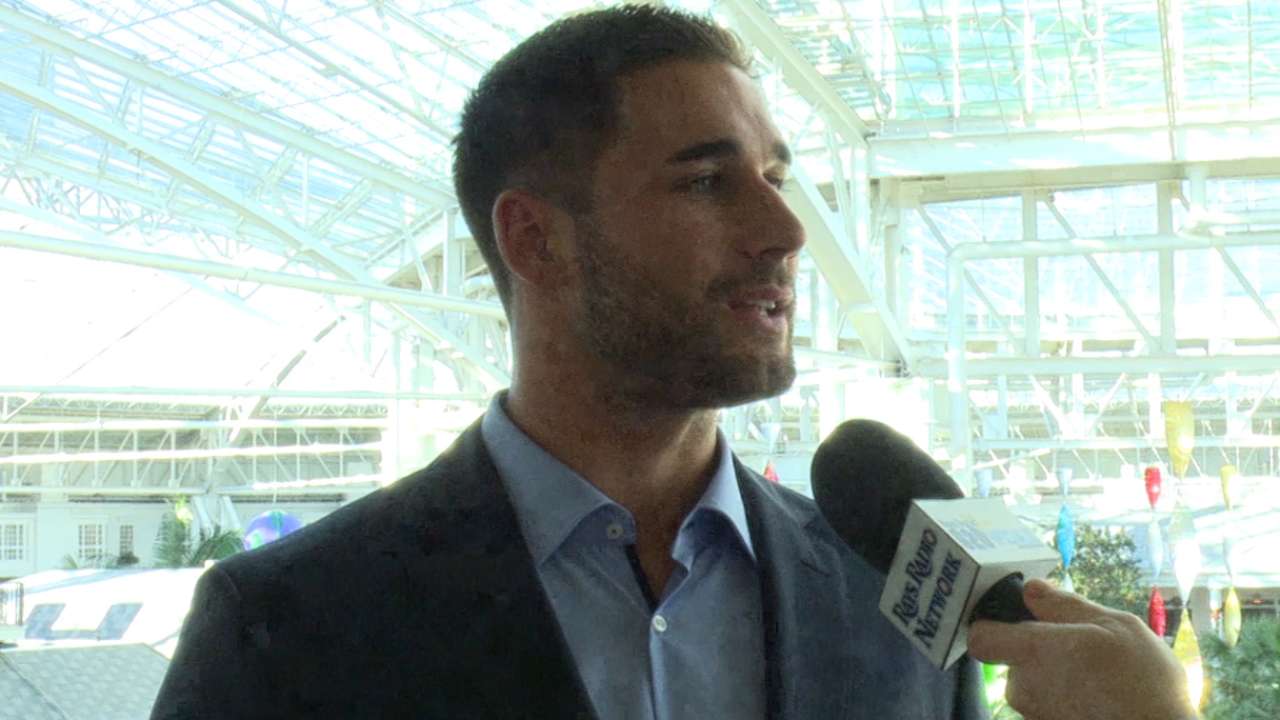 "I know that I'm going to be so much better this year," Kiermaier said. "Even though my numbers didn't show it this year, compared to my rookie year, I was so much better this year as far as handling breaking balls and hitting with runners in scoring position -- because that's something I didn't do in 2014. I was very happy with the steps I took offensively this year."
While Kiermaier is emerging offensively, his defensive prowess is where he butters his bread. Kiermaier doesn't plan on changing anything about how he plays defense, which combines a rare form of athleticism with all-out effort on every play. Kiermaier allowed that his style of play has prompted some to talk to him about saving his body some, which he said he might consider by running 75 percent on a ball hit back to the pitcher or an automatic out to second. Just don't ask him to do so while patrolling center field.
"If I have to go dive on the turf at the Trop to make a play ... I can't channel that out of my mind to not do anything like that," Kiermaier said. "And I'm not going to go into the Green Monster at Fenway at full speed, because I know the consequences of that. But as far as every day, I don't plan on changing until I have to. I feel like I can play reckless at times, but I feel like I do that all for a purpose. I just want to help the team out as much as I can."
Bill Chastain is a reporter for MLB.com. This story was not subject to the approval of Major League Baseball or its clubs.