D-backs auctioning experiences for SU2C
Hang out with Pollocks, Goldy, Gonzo, Putz and Collmenter; bidding ends Thursday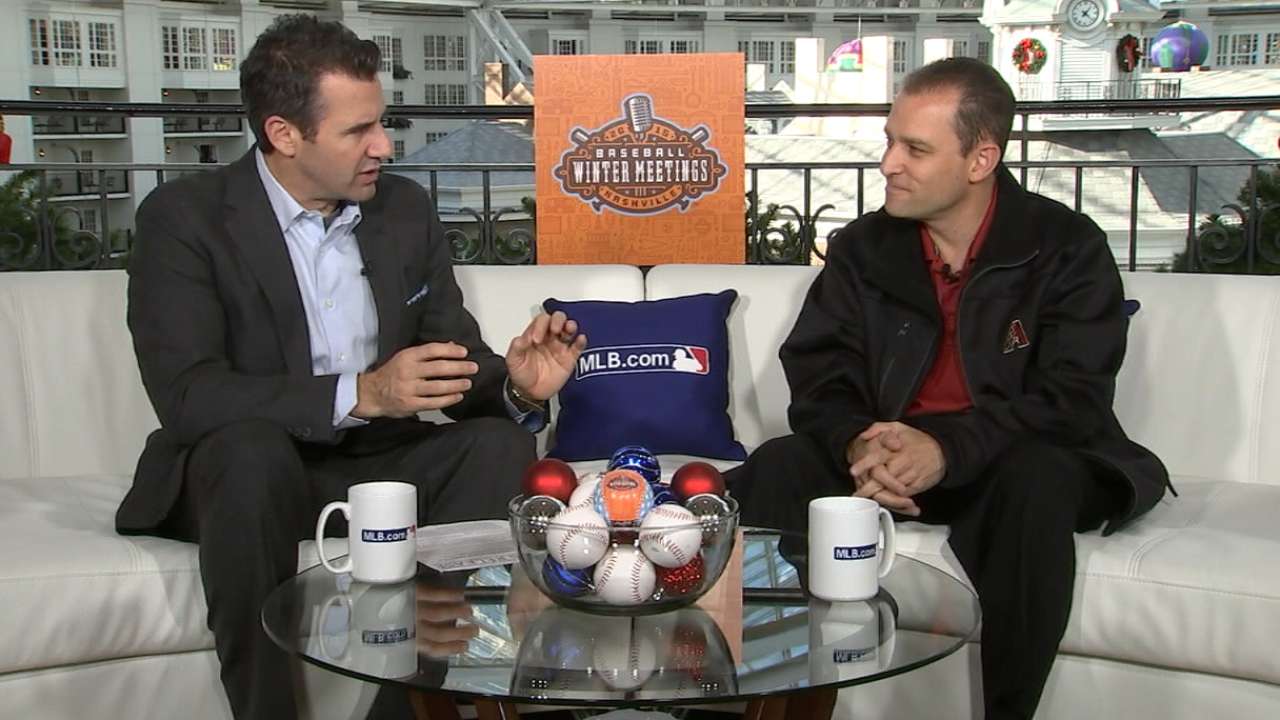 NASHVILLE, Tenn. -- Just last week, D-backs team president/CEO Derrick Hall said that almost all 29 other teams in Major League Baseball have inquired about the availability of outfielder A.J. Pollock in a trade.
D-backs fans, it turns out, can have breakfast with Pollock and hike up Camelback Mountain with him and his wife, Kate, if they win the bidding during the annual Winter Meetings charity auction organized by MLB, MLB Advanced Media, MLB Network and the 30 clubs.
• Bid now
Brunch and the hike with the Pollocks highlights the one-of-a-kind experiences that fans can bid on.
Also included in the auction is lunch with first baseman Paul Goldschmidt, D-backs World Series hero Luis Gonzalez and former All-Star closer J.J. Putz at TGI Friday's at Chase Field prior to a game next season.
Another experience up for auction is a session of painting and drinking wine at The Brush Bar in Scottsdale, Ariz., for you and a guest with D-backs right-hander Josh Collmenter.
Yet another is a round of golf for up to three people with All-Star and new D-backs pitcher Shelby Miller in Scottsdale during Spring Training.
Proceeds will be used to raise awareness and funds for cancer research. This initiative, which has raised nearly $500,000 since its inception, was inspired by the numerous employees, friends and fans of the game who have been affected by cancer.
A significant portion of the proceeds will go to Stand Up To Cancer, a longtime partner of Major League Baseball, its founding donor in 2008. In addition, this year's auction will benefit Do It For Durrett, in honor of the late Texas Rangers ESPN.com beat writer Richard Durrett, who passed away suddenly last year, and the YouCaring page established for Miami Marlins Sun Sentinel beat writer Juan C. Rodriguez, who is currently battling a brain tumor.
The auction will run until 7 p.m. MT on Thursday.
Steve Gilbert is a reporter for MLB.com. Read his blog, Inside the D-backs, and follow him on Twitter @SteveGilbertMLB. This story was not subject to the approval of Major League Baseball or its clubs.