Rockies sign Motte, Qualls to 2-year deals
Both right-handers to have opportunities to close, says GM Bridich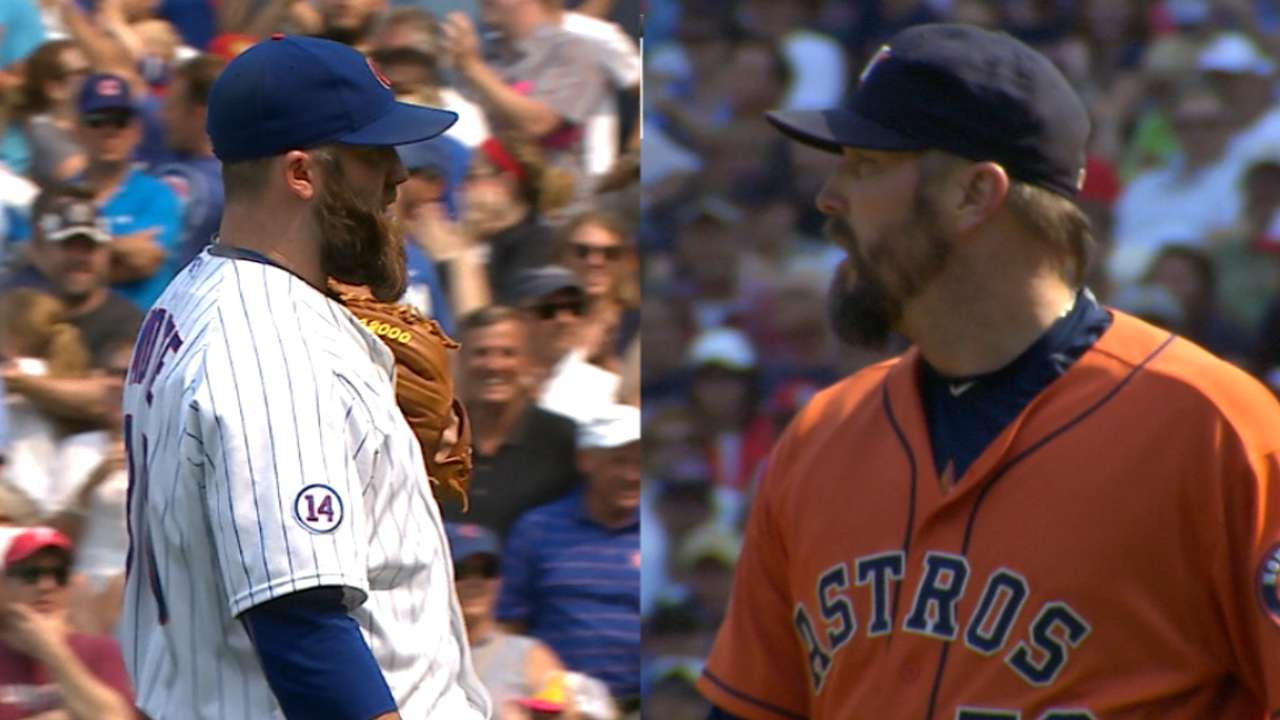 NASHVILLE, Tenn. -- The Rockies signed right-handed veterans Jason Motte and Chad Qualls to two-year contracts -- $10 million for Motte, $6 million for Qualls -- on Tuesday to add power and experience to the late-inning bullpen.
Motte, 33, a former Cardinals closer before missing 2013 with Tommy John right elbow surgery, made 57 appearances for the Cubs (3.91 ERA, 34 strikeouts, 11 walks) last season and earned his first six saves since leading the National League with 42 in 2012.
Qualls, 37, posted a 4.38 ERA and four saves in 60 games with the Astros last season.
There are risks with both. Motte didn't pitch in the postseason because of right shoulder fatigue -- a residual from coming back from the elbow surgery. Qualls missed 14 games from June 25-July 10 with a pinched nerve in his neck. But both checked out during physicals, and Motte was throwing live bullpen sessions during the postseason and could have been in the mix for the World Series roster had the Cubs made it.
At Coors Field, Motte has a .258 batting average against, 10 strikeouts against one walk and a 4.70 ERA in nine games. Qualls, who has pitched in the NL West with the D-backs and Padres, has a .237 batting average against and a 3.05 ERA in 21 games.
"Finding guys that have had success in Denver, success in the NL West and who looked at our opportunity as a great opportunity for them -- all that stuff played heavily into our decision-making on this," Rockies general manager Jeff Bridich said.
Bridich replaced some of the experience that the club lost when it traded LaTroy Hawkins last season and parted with Rafael Betancourt during the season and John Axford afterward.
Motte and Qualls embraced the chance to help a young Rockies bullpen grow just a little faster.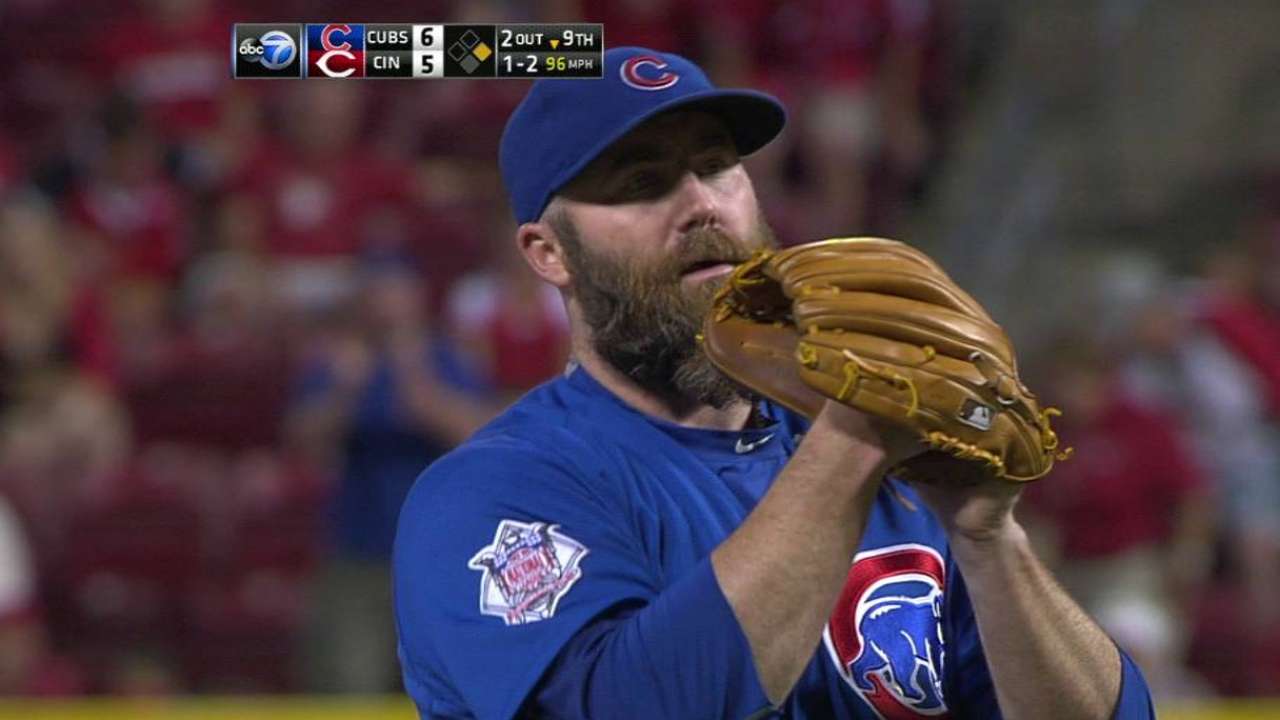 "Playing against the Rockies the past however many years I've played against them, they have some good bats, they have some good players," said Motte. "In talking to Jeff, hoping to come here and help out in the bullpen and hopefully help put some more W's on the board."
Qualls has perspective on what's possible. He joined the Astros in 2014 and was part of the team going from 51 wins the previous year to 70. Then last year, the Astros earned an American League Wild Card spot and advanced to the AL Division Series.
"I know that Colorado is a young team, the same mode Houston was in," Qualls said. "So hopefully we can get some of the young guys on track and expect to change it to winning ways over there.
"Young guys have to start believing in themselves, and expect to win. Once you change that mindset and get everyone to believe that way, that actually helps out more than just going out there and doing it. It's just getting those young guys comfortable playing and believing in themselves, that they are big leaguers."
With closer Adam Ottavino coming off Tommy John surgery last May, which puts his aggressive timeline for a return at June and his conservative timeline at after the All-Star break, Bridich sees Motte and Qualls as options.
"Both guys are going to have opportunities to pitch toward the back end of the game," Bridich said. "Just one guy closing all your games it's not always the reality. A couple guys had close to 50 saves last year. Otherwise, things happen. Injuries happen.
"We need as many guys as possible who are comfortable, confident and hopefully dominant in the eighth and ninth inning."
The Rockies have younger pitchers Jairo Diaz and Scott Oberg, who have been full-time closers in the Minor Leagues, and Justin Miller, who has closed at times in the Minors. The trio has a grand total of two Major League saves.
"A lot of [who closes] is going to come down to how the pieces fit together and who's best suited for what role, but the fact that [Motte] has done it, he's an obvious candidate," Rockies manager Walt Weiss said.
Bridich added the Rockies will keep looking to bolster the bullpen.
Motte said his shoulder has recovered, and he believes he can build on a 2015 during which he regained his mid-to-upper-90s velocity and control of his fastball and cutter.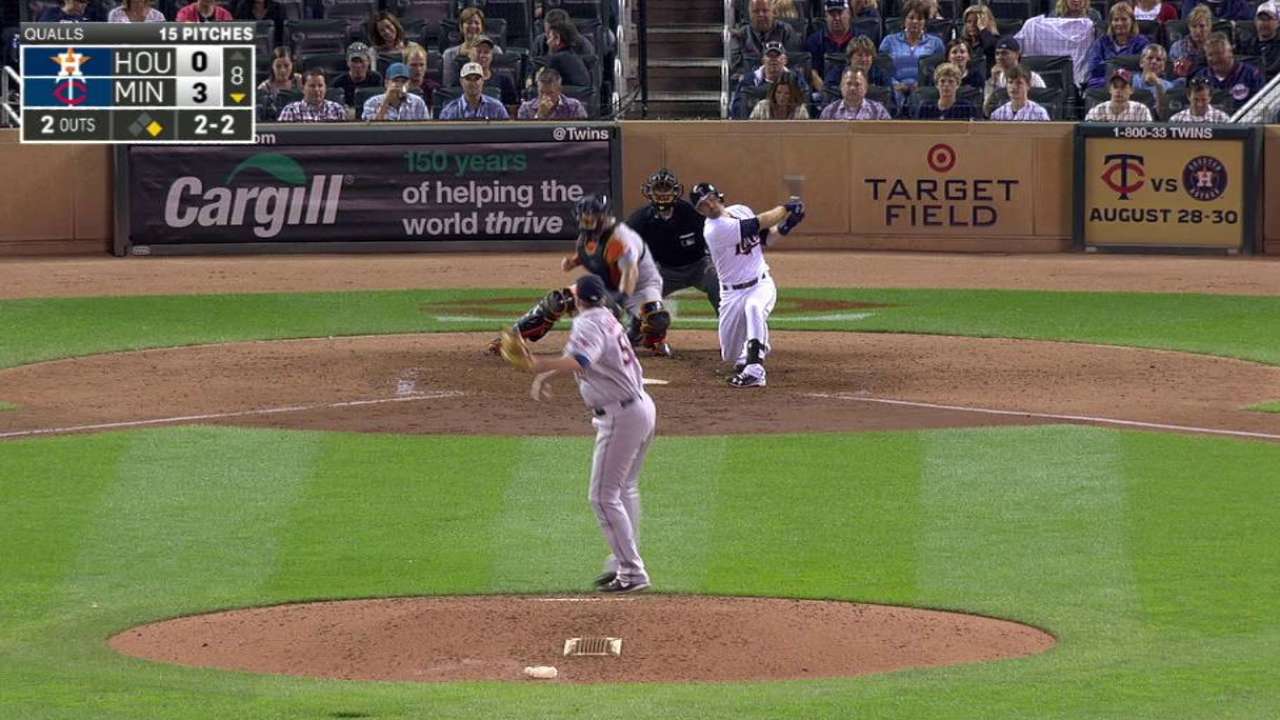 The well-traveled Qualls, joining his ninth team, has appeared in 52 or more games each year since 2010. That's a large amount of experience for a bullpen that has little of it beyond the work of lefty Boone Logan, whose injuries and inconsistency the last two years have limited his leadership potential.
Qualls has many traits the Rockies hope influence their less-seasoned pitchers. Over his career, he has three strikeouts for each walk, and 2.33 ground-ball outs for each flyout. Qualls uses mostly a sinker and a slider. He abandoned a changeup after suffering a pinched nerve in his neck and missing 14 games during the second half of last season.
"Jeff called me and asked me if I had any worries about throwing there," Qualls said. "I'm a ground-ball guy, so if I give up fly balls, that's not what I want to do. If I execute my pitches, I'm going to get my ground balls. As long as I've been playing, I haven't seen too many ground balls go out of the park."
Weiss said Qualls' ability to influence others led the team to pursue him.
"He embraces it at this point in his career, and that's a big part of it," Weiss said.
Fantasy spin | Fred Zinkie (@FredZinkieMLB)
Both Motte and Qualls have notable ninth-inning experience, but neither player is coming off an exceptional campaign. As a result, neither is a clear favorite for the closer's role at this time, though one of the two will likely seize the job. Expect this battle to be waged during Spring Training, with the winner emerging as a viable lineup option in deep mixed leagues.
Thomas Harding is a reporter for MLB.com. Follow him on Twitter @harding_at_mlb, listen to Podcasts and like his Facebook page. This story was not subject to the approval of Major League Baseball or its clubs.