30 teams, 30 rumors: Catch up on the latest buzz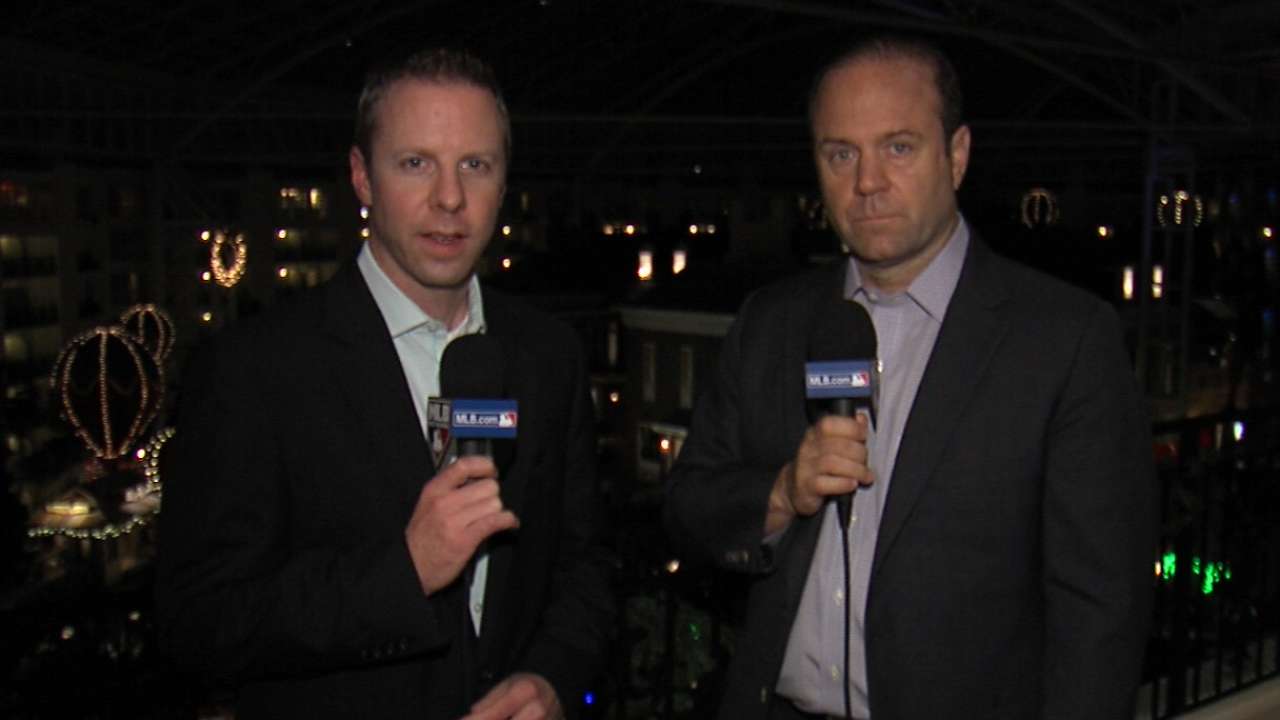 The great thing about the Winter Meetings is that every club is involved. No matter who you root for, there is going to be a rumor or two tied to your team every day of the proceedings.
With that in mind, here's a look at the most intriguing rumors attached to each club, as of Monday night. Check back in for regular updates.
• Hot Stove: Free agent tracker
Blue Jays
: The Blue Jays remain open to signing Edwin Encarnacion to a long-term extension, but have yet to engage in serious contract negotiations with the slugger, who is entering the final year of his current deal. More>
Orioles
: The Orioles are close to finalizing a four-year, $31 million contract to bring back reliever Darren O'Day, but remain focused on adding starting pitching via free agency or trade. More>
Red Sox
: The Red Sox appear likely to keep Joe Kelly in the rotation after trading starter Wade Miley to the Mariners for pitchers Carson Smith and Roenis Elias, but the Sox will still listen to trade offers from other clubs. More>
Rays
: The Rays engaged in trade discussions with the Cubs on a possible deal that would bring infielder Javier Baez to Tampa Bay, but nothing was finalized and it's unclear how serious talks are at this stage. More>
Yankees
: The Yankees, casting a wide net in their efforts to improve the roster, checked in on Marlins ace Jose Fernandez and were also linked to free-agent infielder Asdrubal Cabrera. More>
Indians
: The Indians are in the market for outfield help, but they don't appear inclined to address their need for offense by trading from their rotation. More>
Royals
: The Royals haven't ruled out bringing back Alex Gordon -- they are still monitoring the market for the outfielder -- and are rumored to be in the mix for free-agent left-hander Scott Kazmir. More>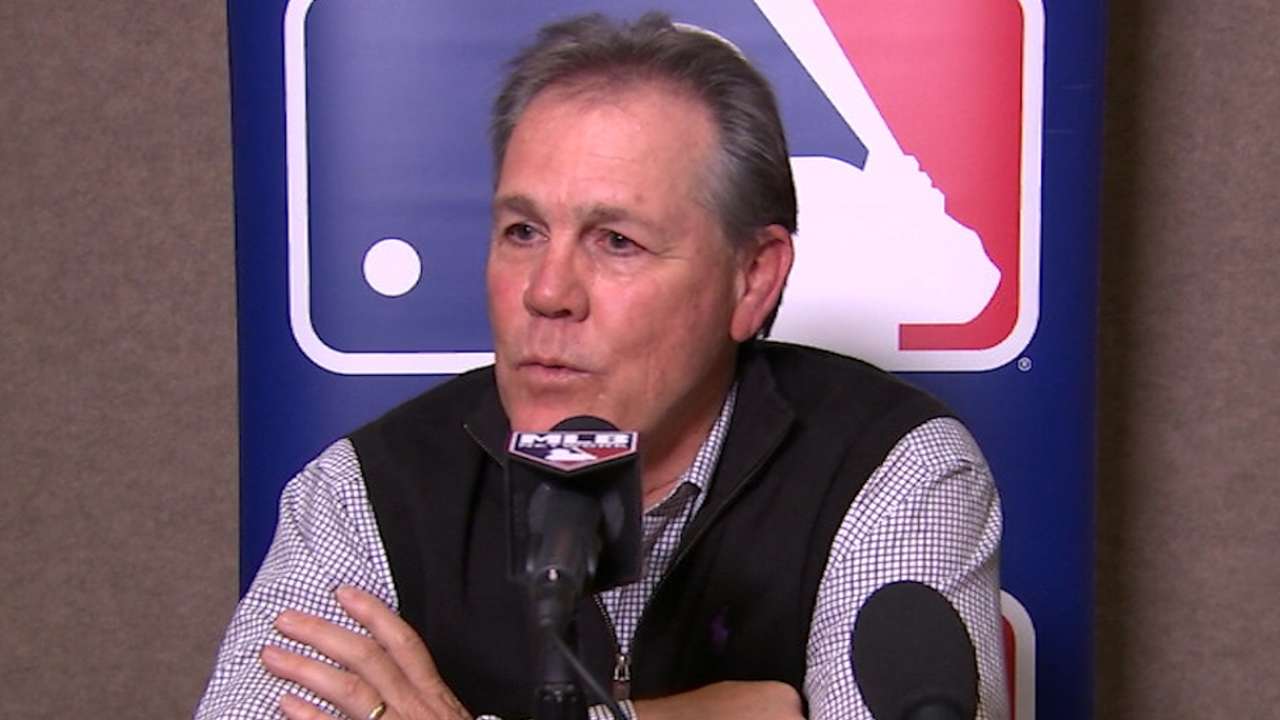 Tigers
: Tigers general manager Al Avila ruled out signing high-priced outfielders Yoenis Cespedes and Gordon, but Detroit remains focused on adding a reliever to fill out the bullpen. More>
Twins
: The Twins are shopping for a bullpen arm, preferably a lefty, and have been linked to free-agent relievers Shawn Kelley, Tony Sipp and Antonio Bastardo. More>
White Sox
: The White Sox, intent on improving their offense, are rumored to be pursuing a trade for either Reds' third baseman Todd Frazier or A's infielder Brett Lawrie. More>
Angels
: The Angels could be open to dealing veteran starting pitcher C.J. Wilson to free up payroll for a run at the top free-agent outfielders in Jason Heyward, Cespedes and Gordon. More>
Astros
: The Astros are aggressively pursuing relief help, though general manager Jeff Luhnow wouldn't say if his club was still in the mix for Reds closer Aroldis Chapman, who was rumored to be heading to the Dodgers in a deal that is being held up due to domestic violence allegations. More>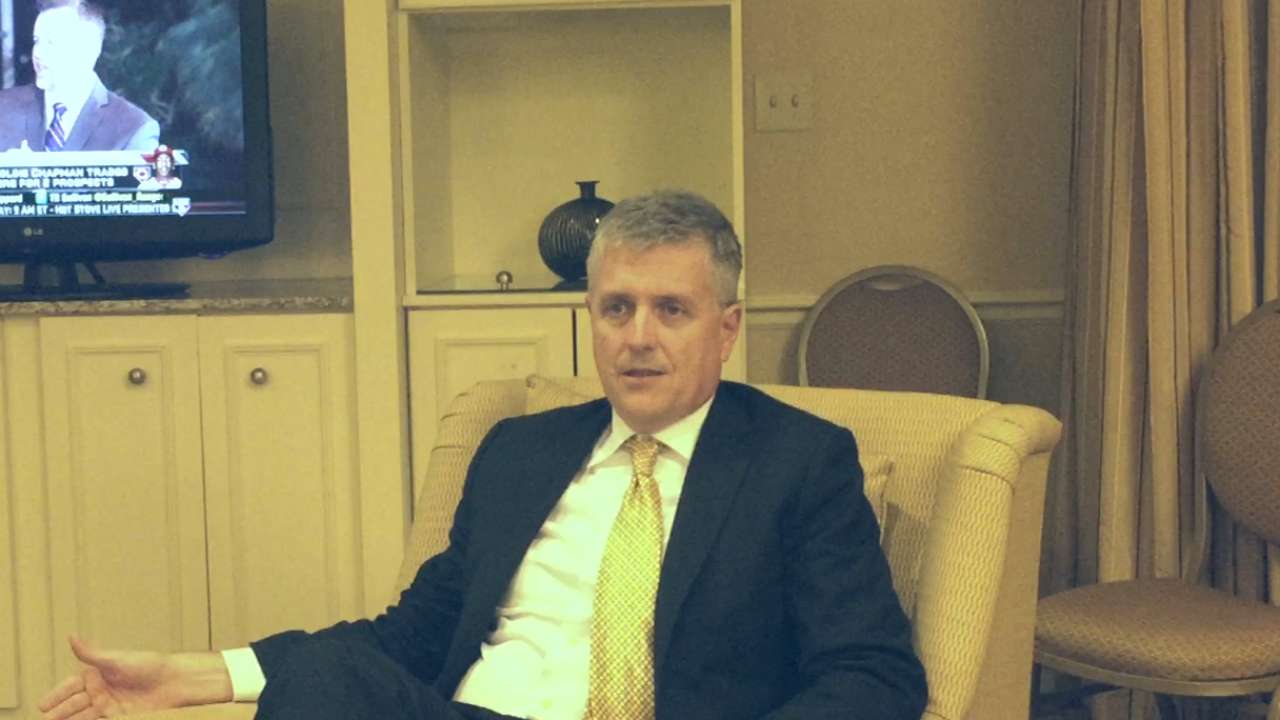 A's
: The A's appear inclined to deal Lawrie, with the Indians, Tigers, White Sox and Angels all said to be interested in the infielder. More>
Mariners
: The Mariners remain active under new general manager Jerry Dipoto and are believed to have interest in free-agent slugger Mike Napoli in addition to rumors of potential trade talks regarding Brewers first baseman Adam Lind. More>
Rangers
: The Rangers are shopping for starting pitching and catching help, with right-hander Colby Lewis their main option in free agency and Pirates backstop Elias Diaz a potential trade target. More>
Braves
: Atlanta has fielded plenty of calls on the availability of right-handed starters Shelby Miller and Julio Teheran. The club's brass has stated that Miller isn't available. But the Braves haven't been as forceful denying the rumors about Teheran. More>
Marlins
: Rumors swirled on Monday about Fernandez potentially being made available for a trade, but those rumblings were somewhat quashed when president of baseball operations Michael Hill stated unequivocally, "He's not available. We haven't made him available." More>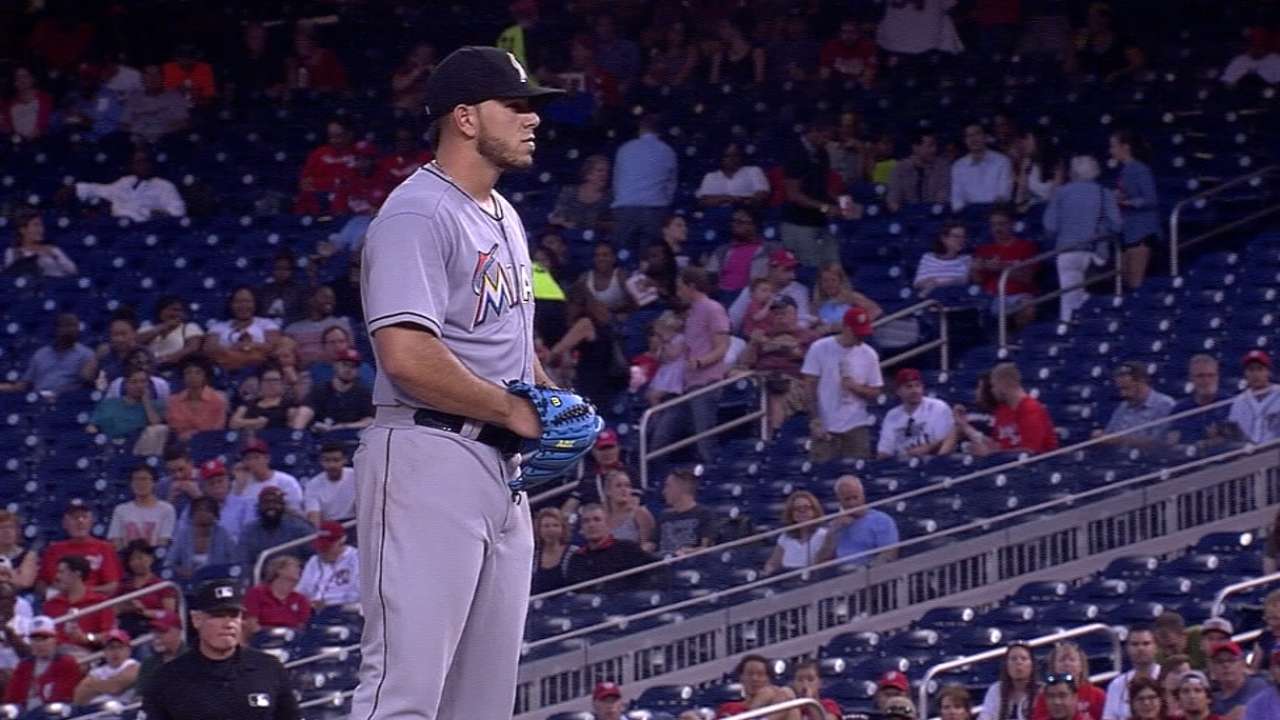 Mets
: It's no secret that the Mets have made second baseman Ben Zobrist their top priority this offseason, and he dominated their talks on Day 1 in Nashville. New York believes it has a major advantage in the Zobrist sweepstakes: a chance to offer him an everyday spot as the club's starting second baseman. More>
Nationals
: Washington is not currently close to making a trade, according to general manager Mike Rizzo. But that doesn't mean the Nats won't make a deal at some point this week. A source told MLB.com's Bill Ladson that the Nats are trying their best to move both Drew Storen and Jonathan Papelbon. More>
Phillies
: General manager Matt Klentak has received numerous calls about closer Ken Giles. According to MLB.com's Todd Zolecki, the Astros and Marlins are among the clubs that have inquired about him. More>
Brewers
: The Brewers are open to trading catcher Jonathan Lucroy, but would only do so in exchange for a serious trade haul. As new general manager David Stearns put it: "We need more Jonathan Lucroy-type players, not less." More>
Cardinals
: The first priority for St. Louis remains finding a way to bring back the 26-year-old Heyward. The Cards would also like to add a starting pitcher, but general manager John Mozeliak said on Monday that he doesn't view adding a starter as a necessity. More>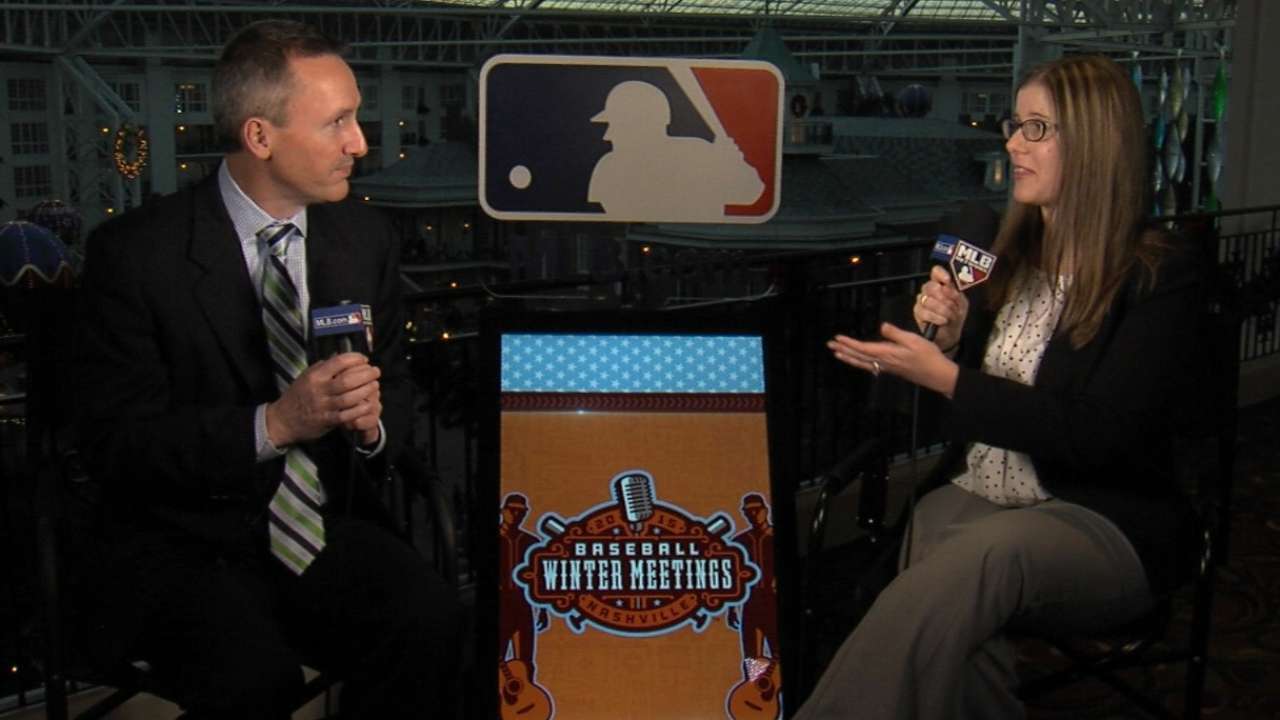 Cubs
: Right-hander Trevor Cahill is reportedly set to return to the Cubs on a one-year deal worth $4.25 million. Chicago's top priority is pitching depth, and it's already added veteran John Lackey. More>
Pirates
: The clear goal of the Pirates at the Winter Meetings is to find a way to add some starting pitching depth -- whether through trade or free agency. Justin Masterson and Kazmir are among the players who have been mentioned. More>
Reds
: Chapman appeared destined for Los Angeles early in the day, but an alleged domestic violence incident has put the deal in serious doubt. It's unclear how the Reds will proceed. More>
D-backs
: After shocking the baseball world by swooping in to sign Zack Greinke, the D-backs are still looking to add a starting pitcher. General manager Dave Stewart said the club still has some financial flexibility. More >
Dodgers
: General manager Farhan Zaidi held his session with the media but did not comment on the developments of the potential Chapman deal, which was in doubt after the alleged domestic violence incident. More>
Giants
: The Giants are in pursuit of a corner outfielder and some pitching help at the Winter Meetings this week. General manager Bobby Evans said the team is looking for an outfielder with the ability to play more than one spot. More >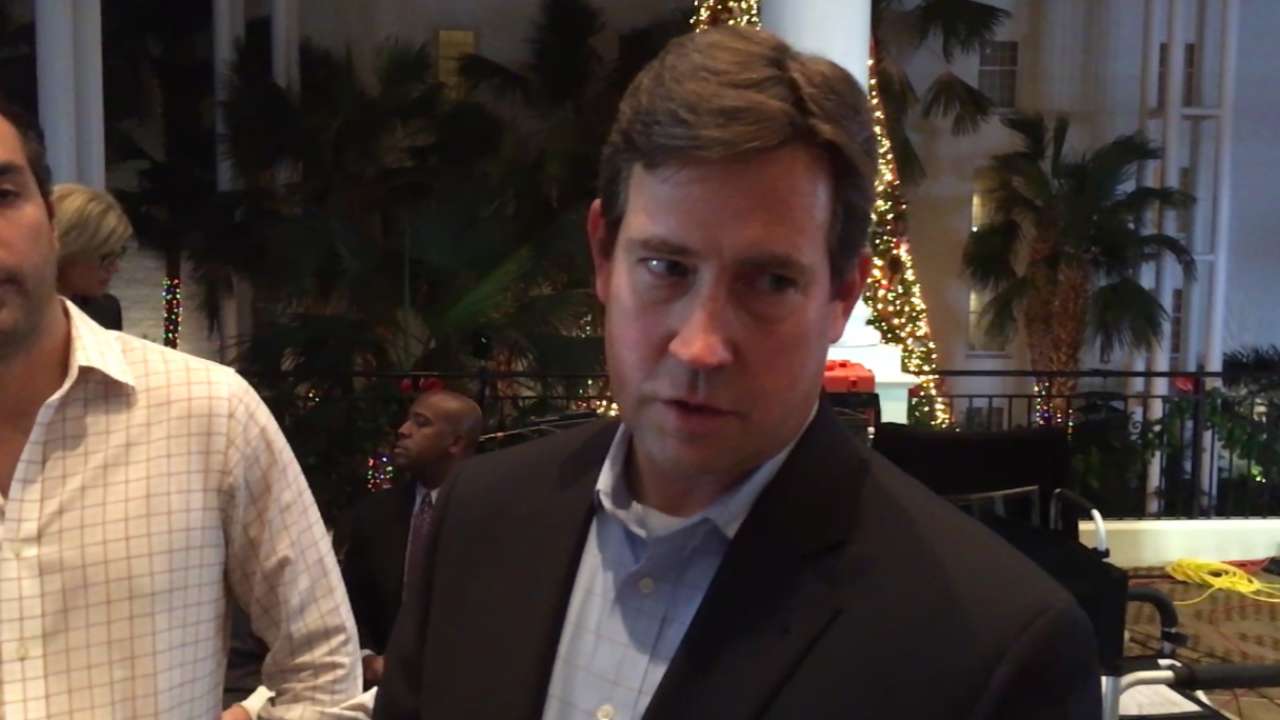 Padres
: The Padres are fielding plenty of calls regarding their starting pitchers and could be open to trading Andrew Cashner or James Shields. It's less likely that San Diego would deal Tyson Ross, however, and general manager A.J. Preller is also looking to add a starter or two as well. More>
Rockies
: There's "healthy interest" in a handful of the Rockies' young players with team-friendly contracts, according to general manager Jeff Bridich. All three Colorado outfielders -- Charlie Blackmon, Corey Dickerson and Carlos Gonzalez -- have been rumored to be on the block. More>
AJ Cassavell is a reporter for MLB.com. Austin Laymance is a reporter for MLB.com. This story was not subject to the approval of Major League Baseball or its clubs.