Weiss sees benefit of increase in shifts
Rockies manager happy with club's defensive play during 2015 season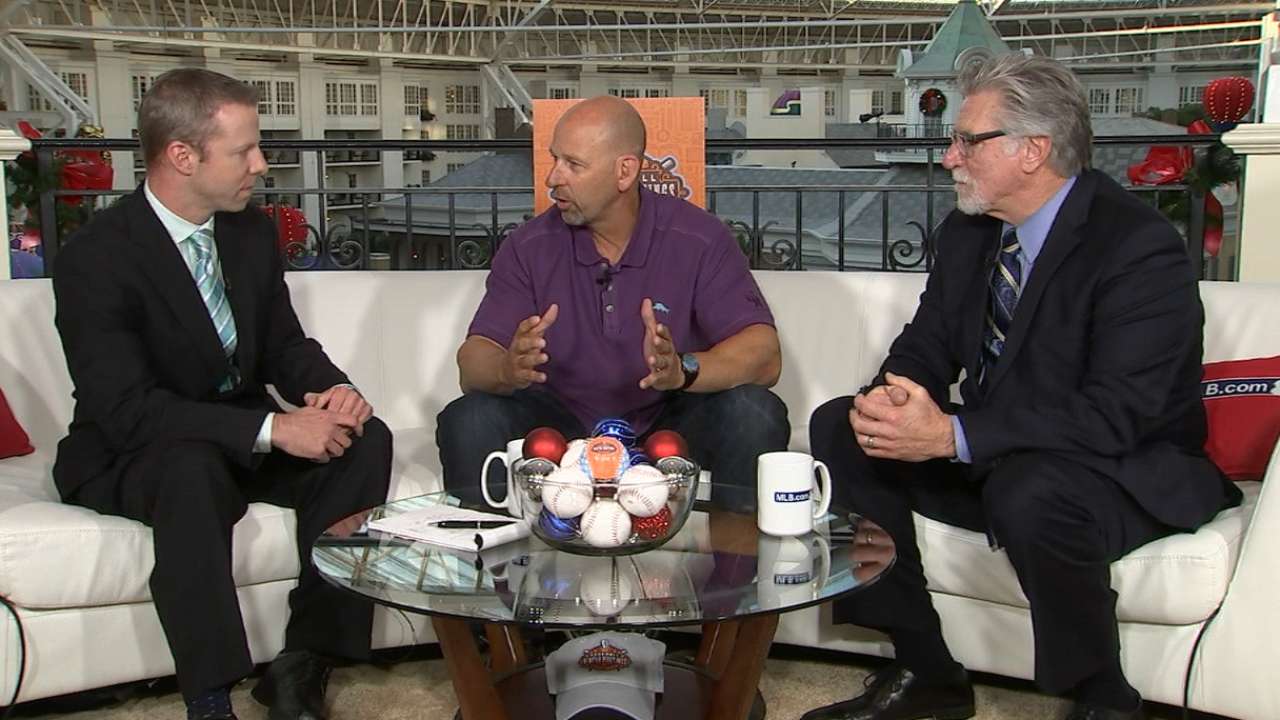 NASHVILLE, Tenn. -- Rockies manager Walt Weiss employed plenty of defensive shifts last season, and it will stay that way in 2016.
Using "The Bill James Handbook" definition of full shifts (three defenders on one side) and partial shifts (two on each side, but dramatically shifted), the Rockies went from employing them a National League-low 114 times in 2014 to a league-leading 1,011 in '15.
Weiss liked the results.
"The numbers showed we returned more ground balls and outs percentage-wise," Weiss said during media availability on Monday at the Winter Meetings. "That's the bottom line for me. Are we turning a higher percentage of ground balls into outs? It helps to have -- if you have one guy on one side of the infield, it's nice for that guy to be [third baseman] Nolan Arenado because he covers so much ground and can finish just about any play that he gets to. So that's a nice luxury to have."
• Rockies seeing interest in younger players
How effective were the shifts? Several different analysts have different methodologies, but Baseball Info Solutions, which provides stats for "The Bill James Handbook," placed the Rockies 17th in the Majors in Shift Runs Saved with eight. It is estimated that 10 Shift Runs Saved equals roughly one win.
The Orioles led baseball with 29 runs saved, or about three wins. On the low end, the Phillies, who saw just a modest increase from 2014 (212 shifts to 426) actually cost themselves six runs, or roughly half a win, by shifting or not shifting.
Weiss said he was intrigued by the possibilities in 2014, but he didn't commit to it until the offseason.
"Maybe it wasn't a focus for us," he said. "There was talk about it with our analytics guys upstairs, about doing it more. I was very curious about it. So the offseason after 2014, one of the challenges I posed with our front-office guys was let's talk about shifting and how can we utilize it to our advantage? And they dove in. You saw the results of it last year. It was pretty extreme, the adjustment we made."
Before the season, Rockies data indicated that the hitter's habits were a much greater factor than what the pitcher did. Weiss said it still turned out to be the case, but in practice, the pitcher's ability to force ground balls is important. Shift Runs Saved are based on results of ground balls, but scorching line drives and home runs beat a shift.
"That's another part of it, as a pitching staff, being able to pitch to shifts, too," Weiss said. "I do think that Major League hitters will start to adjust. I think the big boppers will always try to hit the ball in the seats for good reason. So we'll continue the shift on those guys until the end of time. But I do think the other -- the contact-type guys are going to make adjustments."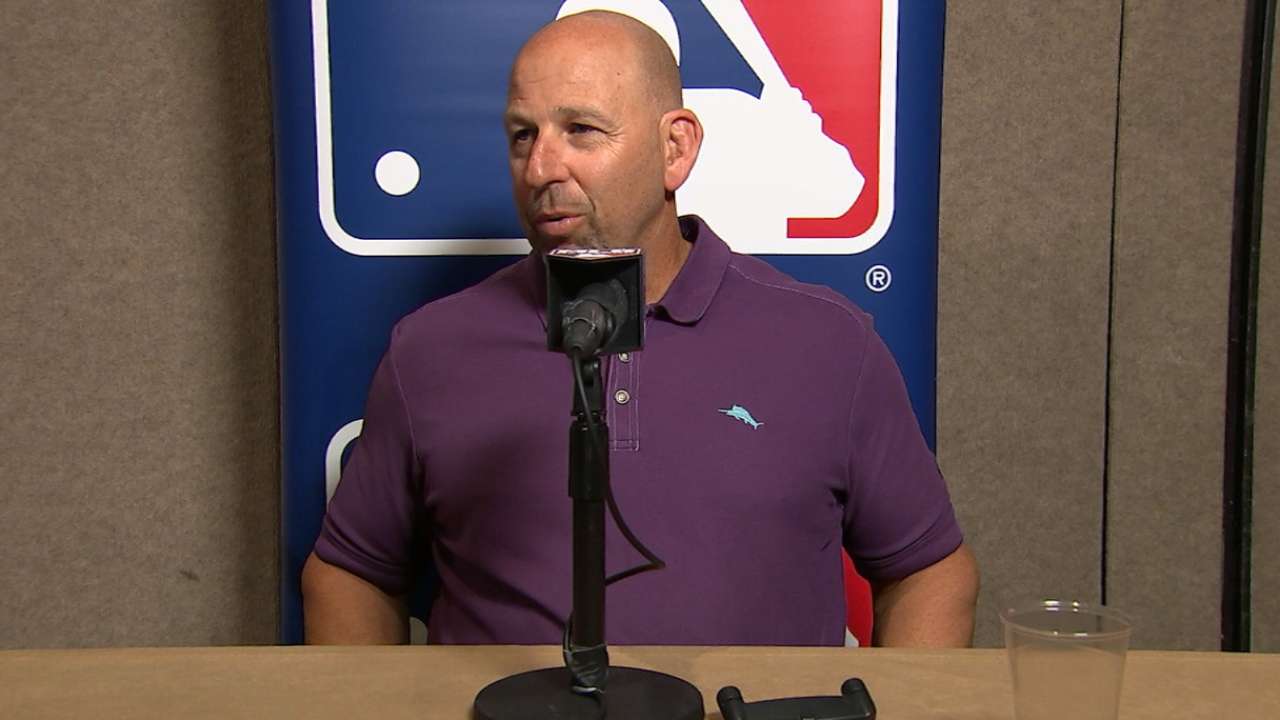 Other highlights of Weiss' meeting with the media:
• The Rockies want to see if righty Tyler Chatwood can return to a starting role after a Tommy John surgery that has kept him out of the Majors since April 30, 2014. Chatwood has had two such surgeries, one at age 16.
Last season, the D-backs' Daniel Hudson returned after his second Tommy John surgery and pitched in relief all but one of his 64 appearances.
"It's something we're going to have to have a feel for moving forward, when we see him and see what it looks like and see how he responds to the daily routine and how he bounces back," Weiss said. "Those are decisions we could make then. As it stands right now, we still look at him as a starter. We'll see how he responds to that.
"You have to watch and see with your eyes and trust your gut and go from there. But I'm aware of the Hudson situation. I think they did a good job with him."
• The status of shortstop Jose Reyes has been uncertain since his Oct. 31 arrest on domestic violence charges (he has entered a not-guilty plea), and MLB Commissioner Rob Manfred has yet to rule on a possible suspension under a joint program with the MLB Players Association. When he is available, Weiss is looking for Reyes to have a revival defensively.
According to FanGraphs, Reyes finished with minus-eight Defensive Runs Saved, which left him last among the 23 shortstops who qualified to be listed among the leaders in official statistical categories.
"If he learns our pitching staff a little bit better, it's going to help with jumps and reads," Weiss said. "He still moves very well. You watch him run, still very, very quick-twitch guy. So it's not a situation where he's got old legs."
Weiss and general manager Jeff Bridich each said Reyes' case is in the hands of the legal system and Manfred, so the Rockies are awaiting those decisions before commenting on the case.
• On the D-backs' signing of Zack Greinke and the Giants' signing of Jeff Samardzija -- two starters who could make things difficult for the Rockies in the NL West -- Weiss said, "It's like the Gold Rush all over again. Everyone's going West."
Thomas Harding is a reporter for MLB.com. Follow him on Twitter @harding_at_mlb, and like his Facebook page. This story was not subject to the approval of Major League Baseball or its clubs.