Plenty of talk for Padres at Winter Meetings
Preller looking to trade, add pitchers; San Diego also needs shortstop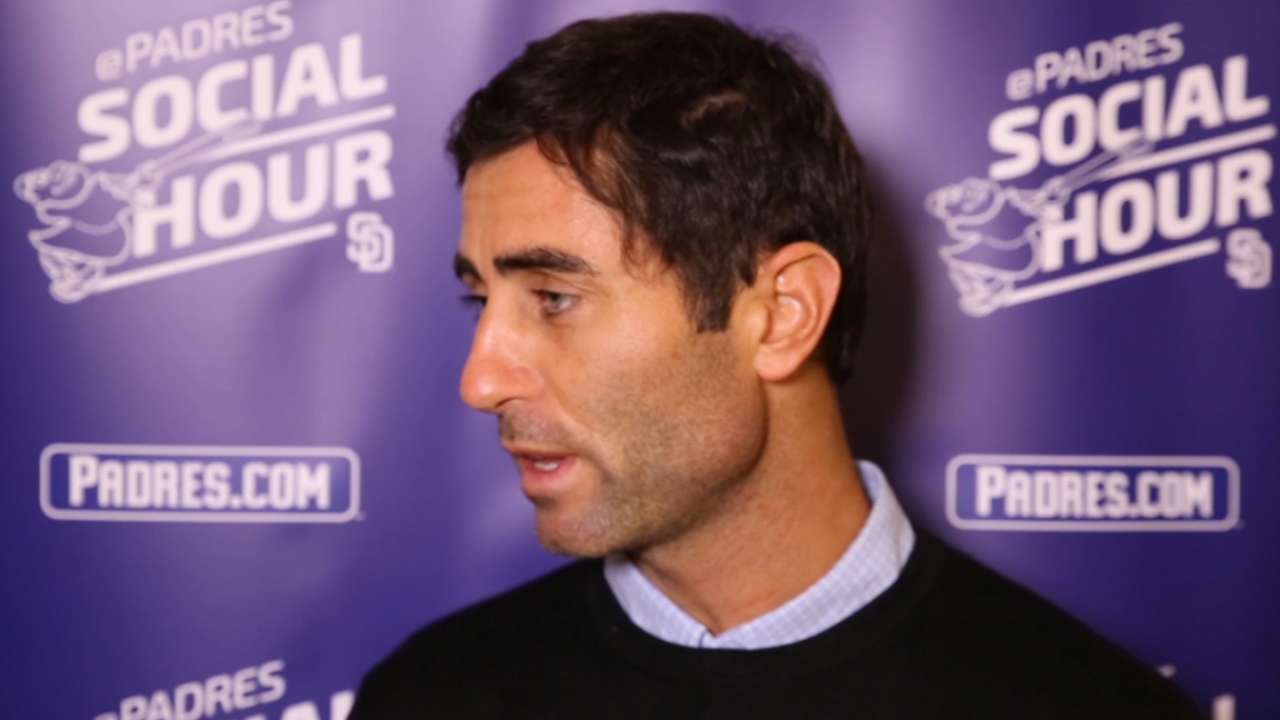 NASHVILLE, Tenn. -- A.J. Preller put the phone down long enough Monday to provide an update on the Padres' front-office activity at the first day of the Winter Meetings.
"I think the volume of calls has probably increased in the last couple of days," he said.
That, of course, had a lot to do with the recent signings of free-agent pitchers -- and big-ticket items: Zack Greinke (D-backs), Jordan Zimmermann (Tigers) and David Price (Red Sox).
The Padres are getting calls on their starting pitchers from teams looking to add an arm to their rotation. The Padres, in turn, are looking for an arm themselves, preferably a left-hander.
Could the team possibly be entertaining offers for pitchers -- more likely Andrew Cashner and James Shields -- while also seeking an arm for the rotation?
"I think that we looked at it as that first crew would go off the board, Zimmermann, Greinke and Price, and teams are going to look at alternatives. I think that's led to a little more activity," Preller said.
Preller said the team's wish list involves finding a left-handed-hitting outfielder who can fill their left-field vacancy, a left-handed starting pitcher, bullpen depth and a shortstop.
Could the Padres be on the goal line of getting a few deals done?
"There's a couple of calls we've had, calls where it's one phone call away. I say it all the time: It's hard to make trades and sign free agents. I think when you get to the Winter Meetings, you feel, on either end, that you have a chance to do something," Preller said.
"We do feel that way in the next two or three days."
One day later, the Padres landed their left-handed-hitting outfielder by acquiring Jon Jay from the Cardinals for Jedd Gyorko.
It appears mostly unlikely that the team would part with pitcher Tyson Ross, even if he's clearly the top target of teams and, in light of the Greinke, Zimmermann and Price signings, could command the largest return.
But moving Ross, whom MLB Trade Rumors projects to make $10 million and won't hit free agency until after the 2017 season, doesn't appear likely at this point.
"I think you try to stay aware of who is going where, try to be prepared for which pitchers are about ready to make a decision. We're staying in contact with the guys we want to stay in contact with on the free-agent market," Preller said.
"Hopefully a couple of things line up for us."
On the trade front, the Padres might not want to deal from the 25-man roster if they truly plan to contend in the National League West (they say they do). But they could certainly move prospects for Major League pieces, as Preller did a year ago.
In the last month, the Padres replenished their farm system by trading relievers Joaquin Benoit (Mariners) and Craig Kimbrel (Red Sox), adding their Nos. 1, 3, 14, 18, 19 and 22 prospects, according to MLB Pipeline.
Preller said the team got three phone calls on prospects the team acquired in the last month.
The Padres also have five Draft picks in the first 70 or so overall selections -- their top pick, a protected pick at No. 8, two picks as compensation for offering qualifying offers to Ian Kennedy and Justin Upton, their second-round pick and a competitive balance selection.
"The Draft picks are valuable, we definitely value those guys ... but so are Major League players," Preller said. "We will take it on a one-by-one basis and try to weight out the possibility of signing a Major League player and the value he's going to give us in the long term to the value of one of those Draft picks."
Corey Brock is a reporter for MLB.com. Keep track of @FollowThePadres on Twitter and listen to his podcast. This story was not subject to the approval of Major League Baseball or its clubs.