Maddon adds to Cubs' haul as Best Manager
First-year Chicago skipper beats out Yost, Banister for MLB Award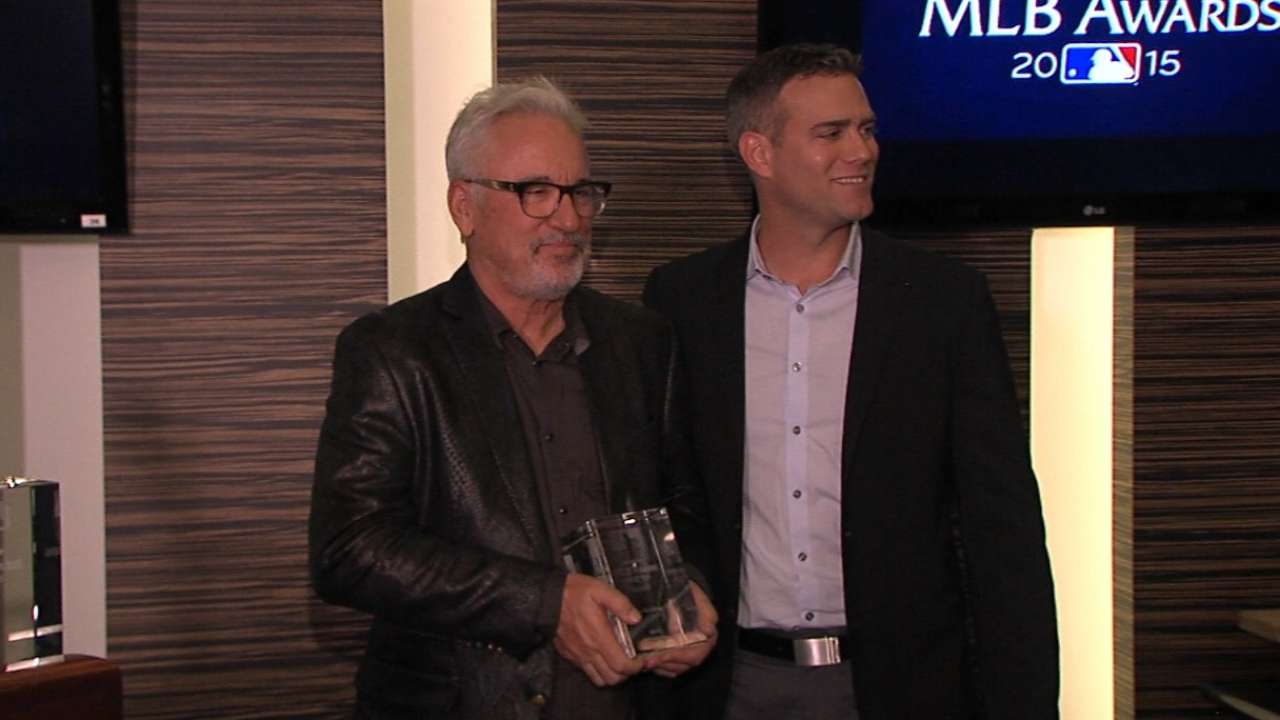 NASHVILLE, Tenn. -- Joe Maddon, who guided the young Cubs to a 97-win season and a trip to the National League Championship Series in his first season in Chicago, was honored Tuesday with the Esurance MLB Award for Best Manager.
Maddon was picked over the Royals' Ned Yost and the Rangers' Jeff Banister. Voting was done before the postseason.
Maddon was not the only Cub to be celebrated by the MLB Awards. Jake Arrieta, who led the Major Leagues with 22 wins, was named both Best Starting Pitcher and Best Breakout Player, Kris Bryant was elected Best Rookie, and Krista Dotzenrod won for Best Fan Catch for her deft ability to snare a foul ball in her beer cup.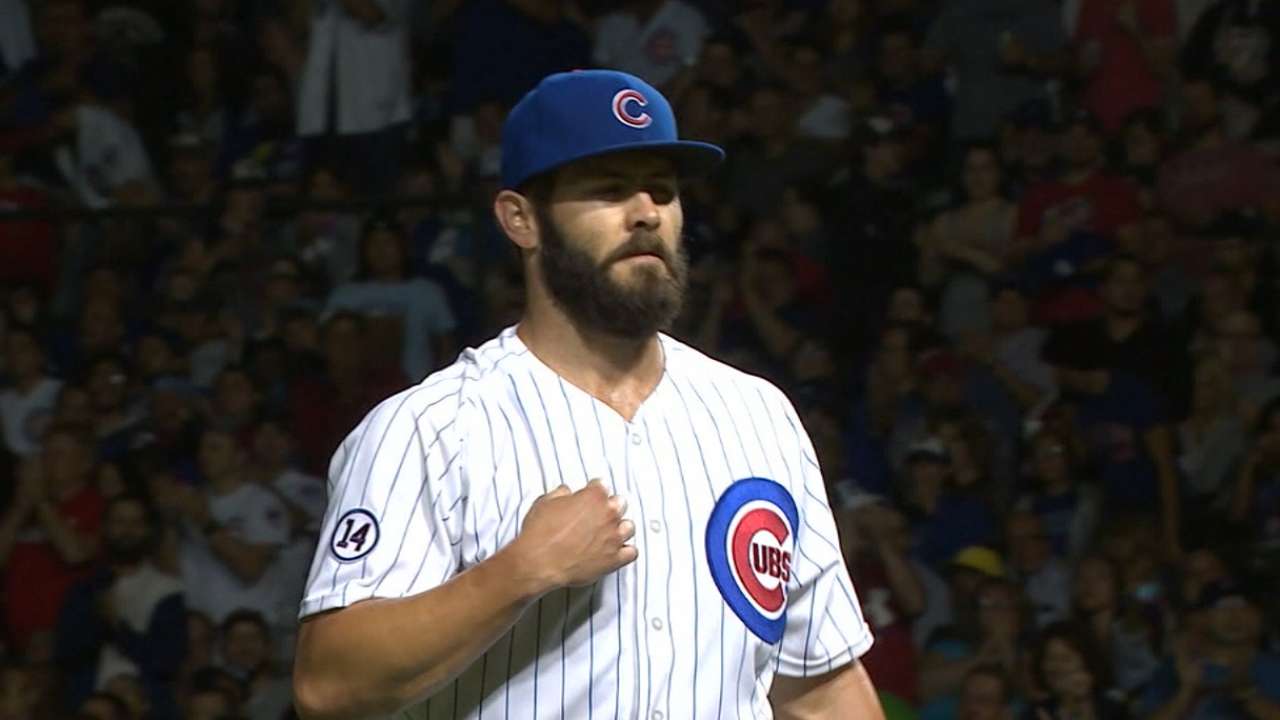 Maddon led the rookie-packed roster to the third-best record in the Major Leagues (97-65). His campaign for the season was "Respect 90." If a player runs hard 90 feet to first base, that will affect the rest of his game, Maddon said.
The Cubs infield for the majority of the season was 25 years old and younger -- until Anthony Rizzo turned 26 on Aug. 8. All were considered talented, but no one knew what to expect. Maddon let them play.
They developed confidence with each late-inning win. The Cubs went 13-5 in extra-inning games, won 23 games in their last at-bat, and had 35 come-from-behind wins. The Cubs' success was aided by strong pitching -- they finished third in the NL with a 3.36 team ERA, led by Arrieta's 1.77.
Arrieta was 10-5 with a 2.53 ERA in 25 starts in 2014 but finished 22-6 in 33 starts this past season. He was second in ERA to Zack Greinke and third in strikeouts in the NL (236). The right-hander also set a career-high in innings pitched (229).
In his first season in the big leagues, Bryant batted .275 with 26 home runs and 99 RBIs, the latter two new Cubs records for rookies. He led all Major League rookies in RBIs, doubles (31) and runs (87), and was second in walks. The only player in Major League history to reach 26 homers, 99 RBIs, 31 doubles, 87 runs and 77 walks in his rookie season was Boston's Ted Williams in 1939.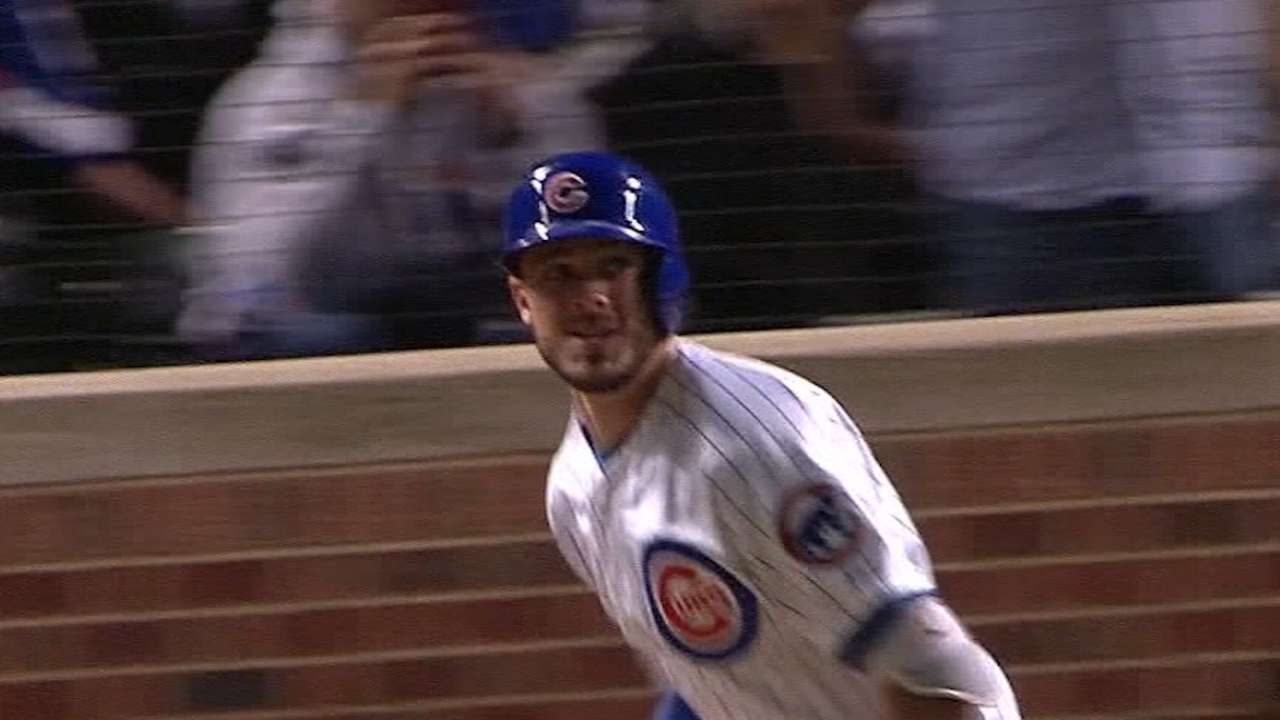 Maddon, Arrieta and Bryant also were honored by the Baseball Writers' Association of America. Maddon was named top NL manager, Arrieta won the NL Cy Young Award for top pitcher, and Bryant was named top rookie.
The Esurance MLB Awards annually honor Major League Baseball's greatest achievements as part of an industry-wide balloting process that includes five components, each of which accounts for 20 percent of the overall vote: media, front-office personnel, retired MLB players, fans at MLB.com and Society for American Baseball Research (SABR) voters.
Individual awards were presented for 24 separate categories, including Best Major Leaguer, Everyday Player, Bounceback Player, Social Media Personality and Postseason Performer. Winners were also recognized for the year's Best Offensive Play, Defensive Play, Moment, Single-Game Performance, Social Media Post, Celebrity Fan and Fan Catch.
Nominees were judged on their bodies of work from the entire year -- from Opening Day through the postseason -- and selected after a careful review of all 30 clubs. Winners in all categories receive a Greatness in Baseball Yearly (GIBBY) trophy.
Carrie Muskat is a reporter for MLB.com. She writes a blog, Muskat Ramblings. You can follow her on Twitter @CarrieMuskat and listen to her podcast. This story was not subject to the approval of Major League Baseball or its clubs.