Chapman gun incident being investigated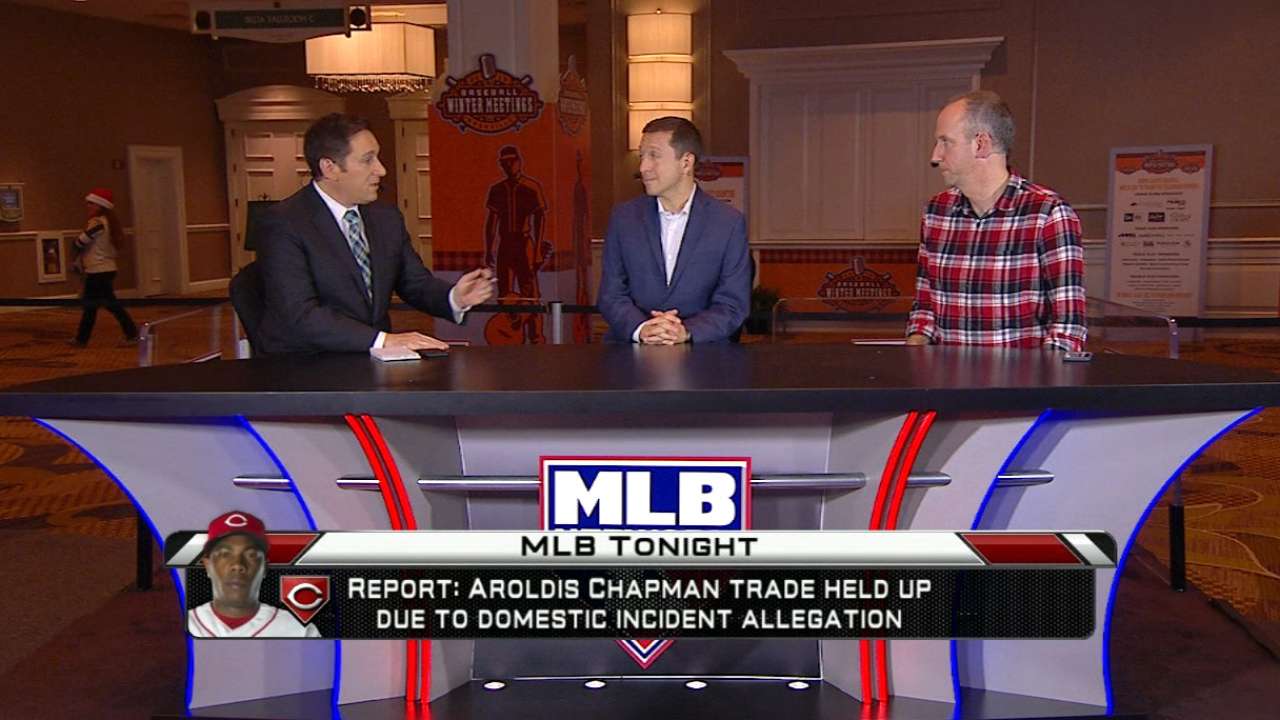 NASHVILLE, Tenn. -- Cincinnati Reds All-Star closer Aroldis Chapman is the subject of a domestic violence investigation after an incident in which he allegedly had a physical altercation with his girlfriend and fired eight gunshots into the garage of his Miami-area home, according to a Yahoo! Sports story.
The incident apparently has held up a proposed trade of Chapman to the Dodgers for two prospects.
• Police probe casts cloud over Chapman trade
Based on Miami police reports, the story states that more than a dozen officers were called to Chapman's home on Oct. 30, but no arrest was made because of "conflicting stories and lack of cooperation from all parties involved."
Reds president of baseball operations Walt Jocketty declined to comment on the details of the case, and said the club would defer to Major League Baseball.
"MLB has taken over full responsibility and will look into it. Everything public will happen through them," Jocketty said. "It's an open investigation. It's MLB policy when something like this happens, whatever kind of police investigation."
Under the new domestic violence protocol put in place between MLB and the Players Association, Commissioner Rob Manfred can issue any punishment deemed appropriate "in light of the severity of the conduct," after an investigation.
Neither criminal charges nor a conviction are required to support the imposition of discipline.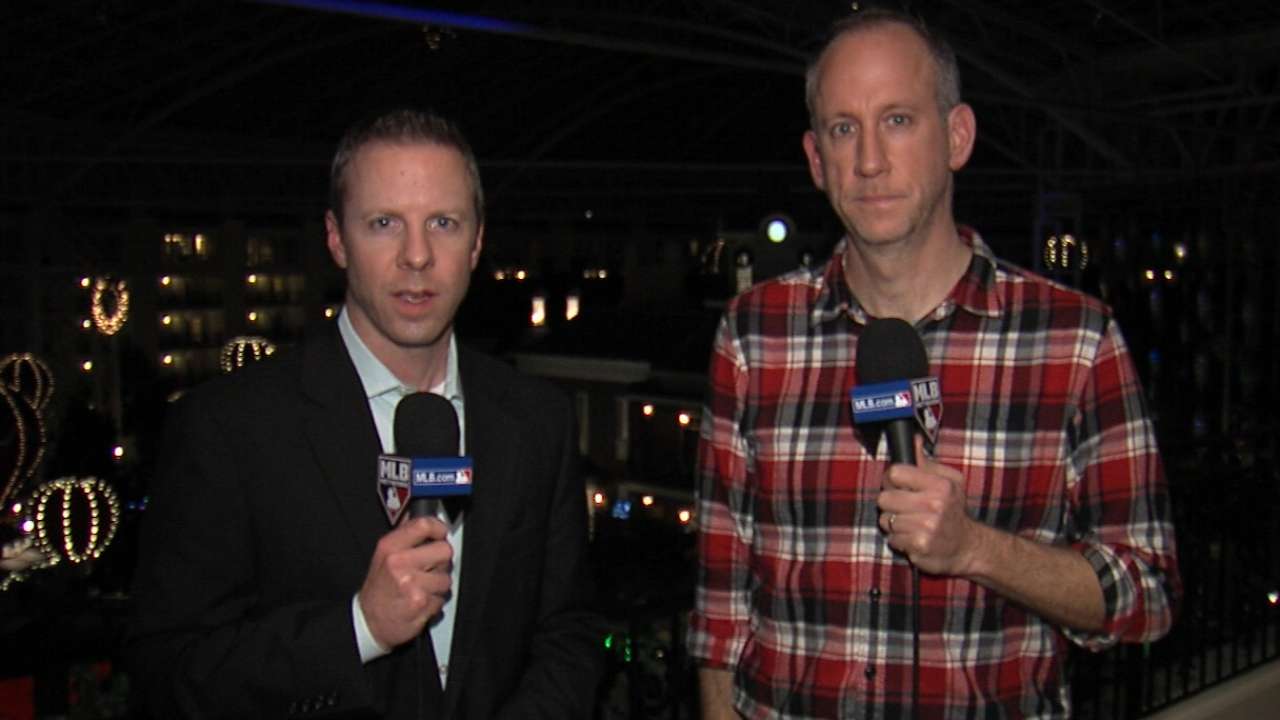 Jocketty felt that trading the four-time All-Star was still possible, but not likely to happen during the Winter Meetings. Teams besides the Dodgers have shown interest.
"We've talked to several clubs," Jocketty said. "I've notified them all tonight that we will step back for a couple of weeks or whatever it takes. They were fine.
"This actually came up the last 24 hours. That's not what held up the trade. We just weren't able to complete it as fast as we wanted to."
The police report stated that the incident was triggered by an argument after the girlfriend saw something on Chapman's mobile phone. Chapman, 27, admitted to police he fired eight shots with a handgun, seven of them lodging in a concrete wall and one penetrating and exiting a window into an open field.
Chapman's girlfriend accused the pitcher of choking her and pushing her against the wall. She said she ran outside and hid in bushes on the property while calling police "because she was scared for her and her daughter," who is 4 months old. It is not clear, the Yahoo! Sports story said, whether the child is Chapman's.
Chapman's attorney, Jay Reisinger, vehemently denied the accusations to Yahoo! Sports, and Praver Shapiro Sports Management, Chapman's agency, declined to comment when reached by MLB.com on Monday.
The Yahoo! Sports story said Chapman told police he used his index and middle fingers to poke his girlfriend on the left shoulder, that his girlfriend fell to the floor and started yelling. The girlfriend's brother came into the room, Chapman said, and pushed him to the ground. Family and friends separated them.
Chapman also told police he punched the window of his Land Rover and cut the knuckle on the pinkie of his left hand, then fired the gunshots and threw the weapon aside. The report quoted assistant state attorney Marcie Zaccor as saying that, "due to conflicting stories, no cooperating witnesses and no physical injuries, there is insufficient evidence to charge Mr. Chapman with simple battery."
The Yahoo! Sports story included news of a possible burglary at the house a month earlier, in which Chapman told police he believed his girlfriend had taken a key without permission. Chapman also reportedly was cited earlier for a noise-ordinance violation after neighbor complaints of loud music.
Mark Sheldon and Ken Gurnick are reporters for MLB.com. This story was not subject to the approval of Major League Baseball or its clubs.