MLB.com Columnist
Mike Petriello
Carrasco might be offseason's most valuable arm
Elite performance and team-friendly contract give Cleveland its biggest trade chip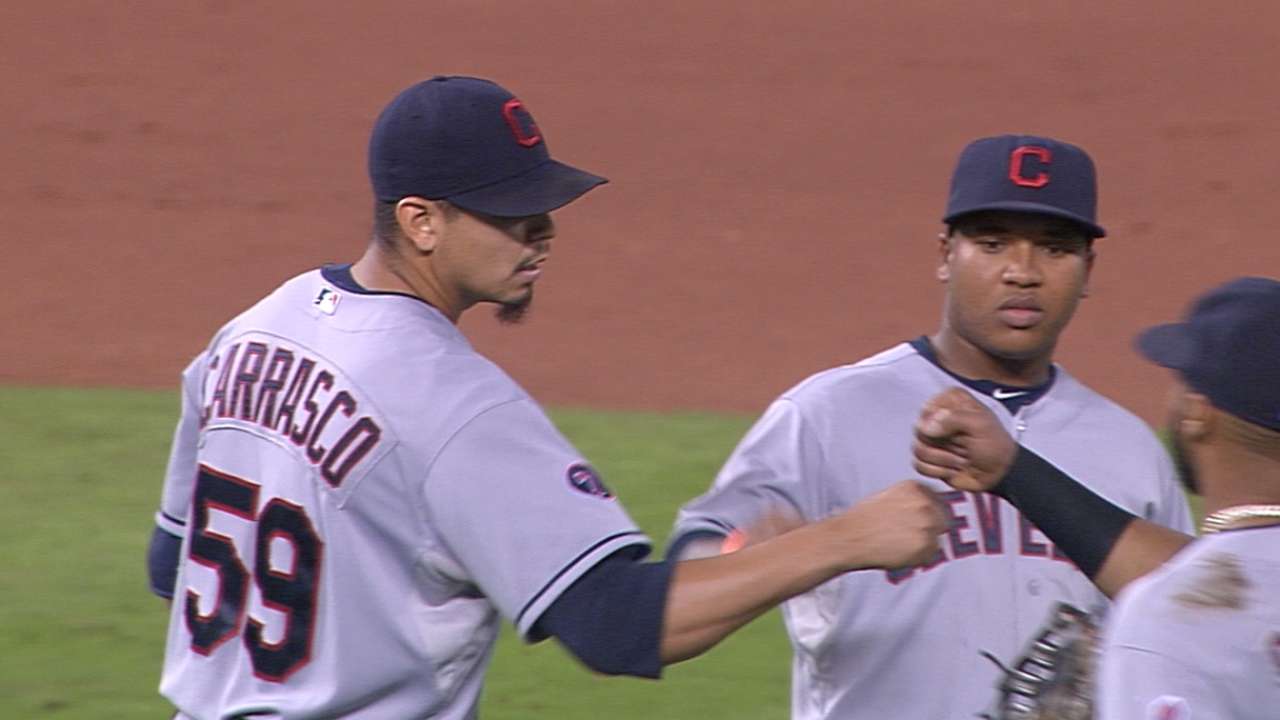 When you look at what's happened to the pitching market in just the past week, you realize how much the perceptions of economic value have changed. David Price signed the richest contract for a pitcher in history when he collected $217 million from Boston; barely 24 hours later, Zack Greinke broke Price's average annual value record when he got $206 million over six years (that's $34.3 million annually) from Arizona. Jeff Samardzija allowed the most runs and hits in baseball, and that still got him $90 million from San Francisco.
Pitchers are getting paid, is the point -- even journeyman J.A. Happ managed to find $36 million -- and we haven't yet seen what untold riches Johnny Cueto will collect. So when teams still in need of pitching look around for arms via trade, they aren't only looking at the back of the baseball card to decide how valuable a pitcher may be. They're also looking at the contract, because a below-market deal locked in for years to come can make a pitcher's trade value skyrocket.
That reality puts Cleveland in a very enviable situation, because it has Carlos Carrasco -- and he might just be the most valuable pitcher any team has available right now. Here's why.
Because he's more dominant on the mound than you think.
Carrasco's traditional stats are unimpressive. He was 14-12 with a 3.61 ERA last year, and he's 33-38 with a 4.08 ERA for his career. But that's pretty misleading, even beyond the usual "wins and losses are team stats, not individual ones" lesson we're always trying to impart. So much of that career total was from the early part of Carrasco's career, when he spent parts of five seasons with the Indians either struggling to adapt or recovering from elbow surgery.
It seemed that wouldn't change when Carrasco lost his rotation job in April 2014 after four below-average starts, at which point his career ERA sat at 5.32, nearly five years after he was acquired in the Cliff Lee trade. Yet after three months in the bullpen, he returned to the rotation as a different pitcher. Carrasco worked exclusively out of the stretch to maintain consistency, a rarity for a starter. He became more aggressive and changed his pregame routine, partially attributed to working with current Tampa Bay manager Kevin Cash, then Cleveland's bullpen coach. And Carrasco dominated.
In 69 innings back in the rotation, Carrasco had a 78/11 K/BB and a 1.30 ERA. In 30 starts in 2015, he had a 216/43 K/BB, an even better ratio. Looking back over the past two years, we can see that Carrasco hasn't just become a good pitcher, he's become one of baseball's most elite.
2014-15 Fielding Independent Pitching (minimum 300 innings pitched)
1. Clayton Kershaw, 1.91
2. Jake Arrieta, 2.31
3. Corey Kluber, 2.65
4. Chris Sale, 2.66
5. Carrasco, 2.67
Why FIP rather than ERA? Because it measures what a pitcher can control (strikeouts, walks, homers), while ERA includes the external effects of defense, ballpark, bullpen and timing. No pitcher in baseball had a bigger ERA-FIP difference than Carrasco's 0.79 in 2015, pointing to the Indians' porous fielders (Kluber was 10th).
We could go on for weeks about how Carrasco improved, but the short version, other than the approach changes noted above, is this: Despite a four-seam fastball measured at 95.2 mph by Statcast™, it's got unimpressive spin, flies straight and is hittable. He decreased its usage from 56 percent to 50 percent to 40 percent over the past three years, in favor of secondary pitches that move like, well, this:
Carrasco's curve, in particular, is stellar, tripling its whiff rate since 2013. It helps when you throw it harder than almost anyone, and Carrasco induced the highest whiffs-per-swing rate among all curves (minimum 200 thrown) in 2015:
Because his contract makes him insanely valuable.
The deal Greinke signed, starting with his age-32 season next year, will pay him more than $34 million in 2016, or approximately $1 million per start. The extension Carrasco signed last April pays him roughly the same, $37.5 million, but over the next five seasons combined -- and even that's only if the team exercises the 2019 and '20 club options. He's making about the same over five seasons as Happ, who is nearly five years older and with a fraction of the success, is making over three. Carrasco is owed 17 percent of what Price is.
We could make that comparison all night long, but you get the idea. You could even argue that Carrasco's contract makes him as or more valuable than Jose Fernandez, who is cheaper and younger but also controllable for only three more seasons. (And, according to reports, isn't even really on the market.)
Really, the combination of these attributes is so rare. Talented pitchers are expensive (Kershaw, Greinke, Price, etc.), or nearing free agency (Stephen Strasburg), or on teams who wouldn't even consider moving them due to competitive or fanbase reasons (Arrieta, Madison Bumgarner, Felix Hernandez, etc.) If you want to argue Carrasco against Sonny Gray, so be it, but Carrasco was better in nearly every way in 2015, and it's splitting hairs at that point anyway.
Cleveland may very well decide against moving Carrasco, but it's easy to see the Indians have needs, particularly without a center fielder and with Michael Brantley's shoulder surgery further complicating matters. If they were to hold out for an A.J. Pollock, Yasiel Puig, Jorge Soler or George Springer as mere starting points, they'd be entirely justified to do so. Carrasco's that good. His contract makes him that valuable.
Mike Petriello is an analyst for MLB.com and the host of the Statcast podcast. He has previously written for ESPN Insider and FanGraphs. This story was not subject to the approval of Major League Baseball or its clubs.