MLB.com Columnist
Bill Ladson
Rizzo, Nats set for action at Winter Meetings
Bullpen, second base are priorities on club's offseason wish list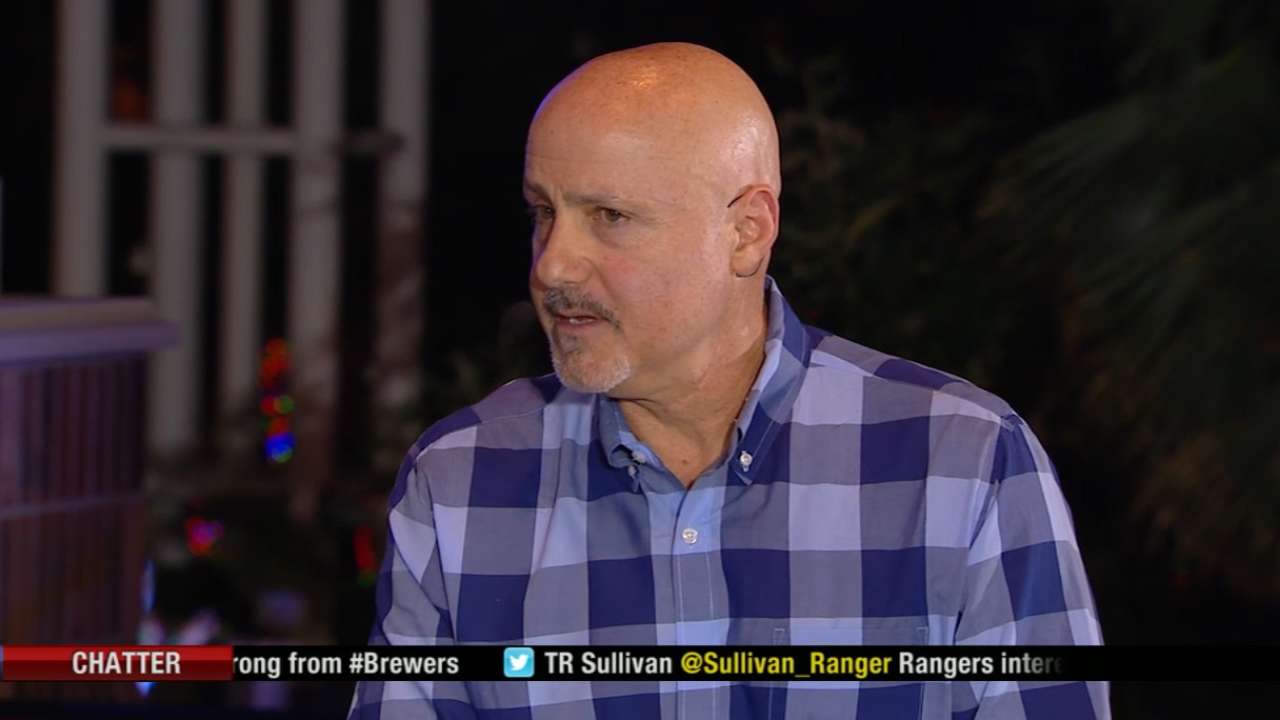 NASHVILLE, Tenn. -- Nationals general manager Mike Rizzo said he is not close to making a deal, but he said there is a lot of action going on at the Winter Meetings. Washington is trying its best to improve the bullpen.
Although a baseball source told MLB.com on Monday that the Nationals are trying their best to trade Drew Storen and Jonathan Papelbon, Rizzo talked as if both players would be on the back end of the 'pen in 2016.
• Nationals set to go with Plan B for bullpen
"We like the bullpen that we have," Rizzo said. "Last year, we had the sixth-best bullpen in the National League. It was better than league average. It didn't end well for us. They pitched poorly down the stretch, but there are a lot of good talented players in there. We don't have to move anybody if we don't want to. There are no money restrictions on us. It's just we're going to put the best bullpen that we can out there and the best 25-man roster that we can."
The Nationals don't appear to have any animosity toward Papelbon even though he filed a grievance against them because he wasn't paid during the final four games of the 2015 season for getting in a confrontation with teammate Bryce Harper.
According to Rizzo, the Nats knew that Papelbon filed a grievance a couple of days after his suspension was announced.
"That's business. It's not personal between Papelbon and the Nationals or the Nationals and Papelbon. It's all about business. It's something we have known about for a long time," Rizzo said. "Pap is a part of this team. He is on our roster. He is a good late-inning pitcher. He's had a great career. We are glad he is on the club. I can't wait to see him closing out games again."
Improving the bullpen isn't the only thing the Nationals are looking to do. They want to improve at second base. They had planned on meeting with Ben Zobrist on Wednesday, but he agreed to a four-year deal with the Cubs on Tuesday night.
Rizzo said several teams have inquired about Yunel Escobar, who is a man without a position. Anthony Rendon will play third base for the Nats in 2016.
"[Rendon] is a versatile player that is a good hitter," Rizzo said.
Even a player like free-agent shortstop Jimmy Rollins can help the Nationals, as he could be a mentor for Trea Turner. Rizzo declined to say who would be his Opening Day shortstop.
"We are strong and deep up the middle and that's a good place to be," Rizzo said.
Bill Ladson is a reporter for MLB.com and writes an MLBlog, All Nats All the time. He also could be found on Twitter @WashinNats. This story was not subject to the approval of Major League Baseball or its clubs.