Royals, Yost hoping Flynn can be bullpen fit
Left-hander sizzled before losing Spring Training battle in 2015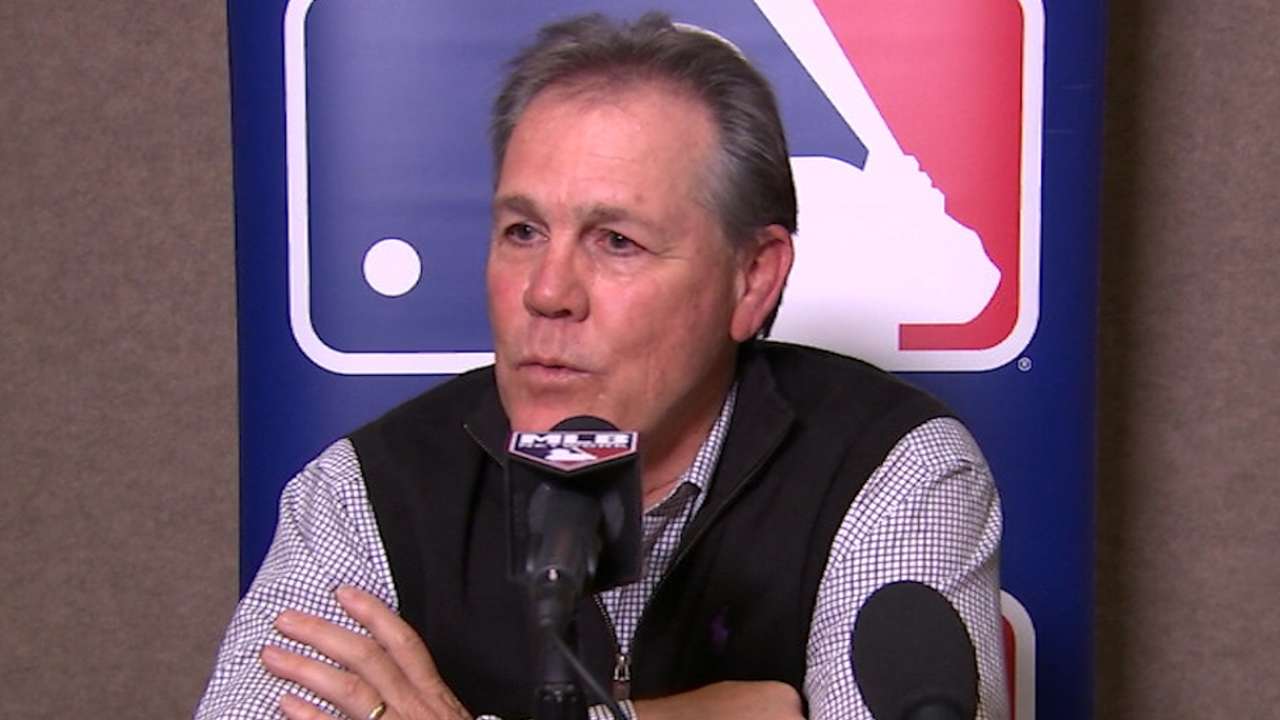 NASHVILLE, Tenn. -- The Royals have high hopes that left-hander Brian Flynn can become a prominent member of their vaunted bullpen, manager Ned Yost said on Monday from the Winter Meetings.
Flynn, acquired in a trade during the 2014 offseason with Miami, pitched in only one game last season for Triple-A Omaha, injuring his lat muscle and missing the rest of the season.
• Royals agree to deals with Soria, Young
But the Royals were thoroughly impressed with Flynn, 25, during Spring Training when he transitioned from a starter to the bullpen and began clocking fastballs at 96-97 mph. Flynn posted a 2.40 ERA and a 0.933 WHIP during Spring Training.
Flynn lost out in the camp battle to Ryan Madson, whom the club feared might get a big-league offer from another team. Flynn had options left, and thus was sent to Omaha.
But Yost hasn't forgotten how effective Flynn was in Spring Training. And Yost said Flynn is healthy again.
"He's fine. He is ready to go," Yost said. "He's ready to compete come Spring Training. He was lights out in Spring Training last year, too. It was between him and Madson. How do you send a kid down that had that type of Spring Training that he had?
"It's like [you tell him], 'Dude, you just -- man, you got [hosed], buddy. That's all I can say.'"
But Yost sees Flynn as possibly the bullpen's lefty because left-hander Tim Collins, coming off Tommy John surgery, likely won't be ready until May.
"We have Collins coming back," Yost said. "I imagine we'll do Timmy a lot like we did [Luke Hochevar] last year, really protect him early in the spring and build up arm strength. We think Timmy is going to come back to full strength, too, which is going to be good for us.
"We feel like probably [Flynn's] best spot would be at reliever. We've got [the last three innings of each game] pretty well taken care of. But for us, the black hole, it's the sixth inning. If we can sign a couple guys that we hope to sign, we're going to be in pretty good shape there bullpen-wise, and Flynn will definitely help that."
Rusty is back
Every season it seems, fan favorite and first-base coach Rusty Kuntz suggests it will be his last as a big-league coach. He continues to suggest he wants to be a roving Minor League instructor instead.
But every season, too, the Royals seem to talk him into returning.
And yes, once again, Kuntz will be back in 2016, both Yost and general manager Dayton Moore confirmed.
Jeffrey Flanagan is a reporter for MLB.com. Follow him on Twitter at @FlannyMLB. This story was not subject to the approval of Major League Baseball or its clubs.