Winter Meetings interview with Paul Molitor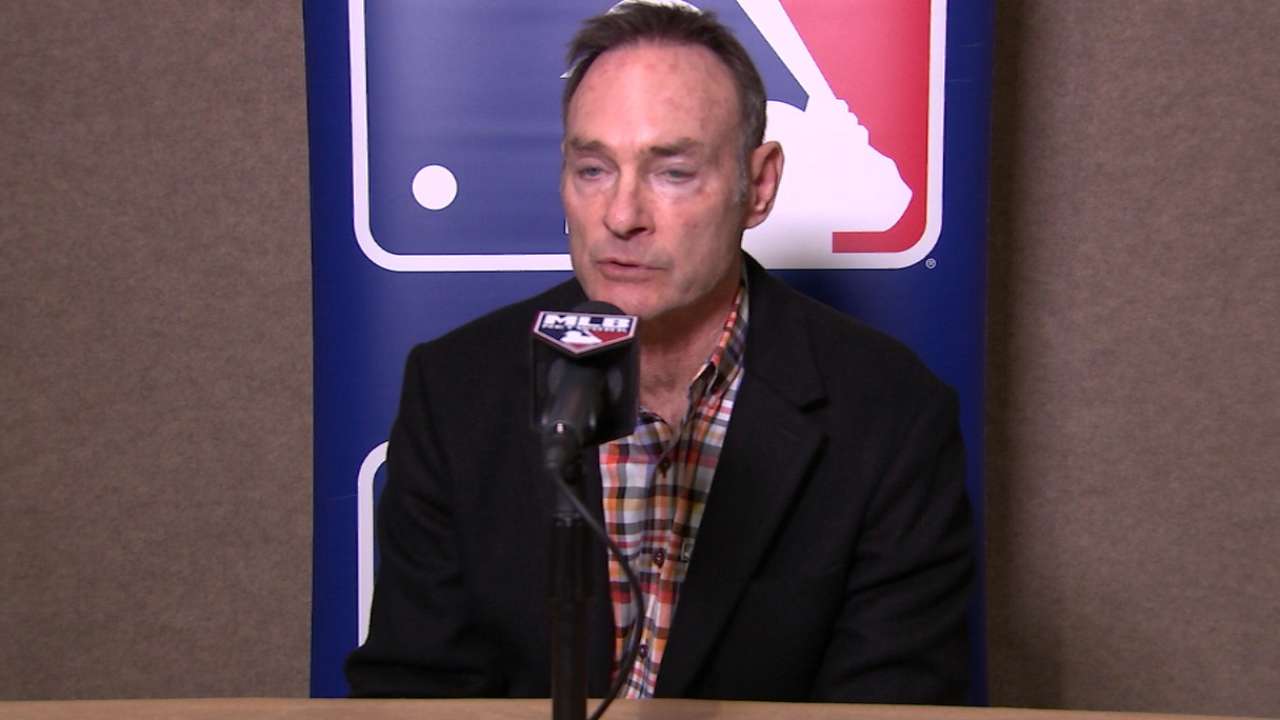 Q. Paul, with data showing that pitchers, their performance decreases third time through the order and especially through the fourth, there's a lot of talk about pitchers should go shorter stints. Where do you stand on that?
PAUL MOLITOR: Well, I'm aware that there's -- given some weight to that type of theory of how to handle the pitching staff. I know some clubs maybe more than others this year maybe tried to begin to see how that would play out in terms of how taxing it would be on a bullpen over a long season and how many people you actually had to have to try to make that work.
You know, I think without looking too specifically at the numbers is the better that you are of evaluating the talent and someone continually shows you that he will put up five good innings and you keep saying, well, maybe today he's going to give me six or seven and it comes back to bite you, that eventually will help you figure that out without having to realize that's possibly a trend for certain guys, especially bottom-end-of-the-rotation guys.
Yeah, it's how good is your bullpen. We always talk about trying not to get those guys beat up too much during the course of the year, but I think there's some merit there given some guys that are maybe fourth- and fifth-type starters.
Q. Can you talk about what's it been like to work with Terry Ryan and how you feel about his ability to augment the roster for you?
PAUL MOLITOR: Well, Terry and I go back to when he was a part of me coming back as a player in '96, and that's kind of when our relationship began.
I've served under him as a coach and in player development in different roles and finally got the opportunity to manage last year. I have the utmost confidence in how he goes about his job, the transparency with which he presents, not only to myself but in the scouting people, his development people, his players.
He's got a plan, and he knows how to operate within whatever boundaries he needs to operate within to the most efficient manner. Just being around him last year at the Winter Meetings, more so than in the past, and this year, talking to him quite a bit leading into here and coming to Nashville, I think it's nice that we can collaborate on things. But I have a lot of faith in what he brings to the table for me.
Q. How do you feel about the roster as it stands now and how much more do you think Terry has to do this off-season?
PAUL MOLITOR: We're sitting at 40. Doesn't mean that things still might not happen because there's always room to make some adjustments and manipulate it somewhat. I would think that positionally and offensively, we're in good shape in terms of having enough players and enough offense, how it's going to shape up is probably more of the question than adding more pieces.
We all thought that we would have tremendous outfield depth last year in terms of who we had at the big league level and people who were forthcoming. But I'm not so sure that's exactly the case. We might, if anything, positionally might be looking at deepening our outfield somewhat.
And as far as pitching, again, you look at rotation, we have depth there. We can argue how they are going to be slotted in terms of not only who the five will be but how they will go one through five. But we have some competition, as well as depth. The bullpen has a chance to potentially take on a little bit different look.
A couple people that were there, the majority of last year, probably will not be. Duensing is a free agent, Boyer is a free agent. We're going to have to find ways to try to put those pieces together.
I think that without counting on it, I think this might be a year you'll see some of our younger talent as far as bullpen arms surface at some point, but just like we talked about Buxton last year, you can't plan that, you just have to go with what you have and try to make it work.
I would say that any time you can try to find ways to upgrade your pitching, particularly in the bullpen area, it would be a good thing.
Q. What is your take on what this team can achieve next year?
PAUL MOLITOR: You know, I'm not much on saying, you know, we're going to go to the World Series and all those kind of things. I think it's realistic to think that we can be a playoff team. A lot of things have to happen. There's a lot of good teams already. There are teams that are on the move.
We raised our bar somewhat last year. Granted, the format enabled us to be a part of the playoff picture until the last weekend. But there was a lot of things that were gained, a lot of things we found out about certain people and how they performed in September.
You know, we think that the division is going to be tough. We have the world champions and Detroit and Cleveland had a great second half and the White Sox were very satisfied with what they got out of their roster last year.
It's going to be challenging, but you play those teams a lot, you'll have an opportunity to prove face-to-face whether you'll be a team that will somehow be able to get to the dance.
Q. You mentioned Buxton, came up for a little while last year. What did you see and what does he have left to do to establish himself at the big league level?
PAUL MOLITOR: He's a pleasure to coach and manage. I've been around him enough over the last however many years it's been since he signed to see the type of personality and makeup and desire.
The transition for him has always been how to deal with the next level of pitching. And we saw that somewhat I think in his at-bats at the Major League level this year. We saw some improvement, particularly in September.
There will be a question about whether AAA at-bats are needed for him to start the season or will he make an impression that will be so favorable that we will lean to go with him right out of the chute.
Either way, he's going to be an impact player, I believe, for a long time. We're just going to see when that clock really starts ticking. He'll become a better baserunner with experience. His defense is already top end. It's just going to be a matter of finding ways to utilize his offensive skills, whether it's a little bit of power and speed, how to get on base, and most of that is going to come with pitch recognition and learning the strike zone and how to put the ball if play.
Q. Speaking of the strike zone, from a hitting perspective, is contact rate any more or less important in your ballpark or is that not really a ballpark specific skill?
PAUL MOLITOR: There's statistics for all that, and I get it. I think it's more, okay, I want to talk about specific players and how it relates to contact. That's a discussion that would get more of my attention. Sanó is going to strikeout a lot and yet he's going to have good at-bats and you're going to get a fairly good return with on-base percentage and power and run production.
When you have players that don't hit the ball over the fence and can do things with speed and can put the ball in play, that's more problematic.
As far as related to the ballpark, I think some of those things got more attention with Kansas City's proficiency in that area as far as putting the ball in play and taking a chance and seeing what might happen and there's obviously some arguments to support that. The strikeouts and how the game has accepted that trend; there's a lot of people that still want to put up a fight and say that it isn't more important to put the ball in play.
Q. Kansas City is famous for putting balls in play in a pitcher's ballpark but another idea is a place like Colorado, good things happen when you put the ball in play.
PAUL MOLITOR: Well, understood. I get that line of theory. Again, it's going to be somewhat personnel-related. I don't know what the square footage of the outfield in Kansas City and Target Field are, I know they are two of the bigger fields in the American League. Colorado is a non-factor in terms of space because of the carrying of the baseball.
Yeah, I would think you want to have a little bit of both. What Kansas City did and how they used it -- two years ago it was their bullpen philosophy and this year it was their offensive efficiency for not striking out and putting the ball in play. When you win, people are going to notice how you do it. It might not be the exact way you want to go about it, but you pay attention when teams are successful.
Q. What happened to the stigma that used to be attached to the strikeout, but it's gone, up until recently with Kansas City?
PAUL MOLITOR: I think everyone overall acknowledges that pitching is better. There's more depth in rotations, the bullpen matchups -- instead of ten-man staffs, you're facing 13-man staffs which means different matchups late. Velocity seems to have gotten better as an industry.
So there are reasons that the strikeouts have gone up. But I think that we went through the long ball period for whatever reason and now we are back to doing some other things that lead to winning.
So we continue to try to preach having competitive at-bats all the way through the third strike the best that you can. Again, for some players, it bothers them more than others. If I have a guy that can hit it over the fence and there's two outs and nobody on and he takes a shot, and we go play defense, or I have a man on second base with the go-ahead in the seventh inning and we are missing a slider by ten feet trying to hit a home run, then you have problems.
Q. David Ortiz, what do you remember of him as a young hitter?
PAUL MOLITOR: I have good memories about David as a young player. You know, could I have imagined him going on to have a Hall of Fame career? I don't think I thought about it in those terms. But I do know that even as a young, emotional player, there were times when he would carry us for four or five days as a time, even as a young guy.
He had a little more trouble like a lot of young guys do of handling failure. It will be a lot of emotional highs and lows. I remember a couple sessions when I was on the coaching staff and we got him out early and we kind of -- T.K. wanted him to hit the ball all field, but we worked on his power stroke and how to clear his front side to be able to get to that ball in which would kind of even up as a young guy.
He just bought into a lot of things that we tried to help him with. He had to find out who he was going to be, and once he did, we all know what's happened. I don't know how much influence I was able to have, but it was fun being able to watch him as a young kid because he had a lot of enthusiasm and he certainly had the ability.
Q. Do you think he gets enough credit for his aptitude as a hitter?
PAUL MOLITOR: Well, I think there are certain guys that you watch that go up there and seem to be able to put together a game plan, depending on who they are pitching and how they are swinging. And he's one of those guys that's really good at that. I think he understands how people try to get him out. I think he has a good recollection of previous confrontations with various pitchers. He'll take a hit, if you give him a hit, if that means driving in a run.
All the numbers back up that he can do a little bit of everything with the bat.
Q. What are your expectations of Byung Ho Park?
PAUL MOLITOR: Expectations, first year coming over here, I could be wrong, but I expect there to be a little bit of a transition period.
I think that our scouts understand bat speed, eye-to-hand coordination, pitch recognition abilities, even if velocities and breaking pitches are not Major League quality. But that takes awhile to make that adjustment, just like a guy coming up from AA or AAA.
It will be important to make sure that we stay in his ear this spring about not worrying about any frustration with whatever adjustment period he has to go through. I think we are going to need to be patient with him.
If he's ready to go as an every day guy, you know, come Opening Day that, would be fantastic, and if he needs a little time to kind of pick matchups a little bit more favorable and those type of things until we get him going -- my comparison, coming from Pittsburgh, and when I saw him last spring, he looked like he was fairly beatable as a hitter. When we saw him in the summer, he had done what he needed to do to put together productive, competitive at-bats.
So I don't know how those two will relate over time, but I think there has to be some type of comparison there.
Q. What's the biggest thing you might have learned about running a bullpen in that first year? Is there anything that you think going forward you might tweak?
PAUL MOLITOR: I think it's always going to be a little different year to year. I can't specifically tell you mistakes that I made, but I know I made them.
A lot of it just has to do with the fact that these guys do like to have a feel of when and how often and what role and all those type of things. Whether it was injury or people stepping up or having to make changes along the way, we kind of moved it around a lot this year. Like I say, I don't know if I had a lot of options to do that, but maybe if I make sure they understand my thinking and try to keep them on board would be something I could get better at.
Q. One inning to the next, there's a benefit to it -- do you see doing that going forward?
PAUL MOLITOR: I think it's kind of like the question related to starter who only should go twice through the lineup. I think some guys are more suited to be able to go back out there for the next inning and other guys, you're continuing to find out that one and done is the best philosophy.
Sometimes it was a matter of, okay, this guy has already pitched, he had a nine-pitch inning and I don't want to get this guy in the game if I don't have to, so I'm going to run him back out there. A lot of times there's different components to why you might do that. But it's nice, especially from five to seven, to have guys that can maybe give you a couple.
Q. You have a couple guys coming up that don't seem that far away in the bullpen, a number of really hard-throwing guys. If some of those guys do make it up, do you have to do anything different with them just in picking their spots so you don't over-expose them?
PAUL MOLITOR: Whoever you want to talk about that's potentially in the mix -- I always say his name wrong, but Chargois, and then Burdi they say really has come a long way and has had a really nice Fall League.
We've got Reed. There's some people that are making impressions.
I think kind of like when you bring over a Rule V guy like we did Graham last year, you have to be a little careful how you start to integrate them into your bullpen. Sometimes they are thrust a little more deeply into a role out of need, but hopefully you can bring them along through the right trending pattern.
Q. A couple times he pitched well and said maybe he's ready for more of a role and you had to pull him back.
PAUL MOLITOR: I probably got a little too excited about him early. He got off to a pretty good start and I started throwing him out there maybe in some situations that were a little too big and we had to back it off as the year went on.
Q. The changes in the bullpen to start the year -- even though you have the option of sending him down.
PAUL MOLITOR: We'll see how he comes in. We do have that option. If we do end up going with seven guys out there, you can probably list the ones that are pretty much locked, we're going to have some spots open, so we'll have a chance.
Q. With Plouffe, how much do you want to see him back next year, and do you expect him to be your third baseman?
PAUL MOLITOR: I want to see Trevor back. I was watching a piece on one of the free agents today, and they were putting up his numbers over the past five years and talking about what kind of value this guy had out on the market. I saw a lot of 22 to 25 homers and 80 to 90 RBI-type seasons, and he had a couple of those back-to-back. You have a reliable defender and a guy who has led our team in RBIs for two years in a row.
Now, I don't think Terry would ever say that we have untradable people, but he would be a hard guy to just say, okay, we can plug in someone at third and we can trade him and go ahead and do what we can in the outfield. Like I said at the start, I'm hoping that Trevor is back.
Q. So that sense of confidence that he'll be able to handle the transition --
PAUL MOLITOR: Well, there's a couple things about that. He's going to have to make sure that he is in good shape. He's not, I won't say that he's out of shape. I think the DHing will affect his condition maybe somewhat.
And also, it's not like, you know, this isn't just something that we're doing on a whim. We have to get him to buy in, take it -- this is the way for you to get in the lineup. We have Park as a DH and we need to find you a spot on the field, and right now we need you to play the outfield.
So we have to develop a little urgency there, not just let's just see how this goes. You know, we've talked about left, right, some of those things. Right now, he's at the fundamental beginning of becoming an outfielder, where I don't think trying to identify which corner it's going to be right now makes a big difference. There's arguments for both if you ask me about that.
Yeah, he's definitely athletic enough. You guys that didn't see him, didn't see him totally healthy with the hamstring for part of the year, but he's run fine. I see people playing outfield around this game maybe a little bit more in the National League that have good bats and they play the outfield, and he can be better than some of those people.
I hope it's not as problematic as some people are trying to imagine that it could be. There's always a little risk. You put a guy in the outfield, he's a big guy, he's a big boy, never done it; it's what our personnel calls for right now.
Q. Who is the heaviest outfielder that you've seen play regularly? Anybody 270-plus do it regularly, a guy in his prime doing it?
PAUL MOLITOR: If I had to give somebody's name and he's only 240, I would hear about it, you know what I'm saying. (Laughter.)
Q. Who impressed you the most that we would think was a big guy that's more nimble than a dancing bear guy? How big was Cabrera when he was in left field? How about Frank (indiscernible)?
PAUL MOLITOR: Condo. A mini condo. (Laughter.) How much does Schwarber weigh?
Q. 240.
PAUL MOLITOR: I think Sanó probably would be best suited to be high 250s to 260. I think that's a good weight for him, believe it or not.
Q. Have you been in touch with him? Do you know if he's making progress toward that?
PAUL MOLITOR: Only from Terry. We've had people down there monitoring him fairly closely. In fact, I think one of our strength guys is going down there this week or next week and all indications are that he's doing well and trying to achieve that goal.
Q. You mentioned one of your strength coaches. How much have medical staffs and strength and conditioning coaches changed since you broke in as a rookie? I know it's a lot, but any specifics about how much it's changed and how much more information there is?
PAUL MOLITOR: I think just in terms of our staff numbers in general and strength and conditioning, there really wasn't such a thing when I started. That's how long ago it's been since I played.
But eventually a lot of Major League teams brought in somebody to help with some of that, and then now we've developed them multi, at the Major League level, every level down through the line, rehab center has them, rehab facility.
As the investment in the players has gotten greater, so has the club's wishes to try to protect them and care for them the best that they can and get the most out of their investments.
Q. Do see more customized programs for guys? Pitchers still break down a bit, but is it working with some injuries?
PAUL MOLITOR: I think generally they have a foundation for whoever, pitchers, bullpen guys, position players, and then according to that guy's wishes, he's going to do what he does to make it unique to himself. I mean, I go in that weight room sometimes and get a little pregame workout or something and whatever's going on, I watch guys in there getting after it with our strength guys. It's pretty impressive.
We never even had weight rooms back in the day. So it's just a whole other level of giving these guys an opportunity to maximize getting out of their ability what they have.
Q. What do you like most about Aaron Hayes development this year?
PAUL MOLITOR: I think there was a lot of good things. You know, he had the one really nice stretch where everyone started saying, okay, this is a guy we were projecting for quite a while. I think that he finally became confident in his ability to play up here. I think starting out a couple years ago when he got his first opportunity, had to get sent down, I wouldn't say it shook him, but it raised questions for him. And then it happened again.
You start to -- it becomes almost more mental than physical. I think coming up here, we passed him over a couple times earlier this year to bring people up here. It wasn't trying to send him a message. It was that these other guys were doing what they needed to get up here and he needed to kind of kick it in gear.
When he got up there and started performing a little bit better, it was really in pregame conversations, post-game conversations, teaching conversations, I sense that he felt that he belonged being an everyday player in the Big Leagues maybe for the first time.
Q. Knowing his personality, how do you think he'll handle New York?
PAUL MOLITOR: I only hesitate because he's not a guy that's overly affected by things like that. He's kind of -- he's kind of like just a smooth character. So I think some people would speculate either he's going to thrive or it's going to bury him and that's kind of what they say about most people that go to New York. I think if he goes in there and is allowed to do what he does, he'll be fine. I'm hoping he does really well.
Q. What do you think he still needed to fine tune at the end of the season and what does he need to work on?
PAUL MOLITOR: You know, his left-handed at-bats weren't as consistent as his right-handed at-bats. He hit a few more homers this year, as far as home runs per at-bat ratio. We all know there's some power in there. His body's developed. There's one thing he's still trying to identify in himself as a player is what is his good year going to look like, is it going to be more power or on base or stolen bases.
We all know he over-swings at times because he has a little bit of power, but his game should be utilizing his athleticism and his speed and when he hits home runs, he hits home runs. For him to get away from that back-burner desire that, okay, I'm going to hit this next pitch out, that will something that will suit him in the long run.
His baserunning, we worked on his base stealing for years now and I think he's developed enough confidence to where he should do better in that regard. Sometimes I don't know if he gets hesitant or doesn't trust his reads and different things, but I think there's more in him in terms of that part of his game.