MLB.com Columnist
Barry M. Bloom
HOF shutout reveals flaws with Veterans Committee system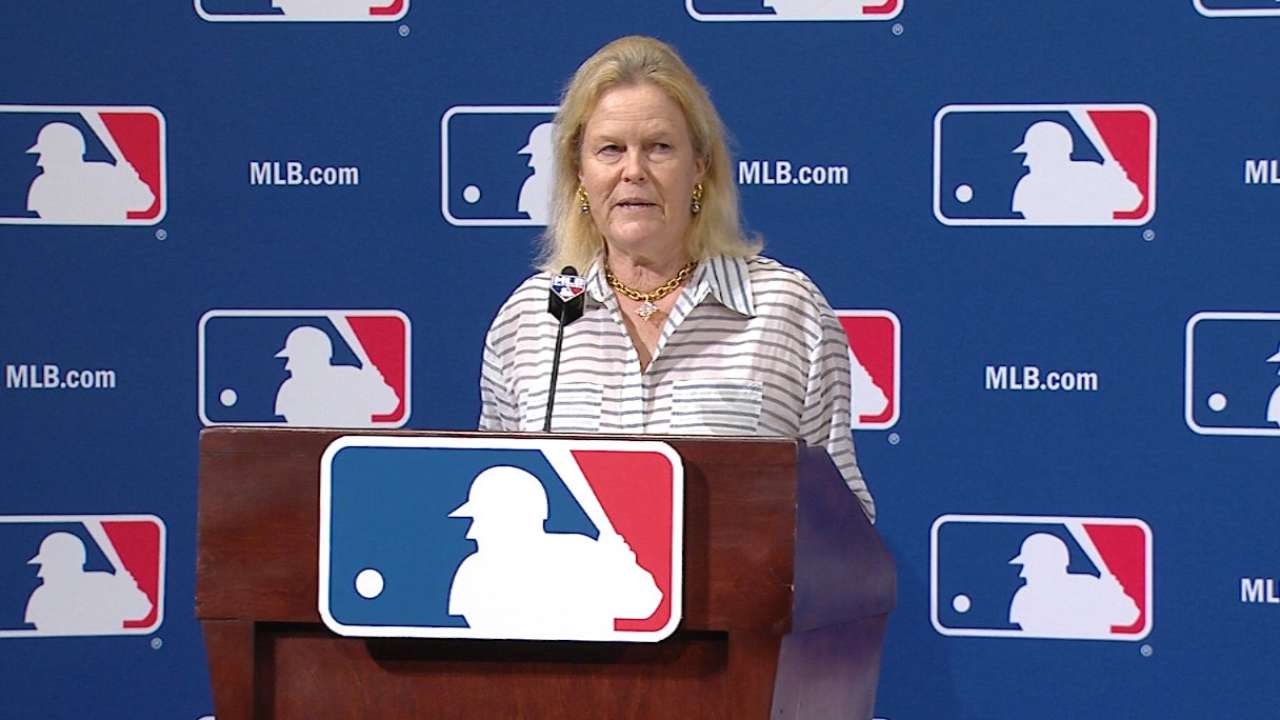 NASHVILLE, Tenn. -- For the second consecutive year, the National Baseball Hall of Fame's Veterans Committee did not elect any new plaque-bearing members and staged a news conference during which there was nothing to announce. With yet another empty Veterans Committee class, it appears time for that system of induction to be re-evaluated.
Being granted induction to the Hall isn't supposed to be easy, chairman Jane Forbes Clark told MLB.com after the announcement on Monday that the Pre-Integration Committee determined that no one among the six players, three executives and one pioneer on the ballot was Hall worthy.
"As I remind everybody, just 1 percent of all of the [18,000] men who have played Major League Baseball have a plaque in Cooperstown," she said. "It's meant to be a high honor."
The current process of three committees is a fair, but flawed one. The Pre-Integration Committee evaluates personnel from the beginning of baseball time to 1947, when Jackie Robinson shattered the color barrier. The Golden Era Committee does the same for careers that roughly spanned 1947-72. And the Expansion Committee ponders everyone since then.
A historical committee reduces the ballots to 10 participants and a 16-person panel comprised of Hall of Famers, baseball executives, historians and media members do the voting. As in any Hall election, a candidate needs 75 percent, or in this case, 12 out of 16 votes.
During the past two years, the Golden Era Committee and Pre-Integration Committee haven't elected anyone, suggesting that everyone who deserves to be in the Hall from the day Major League Baseball first began being played through the 1972 season is already in there. Thus things need to change, even though they probably won't.
"As I stand here today, the process will remain the same, but it's always being evaluated," said Jeff Idelson, the Hall's president. "Our board evaluates it. Our staff evaluates it. We feel the system works well right now because there's an open and honest forum for discussion."
But here are some suggestions to ponder:
Take players off the Veterans Committee ballot. Only two have been elected since the current system was adopted in 2010, and one, Deacon White, caught during the 19th century without modern equipment. Since the Baseball Writers' Association of America votes on players only, if they are not elected during that process, then so be it. For example, Gil Hodges went through 15 years on the writers' ballot and at least five Veterans Committee votes and hasn't been elected. That's too much.
The era-committee system is the only way managers, executives, umpires and pioneers can get in. Add coaches, who have no presence right now in the Hall, and make those ballots exclusive to them only.
Have two committees vote on that group. One from 1850-1950 and the other from 1951 to the present.
It will end redundancy. A number of the people on the past two Pre-Integration Committees have now been cast aside twice.
"We've talked about every combination," Clark said. "I'm sure over the years you've seen some of our combinations, some of our attempts. Obviously, in July, the Board of Directors, as usual, will look at how this past year went, whether it's the BBWAA or the Veterans Committee processes."
The board meets during induction weekend, next year from July 22-25, but change doesn't appear imminent. Here's hoping the board reconsiders.
Barry M. Bloom is a national reporter for MLB.com and writes an MLBlog, Boomskie on Baseball. Follow @boomskie on Twitter. This story was not subject to the approval of Major League Baseball or its clubs.