Cash wants a 'lot of big innings' from bullpen
Rays manager wants to keep being aggressive with relievers in 2016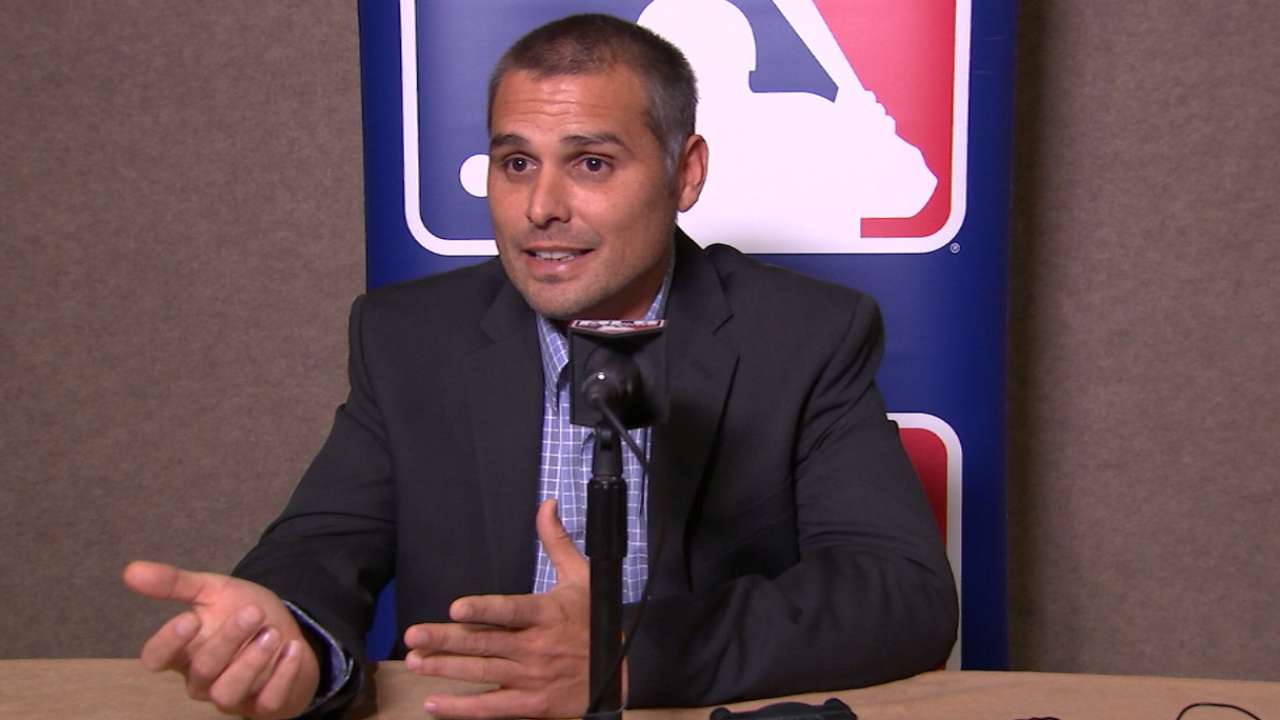 NASHVILLE, Tenn. -- Kevin Cash met with the media Monday afternoon and one thing is certain: The Rays' manager wants to continue being aggressive with his bullpen.
The Rays yanked their starters prior to the third time through the order more than any team in the American League in 2015. They faced a league low of 899 batters after the second time through the order.
"I pulled them quicker than anybody and probably took a lot of heat for it," Cash said. "But coming into the season, we felt like that was the best chance for us to win. And I think looking back, when it works, everybody's happy. And when it didn't work, there's some people who want to ask questions, which we understand. But there were different reasons and different scenarios. So they're all individual."
One particular early-season game that came into question was Nathan Karns' start against the Orioles on May 3. The right-hander held the Orioles scoreless on two hits and a walk through five innings while throwing just 66 pitches. Yet the decision was made to lift him.
• Winter Meetings interview with Kevin Cash
"It's on a per game basis, innings and times through the order," Cash said. "... Take a guy like Nate Karns. Young pitcher that is establishing himself in the big leagues. In a way, we were saying, 'Hey, you were doing everything we asked of you, why are we going to let you fail?' or giving him the chance to fail by keeping him out there when we had a fresh bullpen."
Cash acknowledged that while the Rays appreciate the value of times through the order, they also are conducting an eye test of what their starters are doing during a particular start.
"We definitely proved that," Cash said. "We let Chris Archer [go late into the game] plenty of times ... along with [Jake] Odorizzi. I will say, had we had Alex Cobb, had we had Drew Smyly, we would have been talking about different situations taking place and we might not have been so aggressive with a more veteran pitching staff."
As for the eye test and what the Rays are looking for in order to allow a pitcher to continue through to the third time of the order, Cash had definite thoughts on the subject.
• Hot Stove Tracker: Free agents and trades
"I think you look at as, is he continuing to get ahead of hitters?" Cash said. "Is he continuing to get guys to miss? The hard contact. You try to evaluate all those things. Sometimes what they're doing that specific night in the box score might not really show what's taking place on the field."
Cash reiterated that the Rays plan to be aggressive with their bullpen this season, and he justified the philosophy.
"Because if our bullpen's as aggressive as we hope it is, we're going to want them pitching a lot of big innings for us," Cash said. "But also, it's a balance that we have to find as a staff because we also think we have a very talented group of starting pitchers.
"[The 2016 season is] going to be hopefully a little bit different because of the injuries we ran into at the beginning of the year. If we have some healthy guys, we'll have to go back to the drawing board and discuss how we're going to approach each game and the different scenarios that present themselves."
Qualities Cash and company value for their bullpen begin with resilient arms that can bounce back "and also to be able to provide more than an inning of work."
"So many times you see a lot of relievers are one-inning guys and they're very successful," Cash said. "I think we found by the way that we structure our pitching staff that it would be very beneficial to have those guys that can go multiple innings, or get more than three outs. The five- and six-outs guys."
While the Rays do plan to remain aggressive with their bullpen, Cash said they will continue to make decisions based on the information that's provided daily and on how a specific pitcher is attacking the lineup on a given night because "there's so many variables in there."
"So we have to kind of let it play out, to see where we're at as far as health and how the guys are throwing the baseball," Cash said.
And for the record, the AL team with the second-fewest hitters faced after the second time through the order in 2015: The Kansas City Royals with 987.
That worked out pretty well for them.
Bill Chastain is a reporter for MLB.com. This story was not subject to the approval of Major League Baseball or its clubs.