MLB.com Columnist
Tracy Ringolsby
By waiting to sign, Cueto lowers his price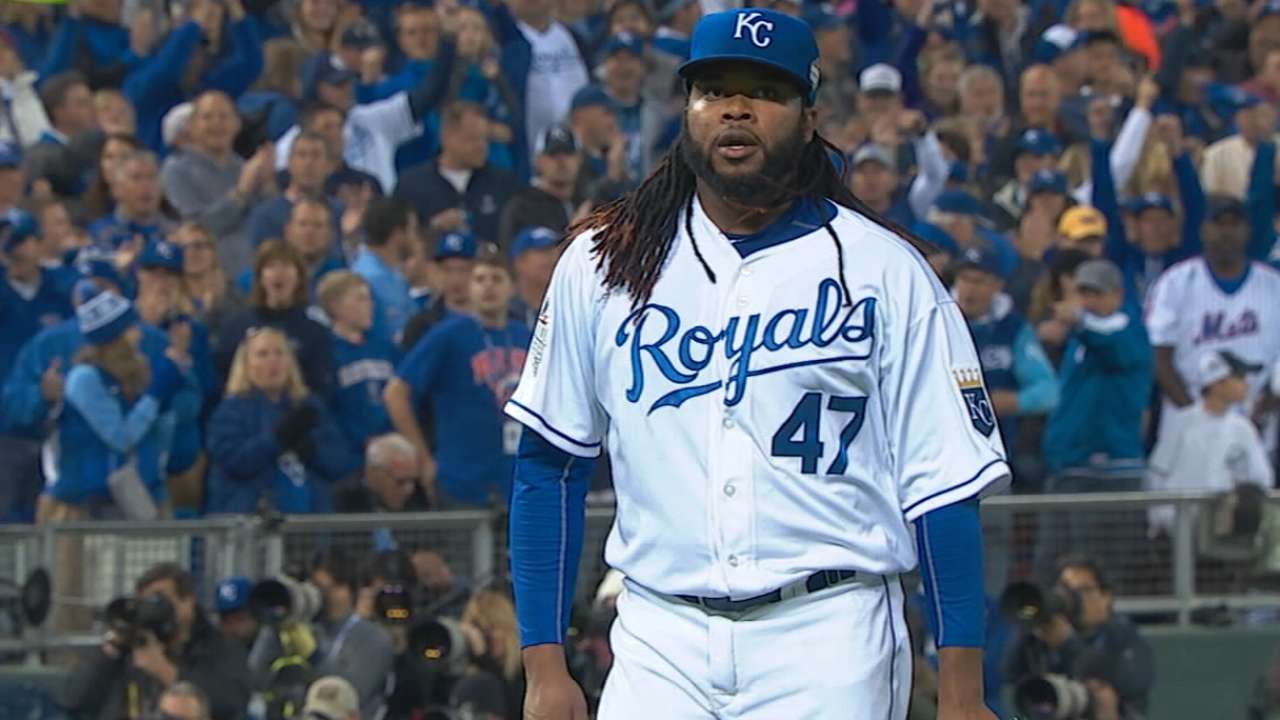 NASHVILLE, Tenn. -- OK, left-hander David Price is now with the Red Sox and righty Zack Greinke is with the D-backs. The Dodgers reportedly have an agreement to sign right-hander Hisashi Iwakuma, and the Giants are waiting for right-hander Jeff Samardzija to undergo a physical on Tuesday to finalize a deal for him to step into their rotation.
The Mariners, meanwhile, acquired lefty Wade Miley from the Red Sox to fill the rotation void created by the loss of Iwakuma.
And then there is Johnny Cueto, eight days removed from rejecting a six-year, $120 contract offer from the D-backs and suddenly in free-agent limbo.
With Price (seven years, $217 million), and Greinke (six years, $206 million) both eschewing the Dodgers and the Giants, the thinking was that Cueto was suddenly in the driver's seat.
Think again.
In the past four days, both San Francisco (with Samardzija) and Los Angeles (with Iwakuma) filled their rotation voids. The Dodgers also made an impressive financial commitment with their potential acquisition of closer Aroldis Chapman from the Reds.
Cueto? He was left on the free-agent market.
And the Mariners, who might have been considered a team that could surface in the Cueto hunt after being unable to retain Iwakuma, filled their void by landing Miley, a familiar arm for Seattle's executives from his days in Arizona. Tom Allison, who oversees pro and amateur scouting for the Mariners, was the scouting director of the D-backs from 2007-10 and made Miley the 43rd player taken in the 2008 Draft. Current Seattle general manager Jerry Dipoto, at that time, was a special assistant to Arizona GM Josh Byrnes. Miley is under control for three seasons, including an option for 2018.
Now, that does not mean the Dodgers or the Giants won't eventually agree to terms with Cueto. Both teams could use another strong arm, although neither is as desperate as it might have been a week ago.
Cueto, however, is not the man in command of the pitching free-agent market as was speculated a week ago, after Los Angeles failed to land Price and retain Greinke, and with San Francisco in definite need of filling a rotation void.
The Dodgers and the Giants addressed their primary needs, and at the same time, they sent the not-so-subtle message that if Cueto does wind up with either one, it will be at their price, not Cueto's.
If they are to looking to add a middle-of-the-rotation arm, they could decide that Mike Leake is more cost-effective, which would drive down Cueto's bargaining power rather than enhance it.
And then there is the Cardinals, a team that could use a top-of-the-rotation arm, but old grudges don't die easily. Cueto has been Public Enemy No. 1 in St. Louis ever since the Aug. 10, 2010, bench-clearing incident that resulted in former Cards backup catcher Jason LaRue's concussion. LaRue's career was arguably ended after he was kicked in the head by Cueto.
Cardinals executives are convinced that Cueto would never be welcomed in the team's clubhouse, neither by the players nor manager Mike Matheny.
The Rangers, Orioles, Yankees and Mariners all could be considered in the market for a top-two starter, but they also all are in the American League, and Cueto's two-month late-season cameo with Kansas City has brought up questions about his ability to compete in the AL.
While Cueto was 92-63 with a 3.21 ERA in 213 career starts for the Reds, he was only 4-7 with a 4.76 ERA after the Royals acquired him in a July 26 trade with Cincinnati. And while he two-hit the Mets in Game 3 of the World Series, he allowed 14 earned runs in 16 innings (three starts) during the AL Division Series and the AL Championship Series.
Those are items that could have been glossed over when a team was trying to sell itself and its fans on the virtues of adding Cueto, but now that the teams that seemed to have the most interest in him are no longer in the market, his accomplishments will come under more scrutiny.
Teams will be more inclined to look at Cueto with a critical eye, ready to convince themselves of reasons not to rush into a bidding war, but rather to step back with a big-picture view of just where he fits into the scheme of things in terms of finances and ability.
It's a far cry from a week ago, when Cueto seemed to be in position to call the shots on what his next move would be.
Tracy Ringolsby is a columnist for MLB.com. Read his blog, Write 'em Cowboy. This story was not subject to the approval of Major League Baseball or its clubs.