White Sox 'dipping our toe in the water' at Winter Meetings
Offense remains No. 1 area of need in rebuilding program
NASHVILLE, Tenn. -- White Sox general manager Rick Hahn spoke for 20 minutes on Monday during Day 1 of the Winter Meetings at the Opryland Hotel. His message was the same from start to finish, regardless of how he phrased the answers.
"We continue to explore just about every avenue available to us to improve this club," Hahn said.
Hahn termed the past 24 hours as "busy," featuring countless conversations with other clubs and representatives for free agents. The bulk of the focus remains on offense, an area where the team's struggles were quite pronounced in 2015. That search includes positions that are open, such as third base and shortstop, to positions that already have someone in place.
But what can Hahn do to help take this team to the next level? He was asked about being in on big-ticket free-agent outfielders, namely Justin Upton, Yoenis Cespedes and Jason Heyward, and responded by saying that the White Sox practice always has been to check in on everyone who can help the club.
"You never know, you might stumble across somebody who is willing to get creative on a contract or for whatever reason has always wanted to play in Chicago or play for our club," Hahn said. "It's worth it to at least have the dialogue until you are told, 'No, there's no fit.'
"It has been extremely rare over the last several years that a high-caliber impact talent has changed clubs and we haven't at least been in on it at some level, even if it's just dipping our toe in the water. And this offseason is no exception."
That comment seems to convey interest but not high interest in pursuing players who could cost the team one of its three picks in the Top 50 of the 2016 Draft, not to mention one player who would consume the resources they have available.
There was no budget given by Hahn as to what the White Sox could spend. The White Sox currently have some flexibility to address needs but may need to get creative as the offseason progresses.
"We'll cross that bridge when we get to it," Hahn said.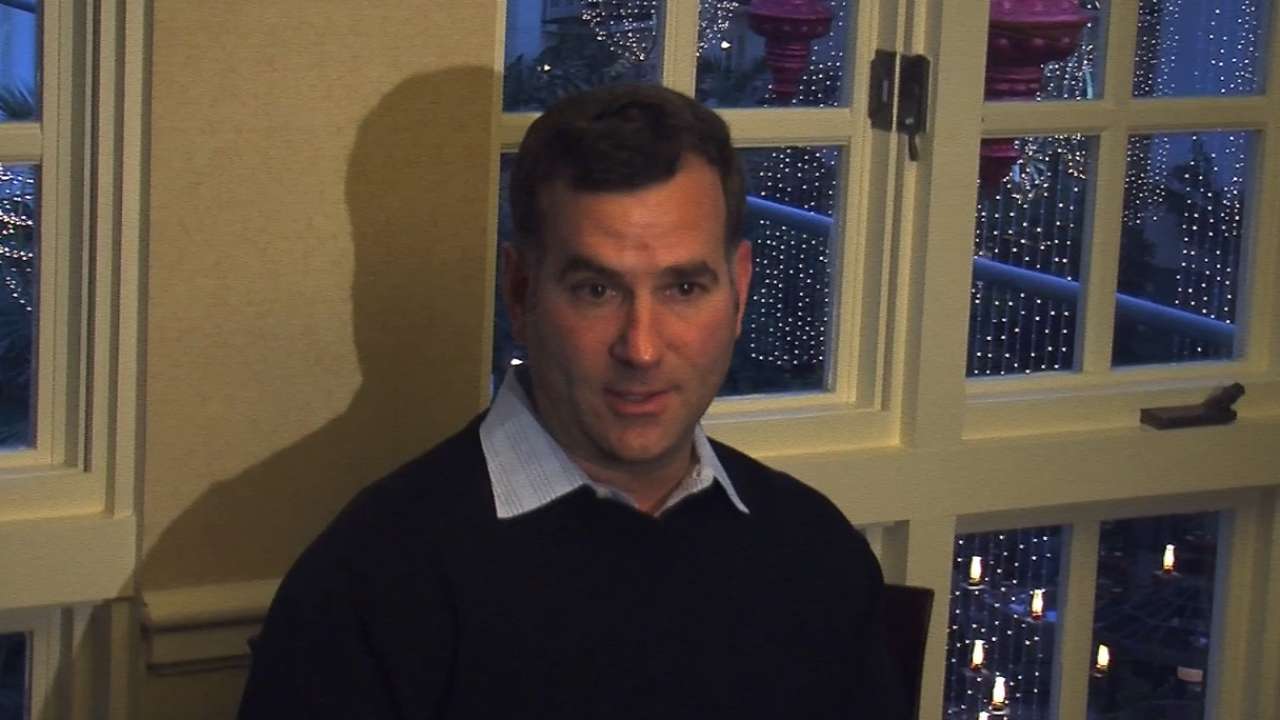 In working via the trade route and pursuing a third baseman such as the Reds' Todd Frazier or Oakland's Brett Lawrie, whom the White Sox have interest in, according to the San Francisco Chronicle, the question arises as to whether they have the controllable prospect pieces to pull off such a deal. Even if they do, that sort of move goes somewhat against the White Sox desire to strengthen their core.
So Hahn finds himself in an interesting position: trying to contend after a disappointing '15, while staying true to the reshaping program. He isn't looking to make a move of notoriety just to make a big splash, and he's willing to deal with anybody, including the crosstown Cubs, if the fit is there.
"If it makes both of us better, then we're not afraid to do anything," Hahn said. "Look, making a splash, winning headlines now is not the goal. The goal is to put together a team that is able to contend for a championship next summer."
Scott Merkin is a reporter for MLB.com. Read his blog, Merk's Works, follow him on Twitter @scottmerkin, on Facebook and listen to his podcast. This story was not subject to the approval of Major League Baseball or its clubs.