Twins on the hunt for lefty reliever at Meetings
GM Ryan says nothing 'imminent' as annual gathering gets under way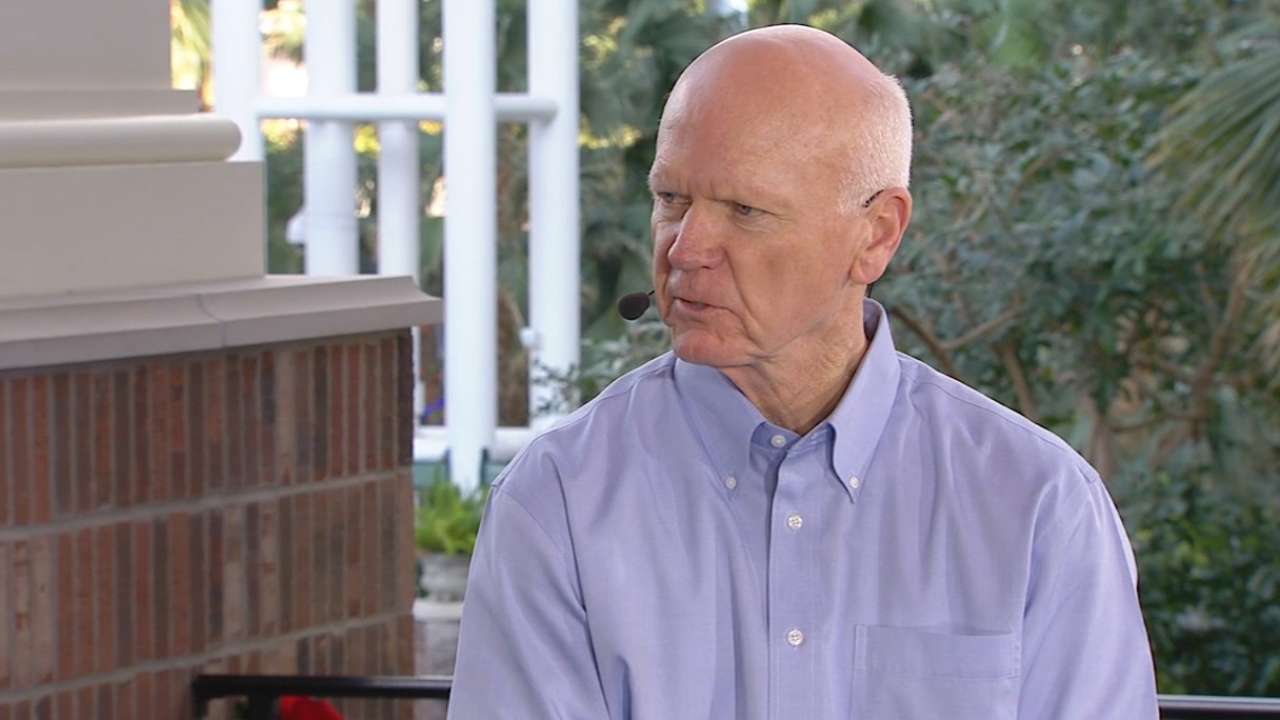 NASHVILLE, Tenn. -- Twins general manager Terry Ryan said he had a productive first day of the Winter Meetings on Monday, and that adding relief help remains his top priority, but nothing is imminent.
Ryan said he talked with several agents and that he plans on talking to more teams about potential trades as the week goes along. He's zeroed in on bullpen help, preferably a lefty, as he feels the Twins are set with their position players outside of potentially adding a fourth outfielder later in the offseason.
"We're making progress, but I wouldn't gauge it as being close," Ryan said. "But there's not a bunch that I'm concerned about to the point where we have gaping holes. We have some things we want to do, but we're in decent shape. There are things out there that will be available and we'll have interest in that could be more firm as we get deeper into the week, but I feel good about where we're at right now."
The prices for free-agent relievers has been steep this offseason -- Darren O'Day signed a four-year, $31 million deal with Baltimore, Ryan Madson inked a three-year, $22 million deal with Oakland and Joakim Soria signed a three-year, $25 million deal with Kansas City. But Ryan said it's not a surprise and that the Twins are willing to offer a multiyear deal to a reliever if it makes sense.
"We would do that if that was a necessity and if it was a guy we had confidence in and a need we had," Ryan said. "I'm not opposed to that. I know some people talk about my history [of signing free agents], and it's accurate, but last year, as you're aware, we went into that pretty deep. So we're not afraid."
The Twins didn't add a high-priced reliever last offseason, but did sign Ervin Santana to a four-year deal worth $55 million and Torii Hunter to a one-year deal worth $10.5 million. They also extended Phil Hughes for an additional three years and $42 million.
The Twins have the payroll flexibility to make a move and have been linked to relievers such as Shawn Kelley, Tony Sipp and Antonio Bastardo, but could also look to make a trade. Ryan said a lefty to join Glen Perkins and Kevin Jepsen is preferred, but not a necessity.
"We'd be leaning left-handed," Ryan said. "But we're not going to shy away from a good righty."
Left-hander Neal Cotts, who finished the season with the Twins after being traded from the Brewers in late August, remains one option. Ryan indicated he has some level of interest in bringing Cotts back, but it appears the club is ready to move on from free agents Brian Duensing and Blaine Boyer.
Ryan also said he's well-aware Twins relievers finished last in strikeouts last season and said targeting a reliever with a high strikeout rate would make sense.
"That would be a piece we'd pay attention to," Ryan said. "I think when we look at the analytical side, we look at that [stat] as much as any other."
Rhett Bollinger is a reporter for MLB.com. Read his blog, Bollinger Beat, follow him on Twitter @RhettBollinger and listen to his podcast. This story was not subject to the approval of Major League Baseball or its clubs.