Suitors may be lining up to ask for Giles' arm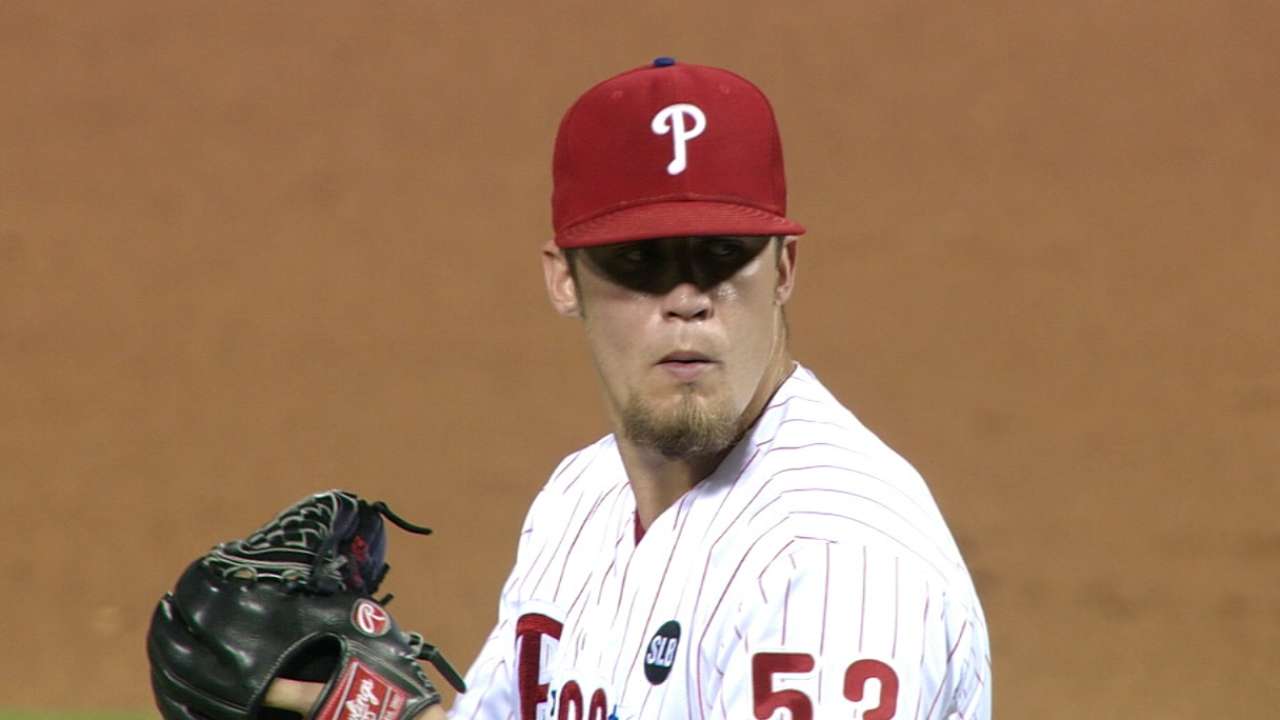 NASHVILLE, Tenn. -- Could Ken Giles be the next closer traded this offseason?
Phillies general manager Matt Klentak said on Monday afternoon at the Winter Meetings that he is receiving numerous calls about Giles, who went 6-3 with a 1.80 ERA and 15 saves in 17 opportunities as Philadelphia's closer in 2015. Sources have confirmed that the Astros and Marlins are just two of the teams that have called the Phils about Giles.
"I don't know how much I really want to say about that, but yeah," Klentak said. "There's a lot of interest in him because he's good, and because he's young, and because he's cheap. We'll see. I don't know how that's going to shake out. If he's with us, we'll be very happy he's still with us."
Interest in Giles could pick up as the Meetings continue through Thursday. The Padres traded Craig Kimbrel to the Red Sox last month, and Reds closer Aroldis Chapman could essentially be off the market in light of a domestic violence investigation reportedly stemming from an October incident in which he allegedly fired eight gunshots into his home's garage.
Enter Giles, whose stock may rise with fewer options available to contending teams.
In theory, Giles should fetch a top prospect or two because he is paid significantly less than Kimbrel and Chapman and cannot become a free agent until after the 2020 season. The Padres received four prospects from the Red Sox, including outfielder Manuel Margot and shortstop Javier Guerra, the No. 25 and No. 76 prospects in baseball, respectively, according to MLBPipeline.com. The other two prospects San Diego acquired -- infielder Carlos Asuaje and left-hander Logan Allen -- ranked among Boston's top 30.
Reports prior to Monday's news of the investigation into Chapman had the Dodgers sending the Reds at least one of their top prospects for the left-hander.
"Yeah, potentially," said Klentak when asked if a strong package for Chapman -- agreed to before news of the investigation -- would put the Phillies in a good spot. "But markets evolve in their own ways at certain times of the year and how a trade market correlates with the free-agent market and vice versa. Sometimes it seems like it should lead in a certain direction and it leads the opposite way. I don't know. Am I curious [about a Chapman deal]? Sure. But we're still kind of taking that day by day, and we'll see how it plays out.
"I've said this before, and I'd appreciate it if you guys wrote it again. We like Ken Giles. We want Ken Giles on our team. We want more players like Ken Giles. But we also have to be opportunistic when opportunities present themselves to make us better in both the short and long term. And we're going to explore that and other things while we're here."
Speaking in general terms, Klentak said he thinks that the Phillies can make at least one roster move this week (other than a Rule 5 Draft selection). That could mean an additional starter for the rotation or an additional veteran for the bullpen.
"I think one thing we've all learned over the years of the Winter Meetings, trades, free-agent signings, they can come together pretty quickly," Klentak said. "I just know what I've read on the Zack Greinke contract -- it sounds like that came together in a few hours. Not suggesting that we're doing something like that, but I think especially when you get people face to face and are balancing a lot of different ideas, decisions can come to pass pretty quickly. Nothing is sort of on the table to get done imminently here, but I would hope that we have talked to enough agents and clubs here that I think, just kicking the tires, that hopefully something would come together before we leave."
Todd Zolecki is a reporter for MLB.com. Read his Phillies blog The Zo Zone, follow him on Twitter and listen to his podcast. This story was not subject to the approval of Major League Baseball or its clubs.