Witty Ausmus comfortable in Tigers' transition
Entering third season, feels continuity with new GM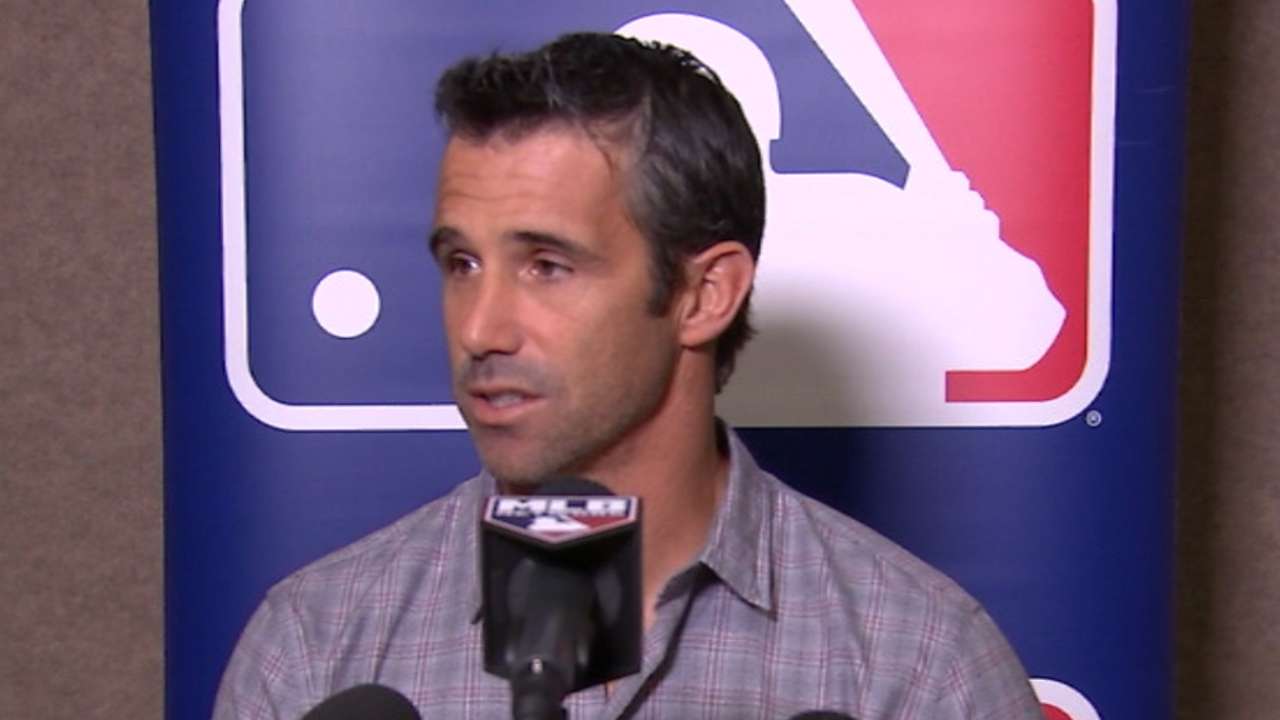 NASHVILLE, Tenn. -- Sometimes, the Brad Ausmus wit is pretty obvious, such as when he was asked Monday for his take on the Jarrod Saltalamacchia signing.
"Al [Avila, Tigers general manager] said he was looking to sign a big-name catcher," said Ausmus, who had seemingly been waiting to throw that line out about Saltalamacchia since the deal Sunday.
Other times, that Ausmus wit is a bit sharper. As Avila talked about focusing the Tigers' moves on the present and the future, keeping their young players, Avila admitted some of those concerns are bigger to them than to Ausmus.
"If I go to Brad and I say, 'Hey, do you think this guy is good at a three- or four-year contract,' Brad I think is really not going to care about that third or fourth year," Avila said. "He's going to care about 2016, which we all do."
Ausmus didn't miss the opening.
"I barely made it through September," he said with a wry smile.
• Winter Meetings interview with Ausmus
It was a jab at the September saga regarding his managerial status, a saga that peaked with rumors of his impending dismissal and ended with Avila announcing Ausmus would return for 2016 with a week to go in the season.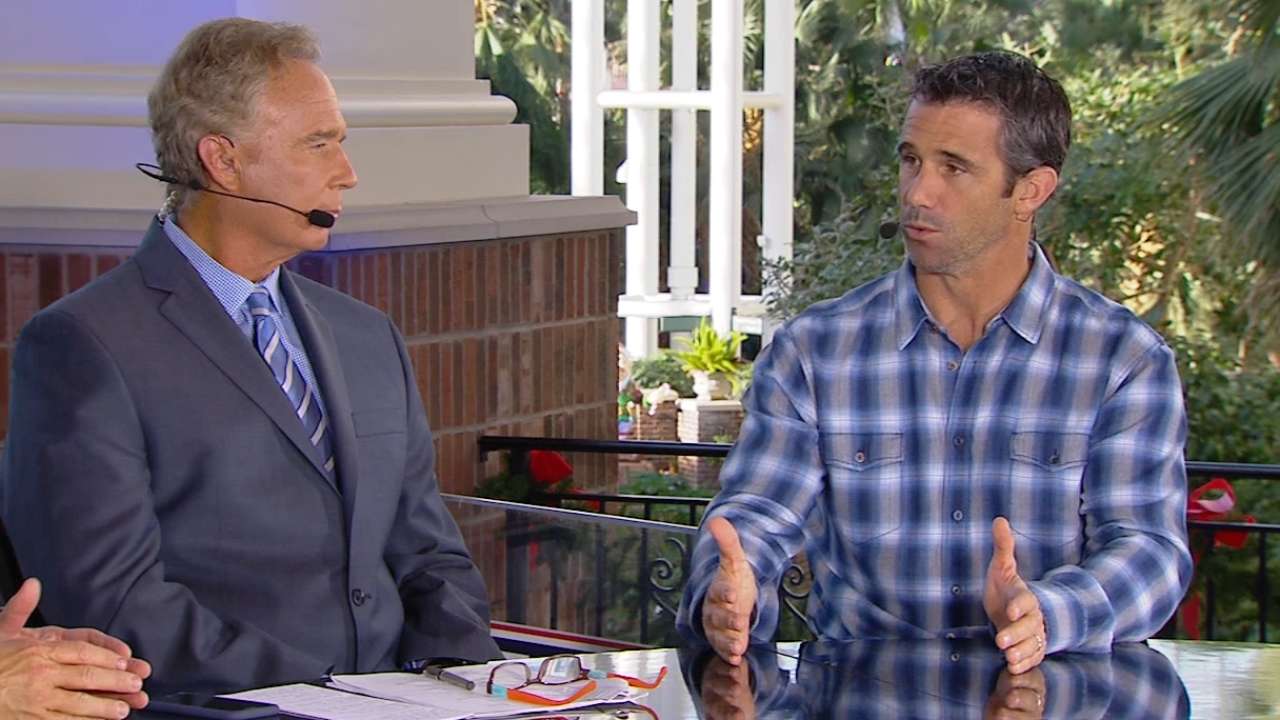 Ausmus is back for his third year, the final guaranteed season in his contract. It'll be his first full year under Avila, who took over in August for Dave Dombrowski, who hired Ausmus after the 2013 season. Avila's a new boss, but to Ausmus, he's a familiar face.
• Pitching remains priority despite outfield speculation
"From my standpoint, it's been seamless," Ausmus said, "because I've known Al as long as I've known Dave, and conversations are very comfortable. And actually over the last month they have been very frequent, multiple times a day, many days.
"He does a great job of keeping me in the loop in terms of opportunities that the Tigers have with trades or free agency. He asks my opinion as well as the staff, and he makes the decision, but he's made some good decisions so far. You don't know until it plays out over the next couple seasons, but Al's done a good job and he's really confident in what he's doing."
Avila was confident in his decision to stick with Ausmus after an injury-riddled 2015 season. Part of that, Avila said at the time, was the determination that nobody could've won with what that team became. Another factor was the way the club played down the stretch. And another, Ausmus said, was Avila's familiarity.
"Even going back to last year, people said they might let me go because I wasn't his pick," Ausmus said. "But the truth is Al was a big part of them picking me. He was Dave's right-hand man and actually pushed Dave to hire me. So to say I'm not Al's guy is a little bit of a misnomer. And the conversation and communication has been extremely smooth."
As he readies for his third season, Ausmus says he's not trying to act differently. While Avila has a different demeanor than Dombrowski, the end goal is the same. The offseason shopping list they compiled during organizational meetings in October -- "pitching, pitching and more pitching" -- has largely been filled already. The current team reflects a little more of the defense, speed and pitching Ausmus has tried to instill. He's in tune with the analytics, and he talked about some defensive positioning similar to what he's done in the infield -- not dramatic shifts, but subtle shifts that make a difference.
Asked how the job has evolved over the years, Ausmus mentioned media -- social media in particular -- more so than anything on the field.
"I don't know if it surprised me," Ausmus said. "I knew the media demands were high, but I do think there is an adjustment period, for sure."
He has adjusted to the demands, from media attention to expectation. He has kept his wits, but also his wit. When asked how he felt about the way his bench is set up, he deadpanned.
"They could use a heater underneath it," Ausmus said. "It is a little bit cold. But I stand a lot of times."
It's as close to a hot-seat reference as Ausmus is going to give.
Jason Beck is a reporter for MLB.com. Read Beck's Blog, follow him on Twitter @beckjason and listen to his podcast. This story was not subject to the approval of Major League Baseball or its clubs.