Manfred talks pace of play, CBA at Meetings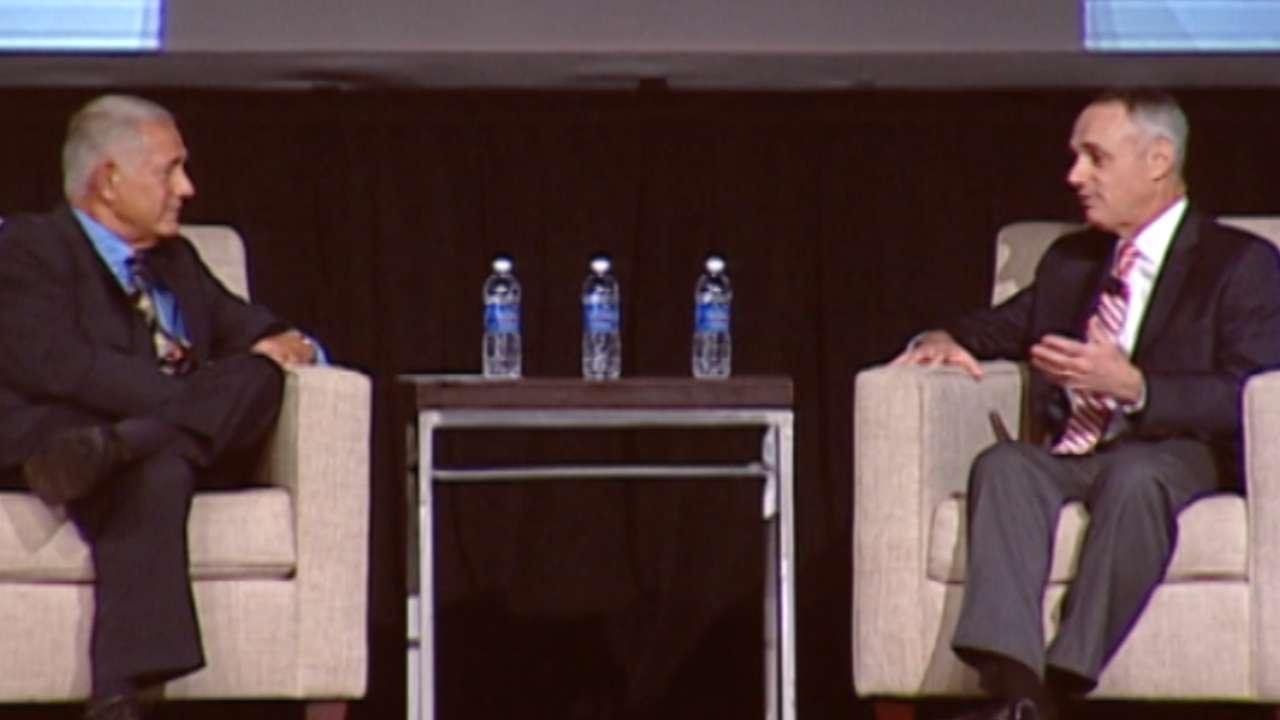 Commissioner Rob Manfred, nearing the end of his first year in office, sat down with broadcaster George Grande on Monday at the Winter Meetings in Nashville, Tenn., to discuss a wide range of issues around the game. Manfred gave his thoughts on such topics as pace of play and the upcoming labor negotiations.
Back in February, Major League Baseball and the MLB Players Association announced new rules designed to regulate the pace of play, including keeping batters in the batter's box more often and introducing a timer for breaks between innings and during pitching changes. Speaking on Monday, Manfred suggested that further adjustments could be forthcoming.
"I see pace of game as an ongoing effort," he said. "It's like keeping dandelions out of your lawn -- every year there's going to have to be some changes to make sure that we continue to move the game along in a way that's consonant with the way people live their lives ... today."
Meanwhile, much broader negotiations loom, as the current Collective Bargaining Agreement (CBA) between the league and the Players Association -- agreed to in 2011 -- is set to expire on Dec. 1, 2016.
Since the last agreement, the MLBPA faced the emotional task of transitioning from the leadership of Michael Weiner, who died after a bout with brain cancer in November 2013, to the appointment of popular former Major Leaguer Tony Clark as executive director. Manfred expressed hope that the two sides again will negotiate effectively and avoid the game's first work stoppage since 1994.
"I think we have the kind of relationship with the MLBPA now that we're able to survive the kind of tragedy and change that Michael's passing entailed, and I'm optimistic we'll find a way to make a new agreement, even with different people at the table, and move the game forward," Manfred said.
Asked to name an issue that could play a big role in those negotiations, Manfred predicted that international talent acquisition would be near the top of the list for both sides. Back in 2013, MLB decided not to implement an international draft, tabling the issue until the expiration of the CBA.
"Young talent is so crucial to our game now. It's the way people win, it's the way people stay competitive, it's the way people control their costs." Manfred said. "I think we did a pretty good job on the domestic amateur draft side last time around. If you'd asked me two years ago, I would have told you we did a pretty good job on the international side as well. The clubs really like it. But you know, the stressor of Cuba has shown us that the international system we have right now is not up to the test, and I think we have some work to do in that area."
In recent years, a stream of high-profile players have left Cuba for the United States, including Jose Abreu, Yoenis Cespedes, Aroldis Chapman, Yasiel Puig and Yoan Moncada, a top prospect who received a record $31.5 million signing bonus from the Red Sox in February. The fact that the two countries recently restored full diplomatic relations is an important step with big implications for baseball.
"We need to have a system -- and this largely involves the U.S. government and the Cuban government -- that allows us to have players come here and play and go back to Cuba, so we don't have to have players getting out on boats and going to Mexico and all sorts of crazy things in order to get here," Manfred said. "By the same token, I think we need to be careful that we don't just go in and strip the land, take everybody that might be able to play and really ruin the culture of baseball in Cuba."
A league contingent, led by Joe Torre and Dave Winfield, plans to make a goodwill tour to Cuba later this month, an important step in terms of the relationship between Cuba and MLB.
Andrew Simon is a reporter for MLB.com. Follow him on Twitter @AndrewSimonMLB. This story was not subject to the approval of Major League Baseball or its clubs.