MLB.com Columnist
Jesse Sanchez
Cueto, agent 'not in a rush' to sign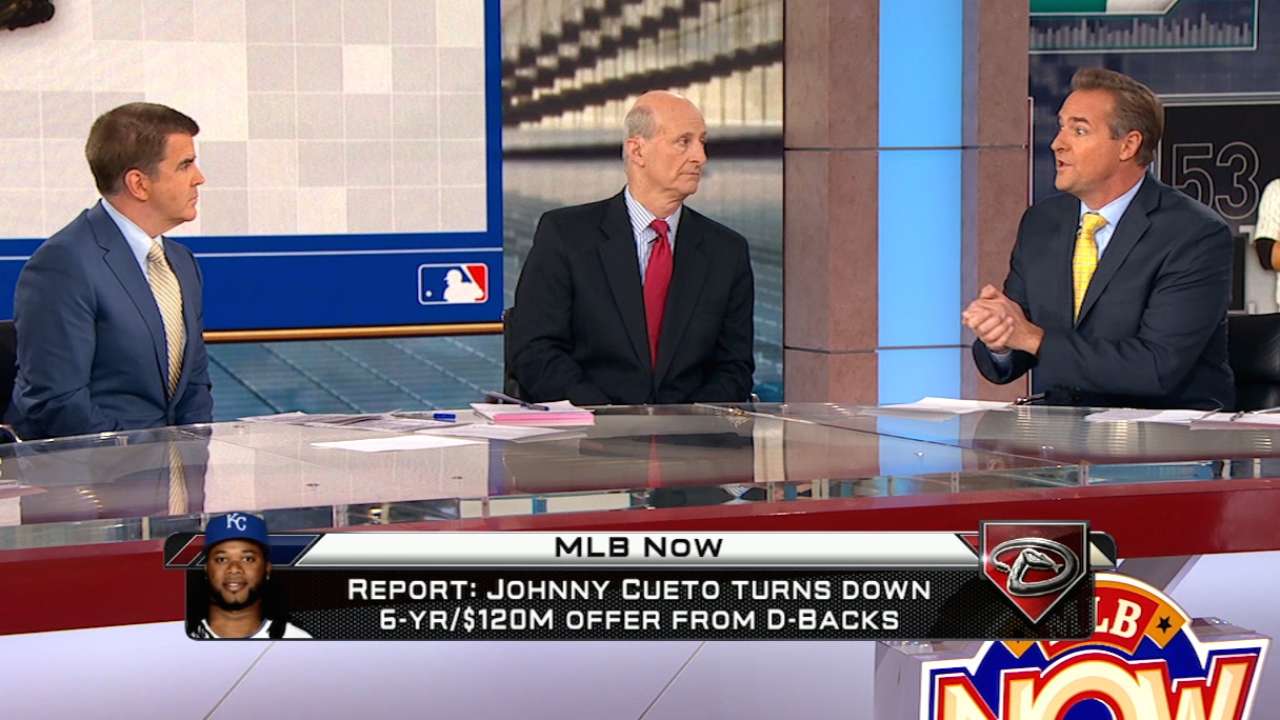 NASHVILLE, Tenn. -- Sixteen hundred miles away from the hustle and bustle of the 2015 MLB Winter Meetings at the Gaylord Opryland Resort & Convention Center, veteran starter Johnny Cueto runs the perimeter of the large farm he owns in Hato Mayor, Dominican Republic, not far from where he grew up in San Pedro de Macoris.
Cueto speaks with his agent Bryce Dixon a few times each day and repeats the phrase that has been his calling card of the offseason so far.
"No hay prisa," Cueto tells Dixon.
In English, it means, "There is no rush."
So while top-flight pitchers Zack Greinke, David Price, Jeff Samardzija and Jordan Zimmermann have all come off the board, Cueto remains patient and he runs. Cueto might sign a deal during this week's Winter Meetings. He might not.
"We are talking to teams and listening to what everybody has to say," Dixon said. "We are not in a rush to get something done, but we are optimistic that we will find a good spot for him. We want somewhere where Johnny can be comfortable, where he can win with a good team behind him, and a good group of guys. Something like he had in Cincinnati and Kansas City. When it comes along, we will know."
Cueto, who will be 30 in February, turned down a six-year, $120 million deal with the D-backs, and the offer later became public. Arizona eventually agreed on a six-year, $206.5 million deal with Greinke.
"It's unfortunate we had to address the Arizona offer, and we didn't want to let it be known. But once it became known, we had to respond to it. Otherwise, it would just be their narrative," Dixon said. "There is no ill will towards them. They wanted to get ahead of the market and they tried. We respect their offer, but it wasn't something for us."
Overall, Cueto went 11-13 with a 3.44 ERA between Cincinnati and Kansas City in 2015. He missed some time because of stiffness in his elbow while with the Reds and was inconsistent at times during his two-month stint after the midseason trade to the Royals.
During the postseason, Cueto threw a two-hitter in Game 5 of the American League Division Series against the Astros and allowed one run on two hits in a complete-game victory against the Mets in Game 2 of the World Series. He was also tagged for eight runs on six hits in two innings against the Blue Jays in Game 3 of the AL Championship Series.
"Hey, he had a bad five-game stretch in Kansas City, but he worked things out and it had nothing to do with him being injured," Dixon said. "If he was injured, the Royals would have taken a look at that MRI and would not have traded three top prospects for him. His arm is perfectly fine. He threw 126 pitches in November against the Mets in the World Series and was in the mid-90s mph at the end of that. All teams have seen his medicals and nobody has expressed any concern to me."
In the meantime, Cueto is staying content down on the farm. He's just built a new pen for his goats and cows. There's also a new chicken coop in the works and it's time to plant crops. Cueto will start to throw later this winter.
"It's not like we are trying to drag anything out," Dixon said. "It's the beginning of December and the Winter Meetings just started. He can clearly help a lot of teams out, so we'll continue to talk to teams and find the right fit for him. Life is good for Johnny right now."
Jesse Sanchez is a national reporter for MLB.com. Follow him on Twitter @JesseSanchezMLB. This story was not subject to the approval of Major League Baseball or its clubs.