MLB.com Columnist
Lindsay Berra
Ripken tapped for youth program advisor role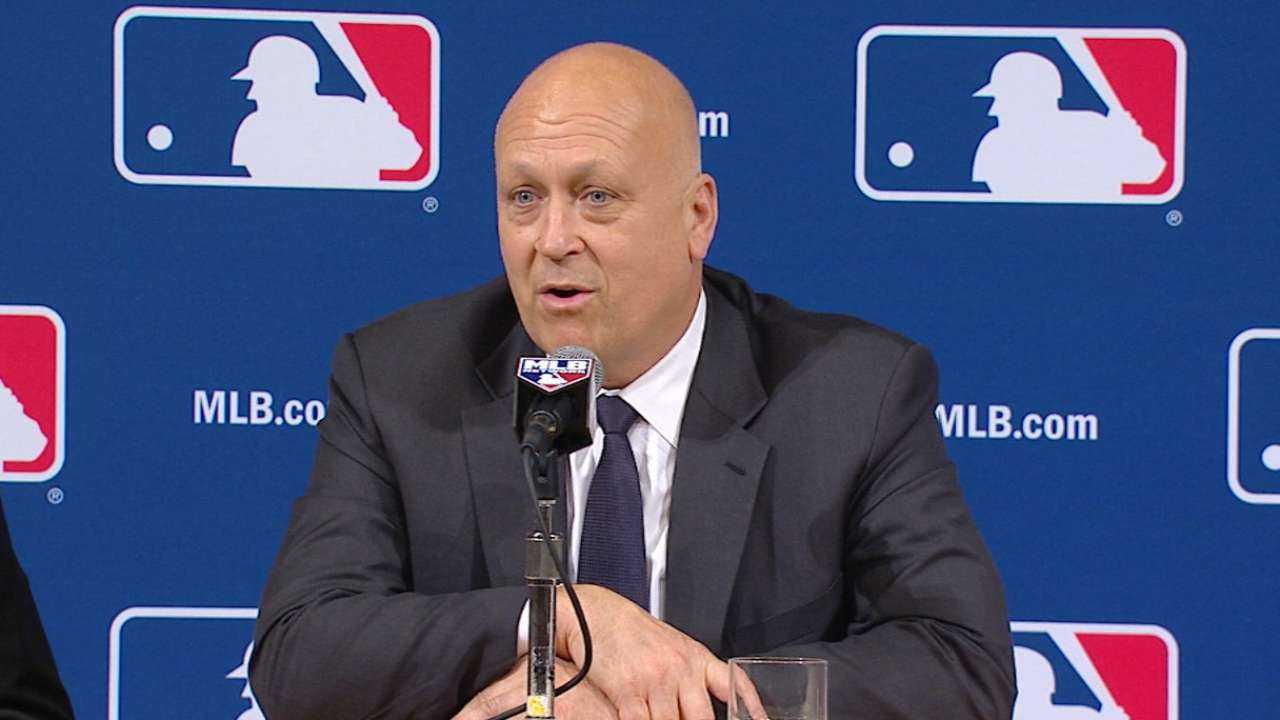 NASHVILLE, Tenn. -- On Monday afternoon, Commissioner Rob Manfred named Hall of Famer Cal Ripken Jr. to be MLB's special advisor to the Commissioner on youth programs and outreach.
The announcement was made during the annual Winter Meetings at the Gaylord Opryland Resort & Convention Center. Ripken will advise the Commissioner and Major League Baseball's Youth Programs Department regarding strategies and initiatives designed to grow the sports of baseball and softball at the amateur and youth levels. A particular focus will be placed on ways to provide access to quality playing opportunities for children in underserved communities.
"I have said in many contexts that one of the greatest assets in our game is our players and our former players," Manfred said. "Cal has devoted much of his time since his great playing career finished to youth programs, developing youth programs, helping kids enjoy our game. We are very excited to have someone of Cal's character and reputation joining us on these topics, and I know that he will make our programs better going forward."
Ripken will serve as a member of the MLB Youth Programs Advisory Committee, which consists of club presidents, general managers and staff members from the Commissioner's Office and USA Baseball. The purpose of the committee is to evaluate and improve the quality of existing programs and identify new programs that can grow the sport. He also will represent MLB at amateur baseball events and other public appearances.
"I'm ecstatic to be in a role where I can help," Ripken said. "I've always wanted to help develop the kids and let them see the joy that baseball can provide."
Ripken already has experience with youth baseball. Upon his retirement in 2001, he founded the Cal Ripken Sr. Foundation, along with his brother, Billy Ripken, and other members of the Ripken family. The 501(c)(3) nonprofit teaches a character-education curriculum to at-risk youth, highlighting Ripken Sr.'s values of leadership, work ethic, responsibility and healthy living. Ripken Jr. plans to use the knowledge he has gained from working with his own foundation in his new capacity with MLB.
"The Foundation has given us a lot more input on how to deal with players that haven't had the background in baseball as much, how we can energize them and get them to love the game," Ripken said. "I think we all have the same care for kids, and we should all pool our resources, and we all should talk and use best practices."
Ripken's appointment is another milestone of MLB's commitment to reach young people through baseball and softball. In his new role, he will advise on already existing youth programs, such as the Play Ball initiative, the Reviving Baseball in Inner Cities (RBI) program, the MLB Urban Youth Academy network and the Baseball Tomorrow Fund.
"We're going to rely on Cal and his input and relations in really every aspect of youth programs," said Tony Reagins, MLB's vice president of youth programs. "If Cal thinks that we could do some things better and tweak it a little bit, we're open to those ideas."
Ripken, for his part, feels baseball is an equal-opportunity sport that can be enjoyed by children of all sizes, if it continues to get exposure, so it can regain some of the footing it has lost to other sports like football, basketball and lacrosse.
"Baseball is a wonderful, wonderful sport, and I still think it's a little different than other sports," Ripken said. "You don't have to be the biggest, strongest and fastest. The skills involved in baseball don't discriminate on size, and it's wonderful to see a small kid step up and grab a bat and all of a sudden have great success.
"You see the confidence level step up in the kid, and everyone else wants to know how you did that. I've gotten a lot of joy out of it, and I look forward to helping in a more formal way."
Lindsay Berra is a columnist for MLB.com. This story was not subject to the approval of Major League Baseball or its clubs.