Mariners reinforce rotation with Miley
Proven lefty, prospect Aro acquired from Boston for Elias, C. Smith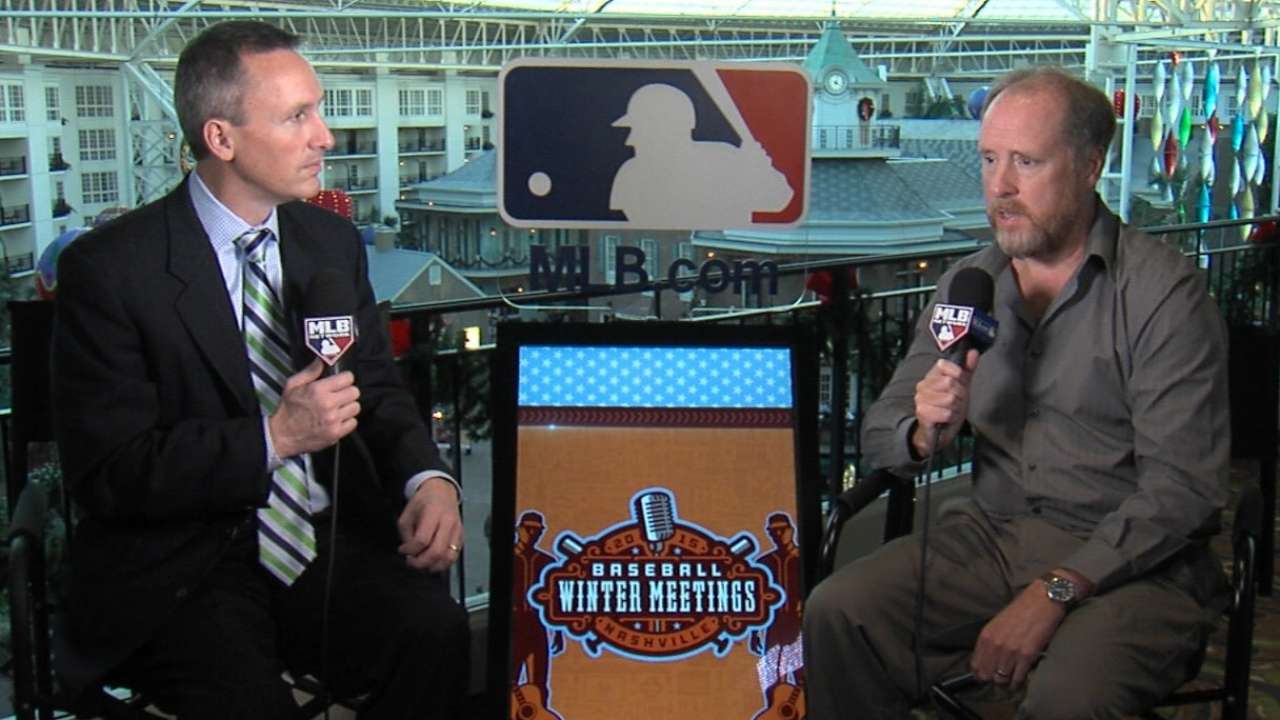 "We just weren't willing to go to the third year," Dipoto said of the free-agent pursuit of Iwakuma. "That was not something we were willing to invest, and we made that clear early on. We made a very competitive offer and it was a tough decision for Kuma. We were aggressive with what we did, and we went as far as we were willing to go."
Bottom line, Dipoto worried about the long-term durability of Iwakuma and opted instead to invest in Miley -- who is five years younger and has thrown 193 or more innings in four straight seasons with the D-backs and Red Sox -- at about half the price of Iwakuma for the next two seasons. Miley is under contract for $6 million in 2016 and $9 million in 2017 with a $12 million team option for 2018.
Dipoto feels Miley is comparable to remaining free-agent pitchers like Yovani Gallardo and Ian Kennedy, who would have required much higher long-term deals and cost the Mariners their No. 11 first-round Draft pick as compensation because they rejected qualifying offers from their former clubs.
"It doesn't take a rocket scientist to figure out where he fits in a market that is paying $12-18 million annually, and we didn't have to cede a Draft pick to do it," Dipoto said.
The Mariners will gain a compensatory Draft pick at the end of the first round from the Dodgers, because Iwakuma was given a qualifying offer as well.
Miley was 11-11 with a 4.46 ERA in 32 starts in his first season with the Red Sox, after four seasons in Arizona. He has a career 49-46 record with 3.95 ERA in 138 games (134 starts), and he was a 2012 National League All-Star and finished second in the NL Rookie of the Year Award balloting after going 16-11 with a 3.33 ERA.
Dipoto was the D-backs' player personnel director in 2008 when Arizona drafted Miley with the 43rd pick in the first round. He feels Miley should benefit from pitching in Safeco Field after competing in Fenway Park and Chase Field, hitter-friendly home ballparks. Miley's career road ERA is 3.61 compared to 4.32 at home, and left-handers generally fare well in Safeco.
The Mariners gave up Elias as part of the deal, but he was projected to start the year in Triple-A and doesn't have the track record of Miley. Dipoto believes his rotation is now set with Felix Hernandez, Taijuan Walker, Nathan Karns, James Paxton and Miley.
Dipoto didn't want to count on Walker, Paxton, Karns and Elias all being able to make a significant jump in their workload next season behind Hernandez, so Miley's durability made him attractive.
"It's just the certainty of the innings," Dipoto said. "As much as [Elias] has a projectable arm, he's 27, just less than two years less than Wade Miley, who has shown the ability to churn out 200-plus innings. Anything can happen with injury, but Wade has been a consistent Major League starter for four years and has been on an All-Star team and pitches his 200 innings. We didn't want to go into a season betting on four young guys to take a very large step forward. We needed somebody to stabilize that group."
The Mariners gave up a big piece of their bullpen to upgrade their rotation, with Smith coming off a strong rookie season in which he posted a 2.31 ERA and 13 saves in 70 innings over 70 games. The 26-year-old Texan was a setup man most of the season, but he stepped in for a stint in the closer role after Fernando Rodney struggled.
Dipoto says he'll need to upgrade the bullpen now, but he does like the upside of Aro, a 25-year-old who was 0-1 with a 6.97 ERA in 10 1/3 innings over six relief appearances for Boston last season and went 3-3 with a 3.04 ERA in 34 outings for Double-A Portland and Triple-A Pawtucket. Aro was ranked No. 26 on Boston's Top 30 Prospects list and slots into the Mariners' list at No. 28.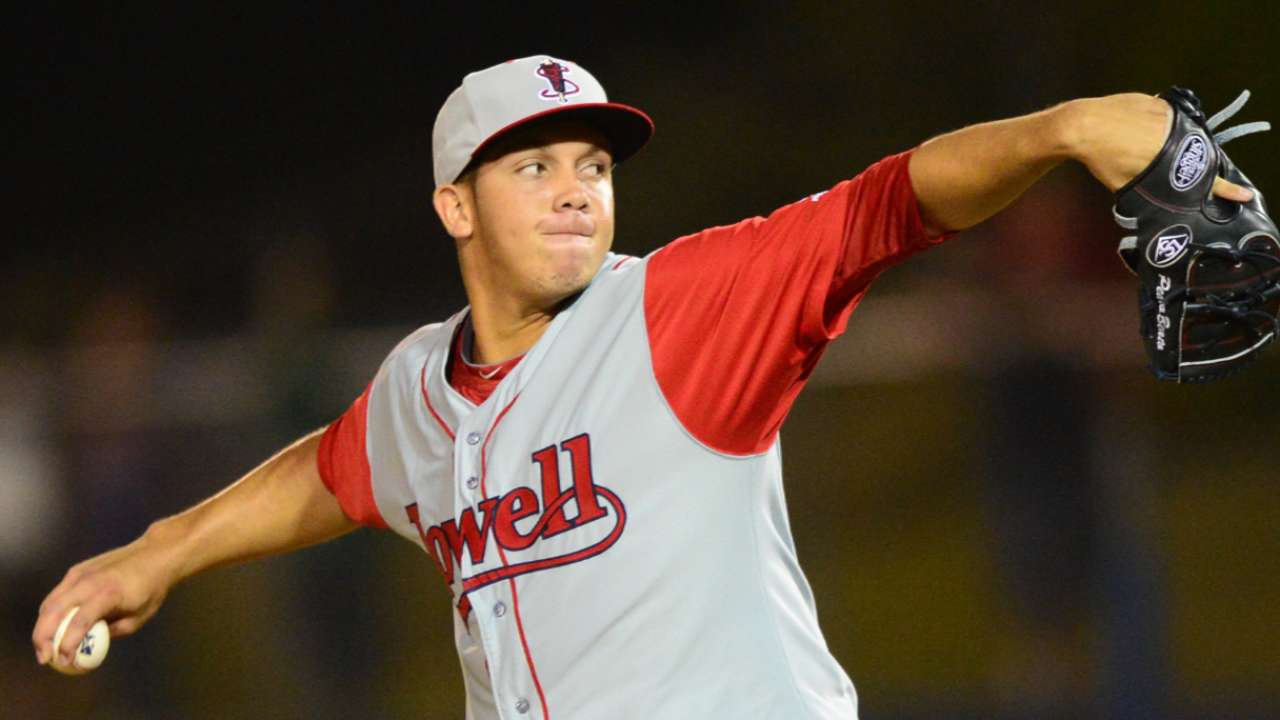 Fantasy spin | Fred Zinkie (@FredZinkieMLB)
Working exclusively at hitter-friendly home parks during his big league tenure, Miley has posted a lifetime 4.32 home ERA (3.61 on the road). Primed to benefit from a move to offense-stifling Safeco Field, the left-hander is worth a roster spot in deep mixed leagues despite his 4.40 ERA over the past two years.
Back in Boston, Elias will need to battle Eduardo Rodriguez and Joe Kelly for one of the Red Sox's final two rotation spots. If he can earn a starting role, the southpaw could be in a similar fantasy position as Miley -- deserving of a roster spot in deep mixed formats.
Behind dominant veterans Craig Kimbrel and Koji Uehara, Smith is unlikely to earn multiple saves in 2016. But as evidenced by his 2.07 ERA, 0.97 WHIP and 11.7 K/9 rate over 78 1/3 career innings, the right-hander possesses the elite skill set to help American League-only owners.
Greg Johns is a reporter for MLB.com. Follow him on Twitter @GregJohnsMLB, read his Mariners Musings blog, and listen to his podcast. This story was not subject to the approval of Major League Baseball or its clubs.