Pitching still Tigers' priority amid OF reports
GM Avila dismisses Cespedes, Gordon speculation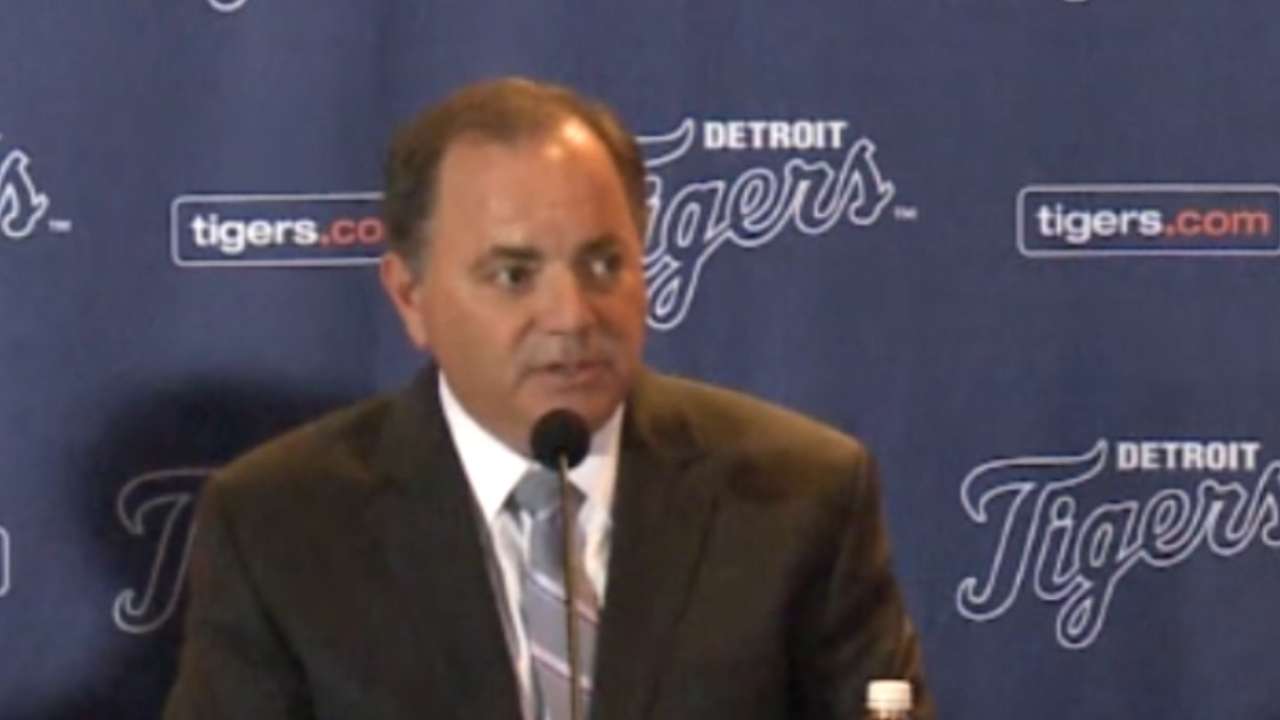 NASHVILLE, Tenn. -- No, general manager Al Avila said, the Tigers are not going to make a push for free-agent outfielder Yoenis Cespedes. Nor are they going after Alex Gordon.
"At this point, yes, [they can be ruled out]," Avila said Monday evening from baseball's Winter Meetings.
CBSSports.com cited sources Monday morning saying Detroit is looking at Cespedes, a former Tiger, and fellow free agent Gordon as potential outfield options. As of Sunday night, though, Avila said that pitching was the Tigers' focus at the Meetings, and that hitting was a secondary item that could be addressed down the road.
That hasn't changed with the impending addition of reliever Mark Lowe, leaving the Tigers looking at potentially one more reliever to fill out their bullpen. They've talked about potential additions to their lineup, but on a smaller scale, and likely in a reserve role.
"Most of the day, we were kicking around different scenarios as far as bullpen, possibly adding a bat, that kind of stuff," Avila said. "It's difficult, it's not that easy. It's not like we're in the market to go say sign this player at 'X' amount of dollars. We're not in that market. It's a whole different way of going about it. It's more of a mix and match."
It doesn't mean that the Tigers won't look to improve the outfield. It doesn't even mean they have completely closed the door on a Cespedes return. But while Detroit has been aggressively moving on pitching additions, indications up to this point have been that it could wait out the outfield market. Jason Heyward heads up the free-agent crop, while Ben Zobrist, Justin Upton and Gerardo Parra are also on the list. Zobrist could be the first to sign, reportedly narrowing his choices and aiming for a decision by the end of the Winter Meetings, but one agent said he believes it'll take a Heyward deal to move the rest of the market.
The more likely options, Avila indicated, are more versatile players, sometimes super-utility guys, whom the Tigers have been examining in trade talks.
"I think the perfect combination would be a guy that maybe can play a little infield, a little outfield, give us that combination, and that can provide some offense," Avila said. "That's a hard combination to acquire. We've pretty much let the teams out there know, particularly after we made the [Cameron] Maybin trade, that if that kind of player, that they feel they can move, that we would be interested in listening."
That does not include free agent Ben Zobrist, who, like Cespedes and Gordon, would garner too much interest for their price range. It likely doesn't include Oakland's Brett Lawrie, who plays second and third base but has not played outfield as a pro, though the San Francisco Chronicle reported that the Tigers were one of a few teams to express interest.
Along those same lines, MLB.com reported Monday that the Rangers have interest in backup catcher Bryan Holaday, with Detroit looking for a right-handed-hitting outfielder in return. The Tigers signed Jarrod Saltalamacchia on Sunday to a Major League-minimum salary, with the idea of having him compete for a roster spot, but with Holaday out of Minor League options, Detroit would have to get him through waivers in order to outright him to Triple-A Toledo.
Tigers catcher Bryan Holaday is of some interest to the Rangers....he played at TCU...Tigers want LF right-handed bat.

— TR Sullivan (@Sullivan_Ranger) December 7, 2015
No talks have gotten very far.
"We've been in discussions even before coming in here," Avila said. "But nothing I would say serious, nothing advanced, nothing that right now I would say we're pretty close. A lot of possibilities right now, quite frankly, are lukewarm to us, not that exciting."
If the Tigers do nothing, they'll likely open the season with a mix of Maybin, Anthony Gose and Tyler Collins for left and center field, with J.D. Martinez in right.
"I would say right now, if the season were to start tomorrow, we would be fine with it," Avila said. "But we'll try to tweak it as we can, if we can."
Jason Beck is a reporter for MLB.com. Read Beck's Blog, follow him on Twitter @beckjason and listen to his podcast. This story was not subject to the approval of Major League Baseball or its clubs.