MLB.com Columnist
Richard Justice
Chapman's next chapter larger than game
Dodgers' deal with Reds for closer on hold as investigation unfolds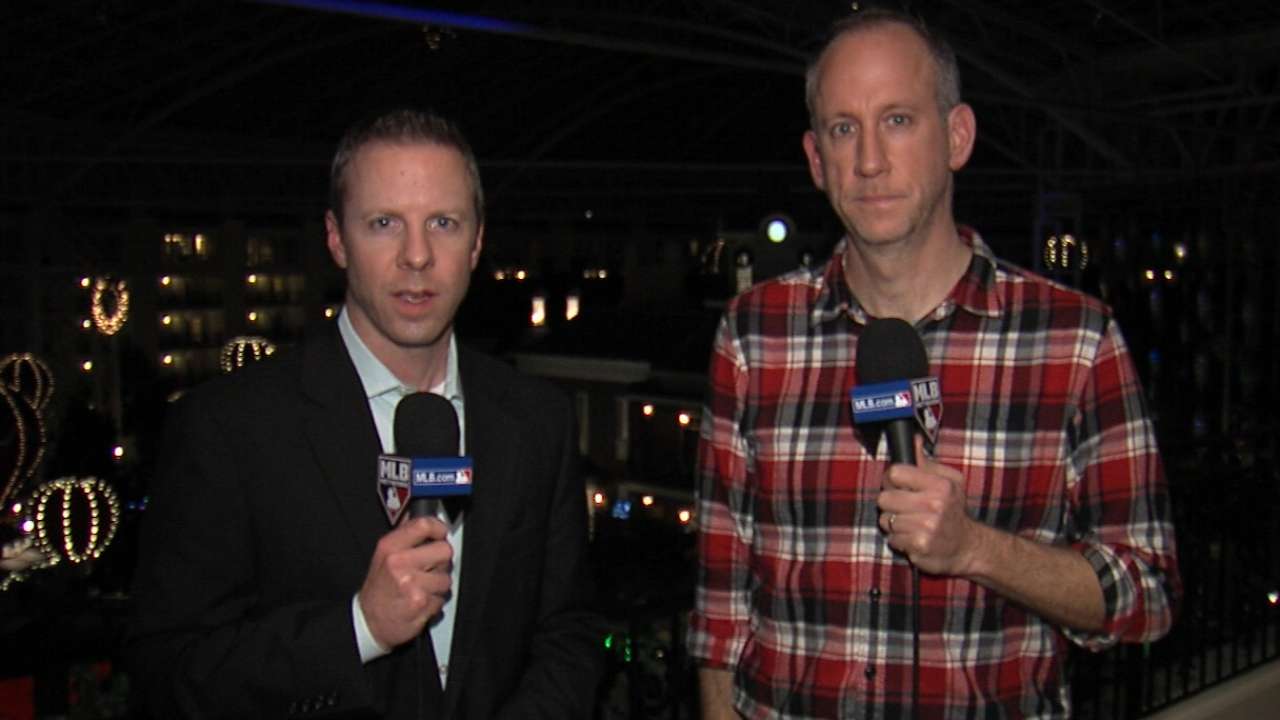 NASHVILLE, Tenn. -- It's no longer about a baseball trade. That part of the deal couldn't be less important.
The Cincinnati Reds may eventually trade closer Aroldis Chapman. They may even trade him to the Los Angeles Dodgers.
Just not now. Maybe not ever.
This is where real life intrudes in our fun and games. For now, Chapman's career is on hold as Major League Baseball investigates what did or didn't happen during a domestic dispute report in October.
Yahoo! Sports is reporting that Chapman fired eight gunshots into the garage of his Miami-area home during an October argument with his girlfriend.
Chapman is accused of choking the woman and pushing her against a wall. More than a dozen officers responded to the call to police. No arrests were made, but MLB has launched a domestic violence investigation.
Until that investigation is finished, Chapman is unlikely to be traded to the Dodgers or any other team. If baseball believes Chapman did what he has been accused of doing, he'll be dealt with swiftly and harshly.
That's the pledge both from Commissioner Rob Manfred and the MLB Players Association. On this, there is going to be close to a zero-tolerance policy.
Chapman has been one of baseball's most dynamic performers during his six seasons with the Reds. His 100-plus-mph fastball made him so popular in Cincinnati that fans would begin to stir the moment he began his warmup tosses in the bullpen.
Chapman is a year away from free agency, and with the clock ticking, the Reds agreed to trade him to the Dodgers for two prospects on Monday morning.
That's how the day began. It was about the Dodgers figuring out how to deal with having two good closers -- Chapman and Kenley Jansen.
It was about Cincinnati making a move that better positions its organization for the future, while Los Angeles leaped at an opportunity to improve its big league club.
This was supposed to be about new Dodgers manager Dave Roberts figuring out a way to keep both players focused on what was best for the team instead of what was best for their individual statistics.
This was supposed to be about a trade that possibly opened the door for the Dodgers to make another trade, perhaps dealing Chapman or Jansen to shore up the roster in other areas.
This has been a hectic few days for the Dodgers. In the wake of the loss of free-agent righty Zack Greinke to Arizona, Los Angeles responded with a flurry of moves, agreeing to deals with free-agent starter Hisashi Iwakuma and free-agent second baseman Chase Utley.
And then it was Chapman. In one of baseball's best and most competitive divisions, the trade seemed like a perfect answer to the Giants' signing of Jeff Samardzija and the D-backs' deal with Greinke.
That was the story for only a short time. As hours wore on and the trade didn't get finalized, it appeared something else was at play.
Once the news of the alleged domestic abuse incident broke, the trade itself -- and all its implications -- faded from the Winter Meetings conversation.
Suddenly, it was about getting to the bottom of the incident and finding out the truth as much as it can be determined.
It was about the Reds regrouping and awaiting a report from baseball on whether Chapman did the things he's alleged to have done. His career can wait.
Richard Justice is a columnist for MLB.com. Read his blog, Justice4U. This story was not subject to the approval of Major League Baseball or its clubs.