MLB.com Columnist
Lindsay Berra
Thanks to Cashman, a thrilling experience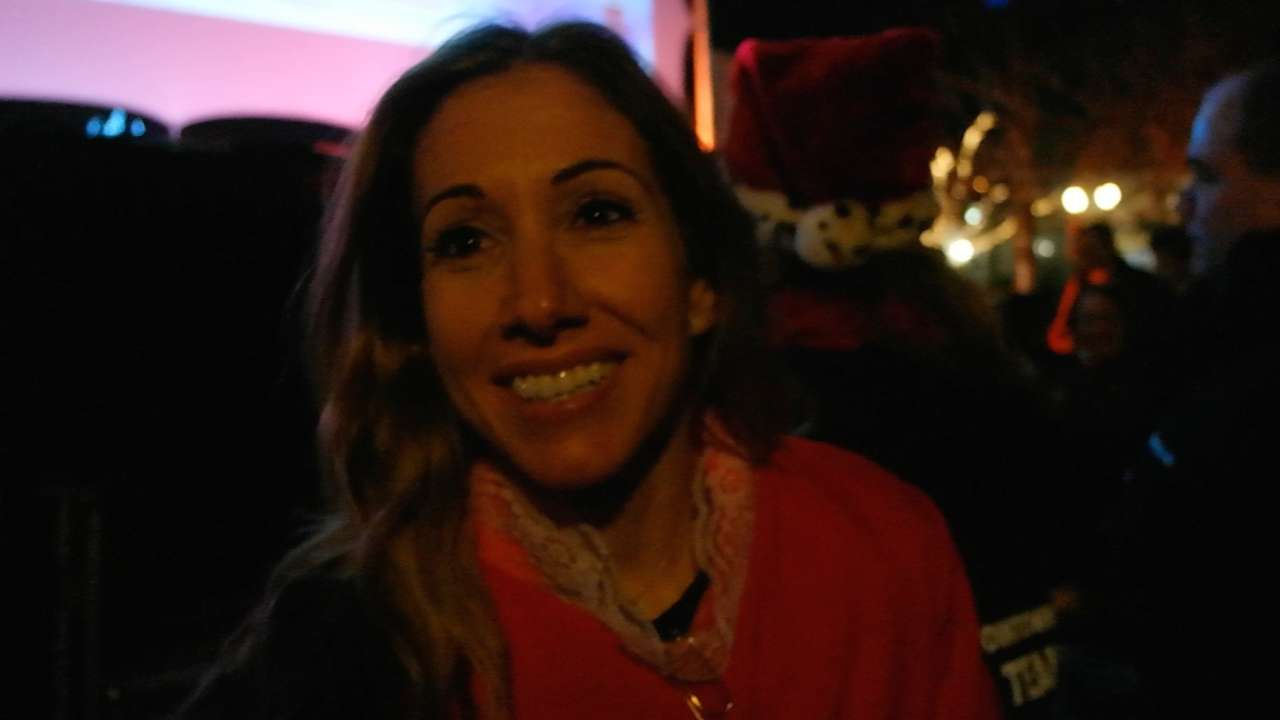 STANFORD, Conn. -- Sometimes you just can't pass up an opportunity.
On Sunday night in Stamford, I rappelled off the top of the 23-story Landmark building, dressed as Mrs. Claus in a red felt dress, white wig and wire-rim glasses, alongside Yankees general manager Brian Cashman (who was dressed as an elf) with an exuberant crowd of several thousand people down below. The event, Stamford Heights & Lights organized by Stamford Downtown, has been running for 17 years and culminates with the lighting of the Stamford city holiday tree. We also had Santa, Rudolph and the Grinch, and we enacted an elaborate toy heist and recovery during the descent down the face of the building.
It was Cashman who quite literally roped me into this via this to-the-point email last Tuesday morning: "Would you have interest in rappelling down a 23-story building with me this weekend? Practice rappels Friday morning, Christmas show Sunday night in Stamford. Just spit-balling here."
In Cashman's defense, he did have reason to believe I might have interest in such an activity. When he broke his leg and dislocated his ankle skydiving in March 2013, my Grampa Yogi told him, "You're crazy. But my granddaughter does that stuff, too."
Once, Grampa. I jumped out of an airplane exactly once.
But I replied "yes" to Cashman's message, albeit a bit reluctantly. Because, let's be honest: there was a very real possibility that I would get to the top of the building for my first practice run, freak out, take the elevator back down to street level and drive home to New Jersey as if my hair were on fire.
But that didn't happen. There were six runs on Friday -- two to practice, one with WNYW sports anchor Duke Castiglione, one with Fox News weatherman Rick Reichmuth, one to see if I could go faster and one in my costume to get used to rappelling in a dress.
The thrill-seeking Cashman loves it, and is rather cavalier about the whole thing. He wears a Santa hat and tennis shoes to practice, rather than the recommended hiking boots, and pops over the wall easily. Cashman used to attend the event as a spectator with his kids, but he got involved and began rappelling eight years ago. And for the record, Yankees fans: between every run, Cashman was going back to his duffel bag to grab his phone and make calls and return calls ahead of the Winter Meetings; he flew out to Nashville, Tenn., promptly after the event on Sunday night.
Castiglione and Reichmuth had both rappelled before, and they were a bit nervous at the top. But they settled right in once we started the descent.
There's something uncomfortable about dangling like a worm on a hook 300 feet above the street. But it was nothing a few deep breaths and personal pep talks couldn't get me through.
Expert climber Brian Van Orsdel, who is in charge of the whole operation and plays Santa, was with me every step of the way. Most importantly, he made sure I was safe. After that, Van Orsdel spent most of his time grabbing my rope and pulling me away from the building, spinning me around and encouraging me to look around -- that is, down -- and take in my surroundings.
Nope.
It wasn't until the final run on Sunday that I built up the courage to look down and take in the crowd. I waved and kicked my legs to show off my red-and-white striped tights, and even gave a few healthy pushes far away from the building face while waiting for the Grinch to rappel by so I could bop him on the head to play out our skit.
Santa and Rudolph, both accomplished rappellers, came down behind us, doing backflips. Once safely on the ground, we followed the "real" Santa Claus on an antique fire truck up Broad Street to Latham Park, where the cast of the "Lion King Jr." from Saxe Middle School sang carols before Stamford's holiday tree was lit.
All in all, a great evening. The kids loved it, and I got to cross off a bucket-list item that, if not for Cashman, I wouldn't have even known was on my bucket list.
Lindsay Berra is a columnist for MLB.com. This story was not subject to the approval of Major League Baseball or its clubs.