MLB.com Columnist
Alyson Footer
Once-in-a-lifetime experiences up for auction
During Winter Meetings, initiative raises funds to benefit cancer research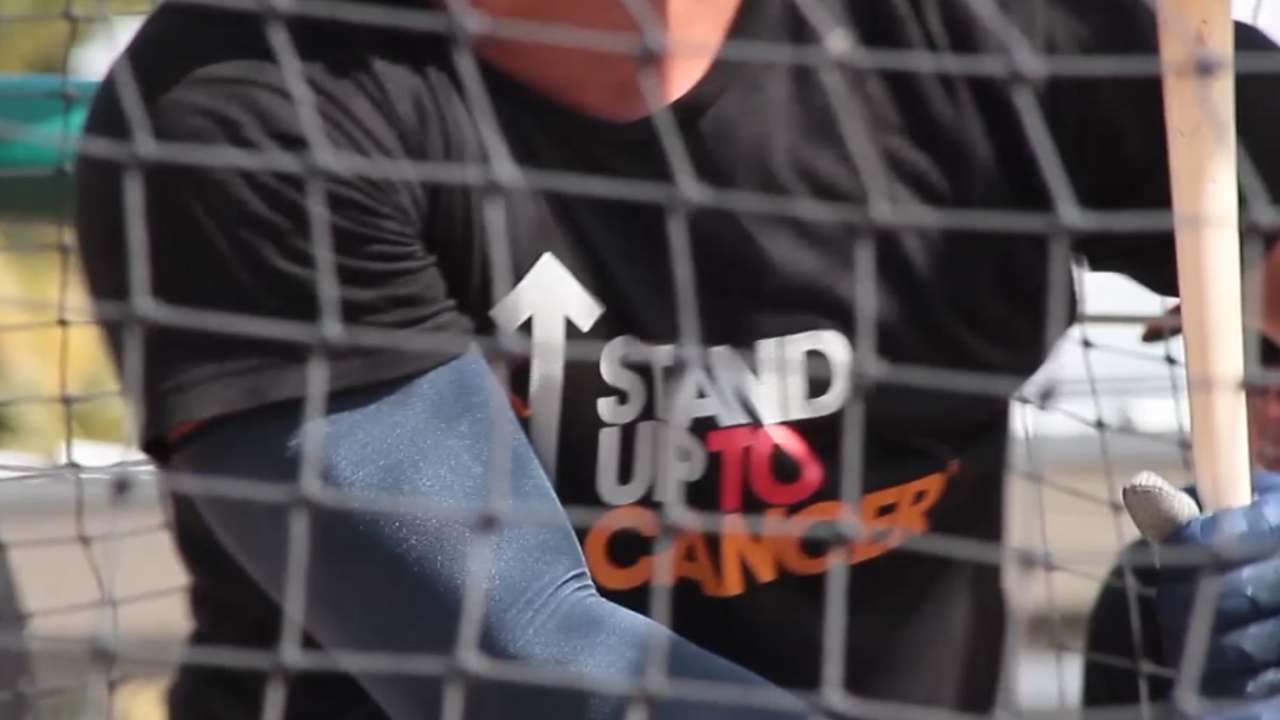 The Winter Meetings charity auction is only a few hours old, but already, some of the unique items offered in this annual event are receiving generously high bids.
The Nationals, Cardinals and Mets were leading the way, garnering bids as high as $5,000 for exclusive auction items that were arranged by all the 30 clubs.
Consider, for example, what the Nationals are offering: lunch with Nationals manager Dusty Baker, in the Nats' clubhouse prior to an agreed-upon game during the 2016 season. Lunch will be provided by the Nationals, and Baker will host the guests for one hour, between 11:30 a.m. and 12:30 p.m. The package also includes batting practice field passes, access to Baker's postgame press conference and two tickets to that night's game.
So far, the package has garnered 18 bids, with the highest coming in at $5,000. And there's still three days of bidding left.
For the fourth consecutive year, Major League Baseball, MLB Advanced Media, MLB Network and the 30 clubs have organized a Winter Meetings charity auction that includes once-in-a-lifetime baseball experiences and unique items to raise awareness and funds for cancer research.
This initiative, which has raised nearly $500,000 since its inception, was inspired by the numerous employees, friends and fans of the game who have been affected by cancer.
A significant portion of the proceeds from this year's auction will go to three entities: Stand Up To Cancer, a longtime partner of Major League Baseball, Do It For Durrett, in honor of the late Texas Rangers ESPN.com beat writer Richard Durrett, who passed away suddenly last year, and the YouCaring page established for Miami Marlins Sun Sentinel beat writer Juan C. Rodriguez, who is currently battling a brain tumor.
The auction is live on MLB.com until Thursday at 9 p.m. (ET).
In addition to the Nationals' offering, several other items have also generated big bucks. MLB's contribution -- an All-Star experience in which the winning bidder will receive two media credentials to the 2016 Home Run Derby and All-Star Game at Petco Park in San Diego -- is up to $4,000 in bids. The package includes an on-field meet-and-greet with a 2016 All-Star, two seats at the All-Star and Home Run Derby news conferences and the opportunity to attend the All-Star player availability and observe batting practice from the field before each event.
Additionally, the winning bidder will receive two seats in the auxiliary press box for both the Home Run Derby and All-Star Game, two tickets to the Monday night All-Star Gala and an All-Star media hospitality package.
The Cardinals are also offering a package that is generating a lot of interest through their Fantasy Camp. The winning bidder will participate in the camp at Busch Stadium from June 24-26 for a weekend of unforgettable baseball activities with legendary past Cardinals players. Camp participants dress in a Major League locker room, wear personalized "Birds-on-the-bat" Cardinals uniforms and take instruction from All-Stars and Hall of Famers as they instruct campers on the game.
Through the end of the business day on Monday, this package garnered 18 bids, with the highest reaching $2,275.
The next-highest bid came from the Mets fanbase. The defending National League champions are offering a round trip to Spring Training to work out with the team in Port St. Lucie, Fla. The winner will enjoy a two-day workout with select Mets players at the Barwis Methods Training Center, featured on Discovery Channel's "American Muscle." The trip will include round-trip airfare and hotel accommodations at the Springhill Suites for two during exact dates to be determined for February 2016. Of the 13 bids that have come in, the highest is $2,226.
Other popular items include a meet-and-greet with Dodgers Hall of Fame broadcaster Vin Scully (20 bids, $1,725); an opportunity to throw out the ceremonial first pitch and watch batting practice from the field before a Tigers game (22 bids, $2,025) and a meet-and-greet with Angels outfielder Mike Trout (16 bids, $1,625).
Alyson Footer is a national correspondent for MLB.com. Follow her on Twitter @alysonfooter. This story was not subject to the approval of Major League Baseball or its clubs.