Offers coming in, but Fernandez remains a Marlin
Miami making it clear it would need to be absolutely wowed to trade away ace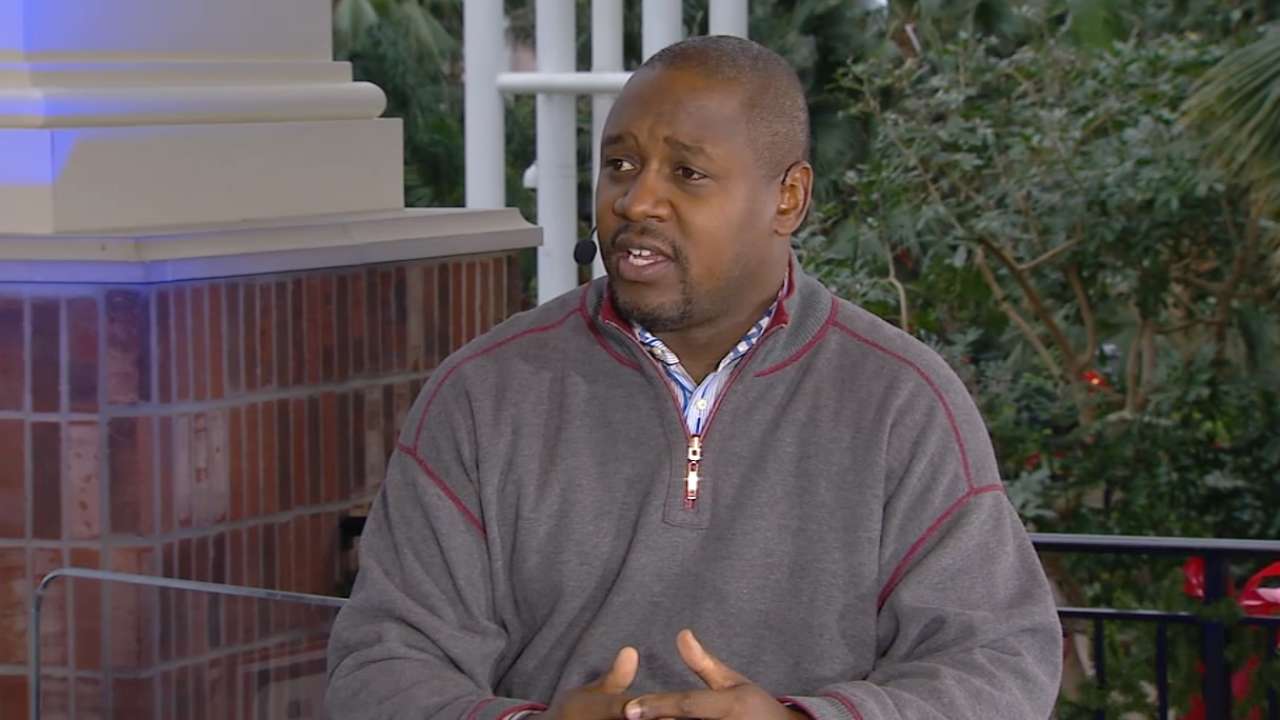 NASHVILLE, Tenn. -- The list of interested teams keeps growing, and while the Marlins are doing their due diligence by listening, the club has not budged from its stance that it would take a sizable offer to trade Jose Fernandez. That position was reinforced on Tuesday night, when Shelby Miller fetched what was widely regarded as a very impressive haul for the Braves.
Fernandez speculation continues to be the hot topic at the Winter Meetings, and it has the media on hand -- as well as social media -- scrambling. It also is dominating much of the Marlins' attention, as the team estimates roughly 20 clubs have touched base regarding the 23-year-old right-hander.
"You get a situation where you have 30 clubs with all their baseball people there," Marlins president of baseball operations Michael Hill said. "They're looking at their teams, and looking at ways, in their minds, they think they can get better. So ideas are flowing. You're here with your peers, so things get thrown out. You pick up the phone, you set up a meeting. Stuff gets thrown out. That's pretty much the nature of these Meetings. But [there is] nothing that compels us to move on it."
The trade market is extremely high for a starting pitcher, and Tuesday night showed why. The D-backs acquired Miller from the Braves for two of Arizona's top three prospects -- 2015 No. 1 overall Draft pick Dansby Swanson and righty Aaron Blair -- and outfielder Ender Inciarte.
Miller and Fernandez are in an identical position in terms of service time -- first-time arbitration-eligible, three years from free agency -- so that deal theoretically presents a reasonable starting point for what a Fernandez trade might look like. However, sources say that the package the D-backs gave up for Miller wouldn't be nearly enough to land Fernandez.
For example, a source said a strong fit is the Dodgers, if they were willing to part with infielder Corey Seager, outfielder Joc Pederson, lefty pitching prospect Julio Urias and two other players. Seager and Urias are Los Angeles' top two prospects. If Pederson is acquired, the Marlins would then likely look to trade center fielder Marcell Ozuna, who is attracting plenty of interest in Nashville.
Clark Spencer of the Miami Herald reported the Marlins had been in talks with the D-backs about Fernandez for Swanson, left-hander Patrick Corbin and three others. MLB.com heard Miami was also eyeing Inciarte, Blair and Brandon Drury, who is Arizona's No. 7 prospect.
From an organizational standpoint, the Marlins continue to say Fernandez is "not available" and he is not "being shopped." After each public statement, minutes later it seems like a new team makes contact.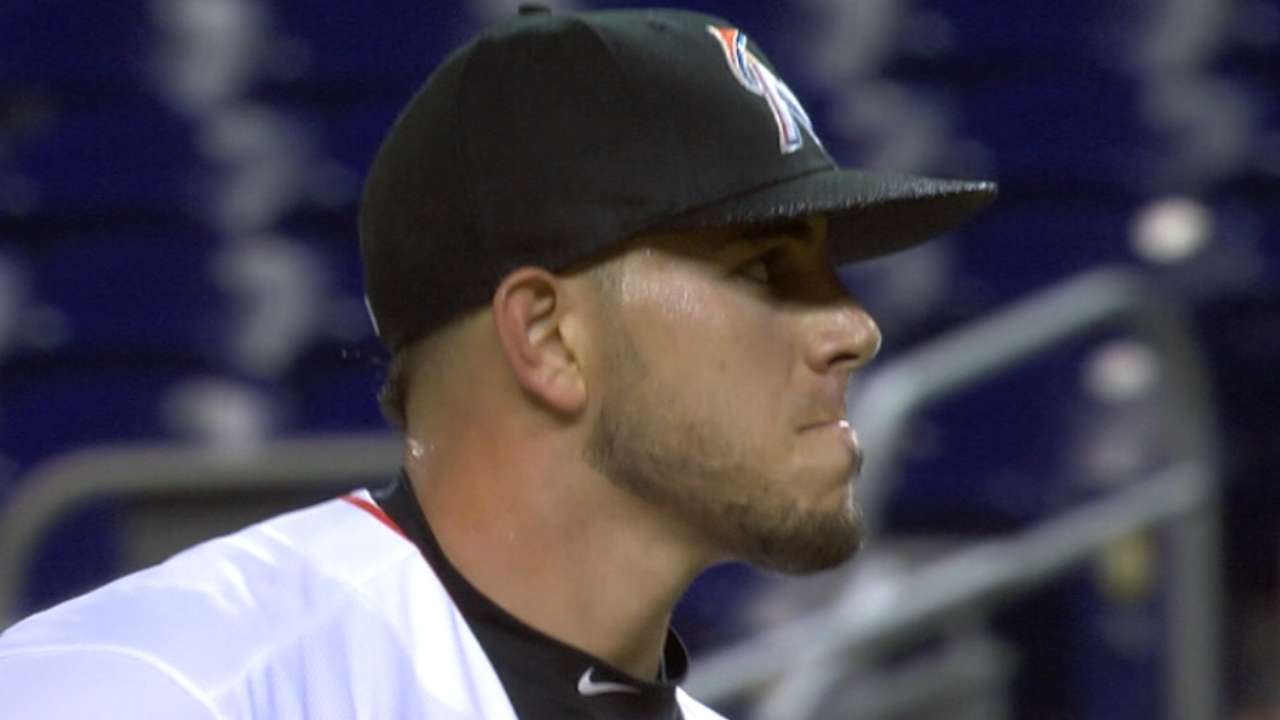 "In our game, people feel like they don't want to miss out," Hill said. "So they think they're missing out on something. I tell them, 'You're not missing out on anything.' But that still doesn't stop the phone calls, and the time to explain what is actually going on."
From Monday to Tuesday, four or five new clubs expressed interest in Fernandez.
However, there are only a few clubs that might actually be a fit. The Marlins have had discussions with the Dodgers and Yankees. A possible "sleeper" club is Tampa Bay. The Cardinals may have the parts for a match, as well as the Astros, Pirates and Cubs.
What would it take to get the Marlins' attention?
"It would take something where our entire room would say, 'Whoa, I would do that,'" Marlins president David Samson said. "There has not been one where someone has called and the whole room has said, 'Whoa, I would do that.'
"Maybe that is why no one is saying, 'Oh, I would do that.' If someone does say, 'I would do that,' there is a decent bet that would be frontline pitching plus other stuff coming back."
With all teams represented at the Winter Meetings at the Gaylord Opryland Resort & Hotel, it is not surprising that Fernandez is drawing so much interest.
"I thought there was a chance coming off the GM Meetings," Hill said. "The rumor came off the GM Meetings, and we hadn't done anything. Whenever that gets out there, nobody wants to miss out."
ESPN.com reported on Tuesday that an unidentified team was making a "very strong" bid for Fernandez, adding that sources who previously said a deal was unlikely were no longer willing to say that. The Dodgers, Giants and D-backs all have been talking to the Marlins about Fernandez, and "things appear to be percolating a bit with the Dodgers and perhaps one or two more teams," CBSSports.com reported.
At least publicly, the Marlins are downplaying if they are down the road on anything. The main reason is the club is in the market for frontline starting pitching.
There is no urgency to part with a true ace when they already are thin on starters.
"That's very fair," Hill said. "That makes sense and I agree with that logic. Our goal is to win more games in 2016 and hopefully be one of 10 playoff teams. That's our goal. A prospect deal doesn't help us accomplish that goal."
Fernandez is affordable, as he projects to make around $2.2 million in his first year of arbitration. He can't be a free agent until after the 2018 season. Fernandez, represented by Scott Boras, declined the opportunity to sign an extension last offseason.
"We're not shopping him," Hill said. "We're trying to address the needs to improve the club. We're trying to deepen and upgrade our rotation and build with our core of talented position players. That's our goal. That's what we're trying to accomplish here."
Joe Frisaro is a reporter for MLB.com. He writes a blog, called The Fish Pond. Follow him on Twitter @JoeFrisaro and listen to his podcast. This story was not subject to the approval of Major League Baseball or its clubs.