Red Sox may keep shopping at Winter Meetings
Dombrowski, Boston could deal starter to bolster bullpen
NASHVILLE, Tenn. -- You might have heard that Red Sox president of baseball operations Dave Dombrowski has already done a little Hot Stove shopping this winter, acquiring an ace (David Price), a star closer (Craig Kimbrel) and a power-hitting backup outfielder (Chris Young).
With every baseball team under one roof in Nashville during the Winter Meetings, which start Monday and conclude Thursday, Dombrowski will have the chance to make the final tweaks to his roster.
• Hot Stove Tracker: Free agents and trades
With Price now at the top of the rotation, how will the rest of it line up? Right now, there is a log-jam, with Clay Buchholz, Rick Porcello, Joe Kelly, Eduardo Rodriguez, Wade Miley and Henry Owens vying for four spots.
"We've thought a little bit about it," said Dombrowski. "We have more starters than we have positions. And I guess we'll just deal with that starting at [the Winter Meetings]. Everybody will be together next week with the clubs. We've already fielded numerous phone calls from different organizations talking to us about our depth. We like our depth. We like our pitching staff.
"I think when you add a guy like David and start going down, it really changes the look of your staff. We'll look to improve on it any way that we can, but we're open-minded to see how it plays out."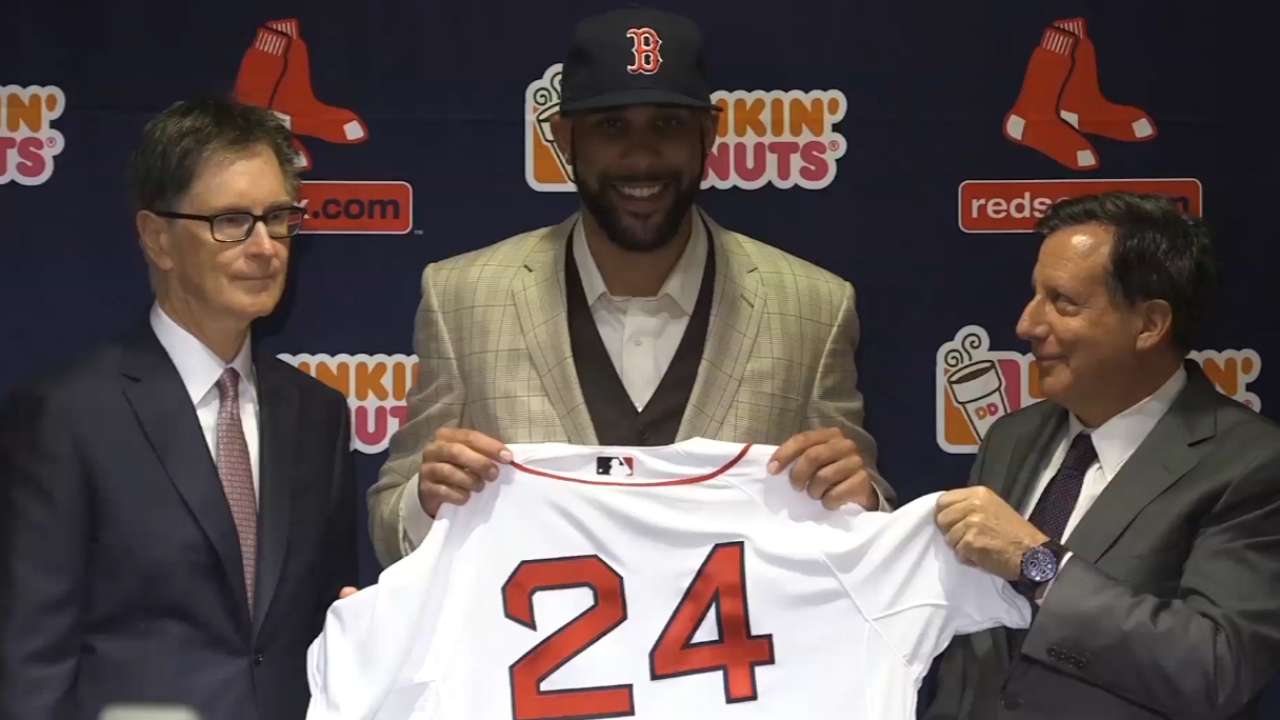 Ideally, the Red Sox could package one of their starters to land another impact reliever.
Dombrowski seems pretty satisfied with the nice blend of veterans and young players that will make up manager John Farrell's starting lineup. But David Ortiz wonders if there might be one more bold move in store.
"I think the way Dave Dombrowski is doing things, I love it," Ortiz said. "I think he has an ace now. We've got a closer. I wouldn't mind if we get another power hitter. One more power hitter, and I think it will be good. One more power hitter, a guy that guarantees you 30 and 100, I think it's on. I know we've spent a lot of money the last couple of years. To win, you have to do whatever it takes. I think one more big bat [would help]."
Redsox.com will have you covered for all the moves -- and buzz -- at the Meetings from start to finish. Dombrowski will hold daily briefings with the media, and Farrell will do his session on Tuesday afternoon.
MLB.com and MLB Network will have wall-to-wall coverage of the 2015 Winter Meetings from the Opryland Hotel in Nashville, with the Network launching 35 hours of live Winter Meetings coverage. Fans can also catch live streaming of all news conferences and manager availability on MLB.com, as well as the announcement of the Hall of Fame Pre-Integration Era Committee inductees on Monday at 11 a.m. ET and the Rule 5 Draft on Thursday at 10 a.m.
Ian Browne is a reporter for MLB.com. This story was not subject to the approval of Major League Baseball or its clubs.