Winter Meetings: 30 teams, 30 needs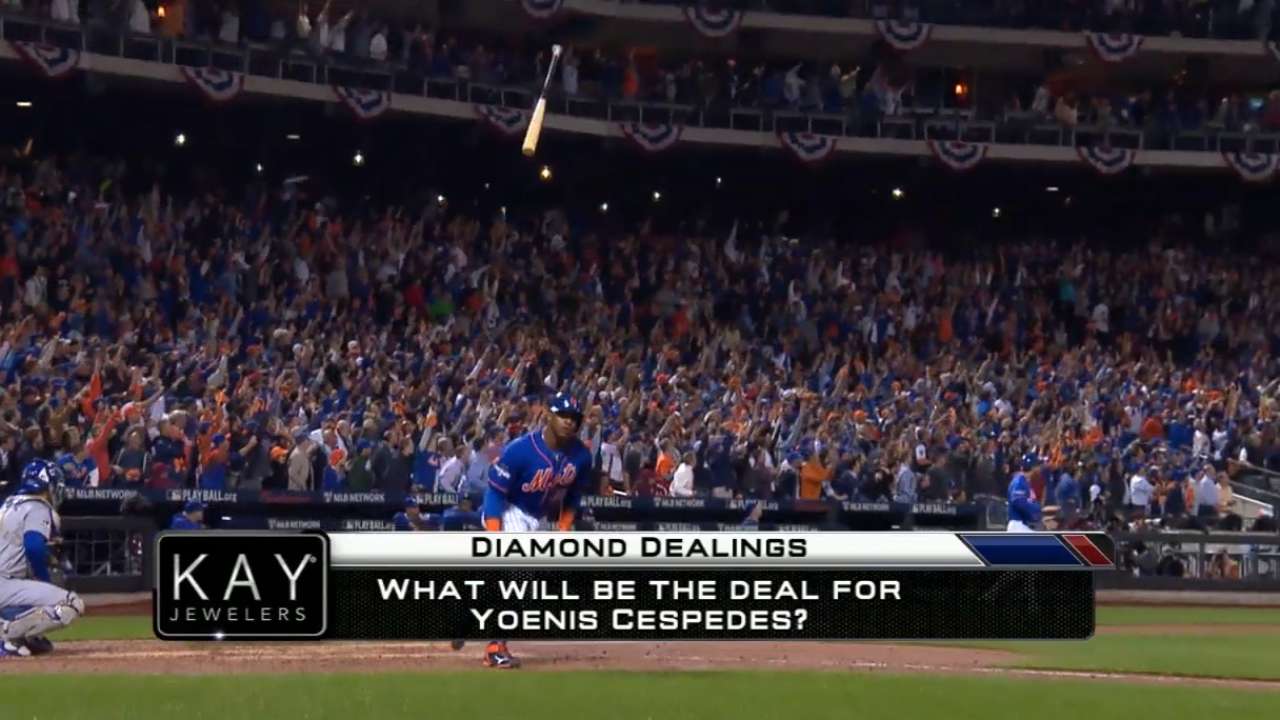 All 30 Major League teams head to the Winter Meetings at the Opryland Hotel in Nashville, Tenn., with needs to fill -- some more glaring than others.
And that's the beauty of the Winter Meetings: Everyone can -- and will -- get involved. Here's a breakdown of all 30 clubs' needs and potential targets entering what figures to be one of the busiest weeks of the offseason:

American League East
Blue Jays

After David Price departed to join the rival Red Sox, the Blue Jays could use another arm in their starting rotation. They could look for a starter via either free agency or the trade market. More >
Orioles

The Orioles will heavily pursue starting pitching help, especially with the possibility of losing arguably their best starter, Wei-Yin Chen, to free agency. Even with Chen's 3.34 ERA last year, O's starters finished the season with a 4.53 combined ERA, second-worst in the American League. More >
Rays

The Rays enter the Winter Meetings without any major plans, though they are fully prepared to listen to any potential offers. That said, they would be in the market for a power bat if the right opportunity arises. More >
Red Sox

Boston has already made a pair of monumental moves this offseason, acquiring shutdown closer Craig Kimbrel from the Padres, before signing Price to a seven-year, $217 million deal. That said, the Red Sox may not be done just yet, as they look to further shore up the bullpen and rotation, while continuing to search for a potential trade partner to move Hanley Ramirez. More >
Yankees

The Yankees' starting rotation is filled with question marks, with Masahiro Tanaka, Michael Pineda, CC Sabathia and Nathan Eovaldi all spending time on the disabled list last season. Free agent Chen is among the options the Yanks are considering. More >
National League East
Braves

The Braves already traded star shortstop Andrelton Simmons to the Angels earlier this offseason, but they're likely far from done. They still expect to add a reliever -- with Joakim Soria a potential option -- and teams continue to inquire about Shelby Miller. More >
Marlins

Like many other clubs, the Marlins are in the market for starting pitching help. After using 13 starters in 2015, Miami is looking to add at least one, possibly two, starters this winter. More >
Mets

Mets executives reportedly met with Ben Zobrist this week, as they continue to make the ultra-utility man their top priority this offseason. More >
Nationals

It's no secret that the Nationals are in the market for relief help after their bullpen struggled mightily down the stretch last season en route to Washington missing the postseason. They are likely to pursue relievers via free agency. More >
Phillies

The Phillies have already made a series of relatively minor deals this offseason, but they are still expected to add at least one veteran starting pitcher and possibly another reliever, as well. Teams also continue to inquire about young closer Ken Giles. More >

American League Central
Indians

The Indians have some major holes to fill in the outfield and want to upgrade their offense with a big bat as they head to Nashville. More>
Royals

If a recent trend continues, expect the Royals to lay groundwork at the Winter Meetings for future offseason moves. But there are lingering questions at corner outfield and in the bullpen. More>
Tigers

The Tigers have been one of the most active teams this offseason, and that's not expected to change. The club is expected to continue reshaping the bullpen, and an upgrade in left field could be in the works. More>
Twins

The Twins already upgraded their offense, but the focus now shifts to improving the bullpen and possibly adding a starting pitcher. More>
White Sox

After signing two free-agent catchers, the White Sox are still looking to add to their core group of players and have needs at shortstop, third base and the back end of the rotation. More>

National League Central
Brewers

The Brewers have a new general manager and are focused on rebuilding the franchise, meaning they will field offers for many of their veteran players. The club also has needs at third base and in center field. More>
Cardinals

The Cardinals have enough financial flexibility to make a couple significant moves, and bringing Jason Heyward back to St. Louis remains a priority. More>
Cubs

The Cubs return much of the roster that reached the National League Championship Series, but they still have some fine-tuning to do and have questions in center field and on the bench. More>
Pirates

The Pirates have plenty of question marks surrounding the club, with pressing needs in the rotation, at first base, in the bullpen and on the bench. More>
Reds

Even after reportedly dealing Aroldis Chapman to the Dodgers, the Reds have some major trade pieces in Jay Bruce and Todd Frazier, but will they make a significant move to reshape their roster? More>
American League West
Angels

The Angels sit roughly $22 million below the luxury-tax threshold for 2016, and they enter the Winter Meetings in need of a left fielder, a second baseman and a third baseman. They'd like to add at all three positions, but to do so they'd probably exceed that tax threshold -- which isn't necessarily out of the question. More >
A's

Having already dealt Jesse Chavez and Drew Pomeranz this offseason, the A's will be looking to re-stock their rotation with a bit of depth. The bullpen -- which posted a 4.56 ERA last season, the highest mark in the AL -- gets a boost from the reported signing of Ryan Madson. More >
Astros

The Astros are in search of pitching help (who isn't?) in both the rotation and the 'pen. And while depth is the key issue in the rotation, general manager Jeff Luhnow could very well be pursuing a bit of star power for his bullpen -- with hurlers like Andrew Miller potentially available. More >
Mariners

Entering the weekend, new Mariners general manager Jerry Dipoto has already made six offseason trades, and Seattle figures to stay busy in Nashville, looking to shore up the rotation, something even more imperative after the club reportedly lost free agent Hisashi Iwakuma to the Dodgers. First base remains an area of need as well with the departures of Logan Morrison and Mark Trumbo. More >
Rangers

The Rangers' big moves for next season may have actually come last season at the Trade Deadline, with deals for Cole Hamels, Jake Diekman and Sam Dyson. But the Texas lineup could use a run-producing right-handed bat, a center fielder and some depth at catcher. More >
National League West
D-backs

The D-backs addressed their biggest need in stunning fashion Friday night when they swooped in to sign Zack Greinke, one of the most sought-after free agents on the market. They now boast one of the game's best starters and a very solid, young lineup. Still, Arizona could use some help at the back end of its rotation as well as another arm or two in the bullpen. More >
Dodgers

After losing Greinke, the Dodgers made a splash on the eve of the Winter Meetings, reportedly signing Iwakuma to a three-year deal. But they may not be done upgrading the rotation, and the front office showed last year that it's more than willing to make a deal or two at the Winter Meetings -- witness their reported deal for Chapman. More >
Giants

The Giants would still like to add an arm after adding Jeff Samardzija, meaning they could be very active next week. But it's not all about pitching. San Francisco is looking for help in the outfield as well. More >
Padres

If the Padres opt to use Wil Myers as a first baseman, they'll need a left fielder. If they put Myers in left, they'll need a first baseman. One way or another, they need to add a bat at a premium offensive position, and they'd also like find a solution for their long-standing shortstop issue. More >
Rockies

It seems to be a recurring offseason theme for Colorado, but the Rockies enter the Winter Meetings in search of pitching. Would they be willing to trade one of their top-tier corner outfielders -- Carlos Gonzalez or Corey Dickerson -- to acquire a front-line starter? That's a question that may be answered in Nashville. More >
AJ Cassavell and Austin Laymance are reporter for MLB.com. This story was not subject to the approval of Major League Baseball or its clubs.