MLB.com Columnist
Phil Rogers
Lackey driven to help Cubs reach promised land
Two-time WS champ reunites with Lester, joins Arrieta in pursuit of another ring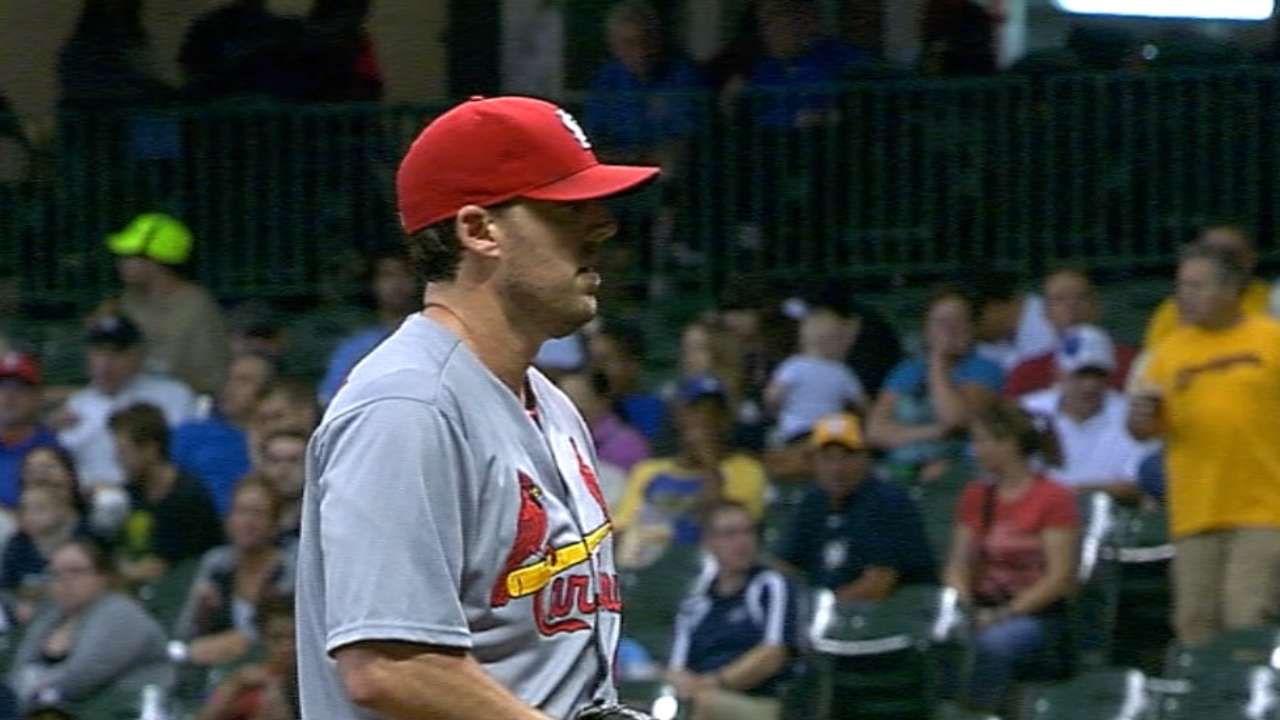 There are at least two things the Cubs know about John Lackey.
One is that Lackey's fire still burns white hot when he's on the mound, with history on the line. They saw that firsthand last October, when he outpitched Jon Lester in Game 1 of the National League Division Series, and then heard him offer testimony about what drives him.
• Source: Cubs, Lackey agree on 2-year deal
"Playoffs, man,'' Lackey said when asked why his motor was running so hard in that 7 1/3 scoreless innings of three-hit ball. "This is what you play for. I've been playing awhile, and this is pretty much the only reason I'm still going. I'm trying to win rings and trying to be part of something special as a team.''
The other is that Lackey has recovered from the Tommy John surgery that sidelined him for a season to look like every bit the gunslinger he was when he won Game 7 of the 2002 World Series as a rookie. Joe Maddon was one of Mike Scioscia's coaches on that Angels team, so he knows Lackey well.
"I think [he] is really experiencing a resurgence the last couple of years,'' Maddon said when the Cardinals visited Wrigley Field in September. "He looks as good as when I saw him as a baby. He's outstanding.''
In the end, Lackey was too tempting for Theo Epstein to pass up, even if he will become the Cubs' oldest pitcher at 37.
FOXSports.com was first with its report Friday that the parties agreed to a two-year deal, with subsequent reports pegging Lackey's salary at $16 million per season. The Cubs had been discussing a possible reunion with Jeff Samardzija and monitoring other free-agent arms, but they struck to sign Lackey to a shorter deal than Samardzija and many others seem likely to receive.
One benefit of signing Lackey for only two years is that it means Lester remains the only starter signed beyond 2017, which is the last season that the team controls NL Cy Young Award winner Jake Arrieta. Epstein plans to discuss an extension with Arrieta before Spring Training.
While Epstein will continue to pursue young starters in trades, the deal with Lackey (which is dependent on a physical and probably won't be announced until the Winter Meetings) means the Cubs will head toward 2016 with a front three of Arrieta, Lester and Lackey, who combined to go 46-28 with a 2.48 ERA over 98 starts this season.
That's impressive. Ditto the average of 6 2/3 innings per start, the ratio of 8.2 strikeouts and 2.0 walks per nine innings and the combined WAR of 17.5.
You can make projections about the Mets or the Indians, maybe even the Nationals. But there might not be another team out there with a top three that did as well as these guys last season.
But numbers only tell part of the story with Lackey.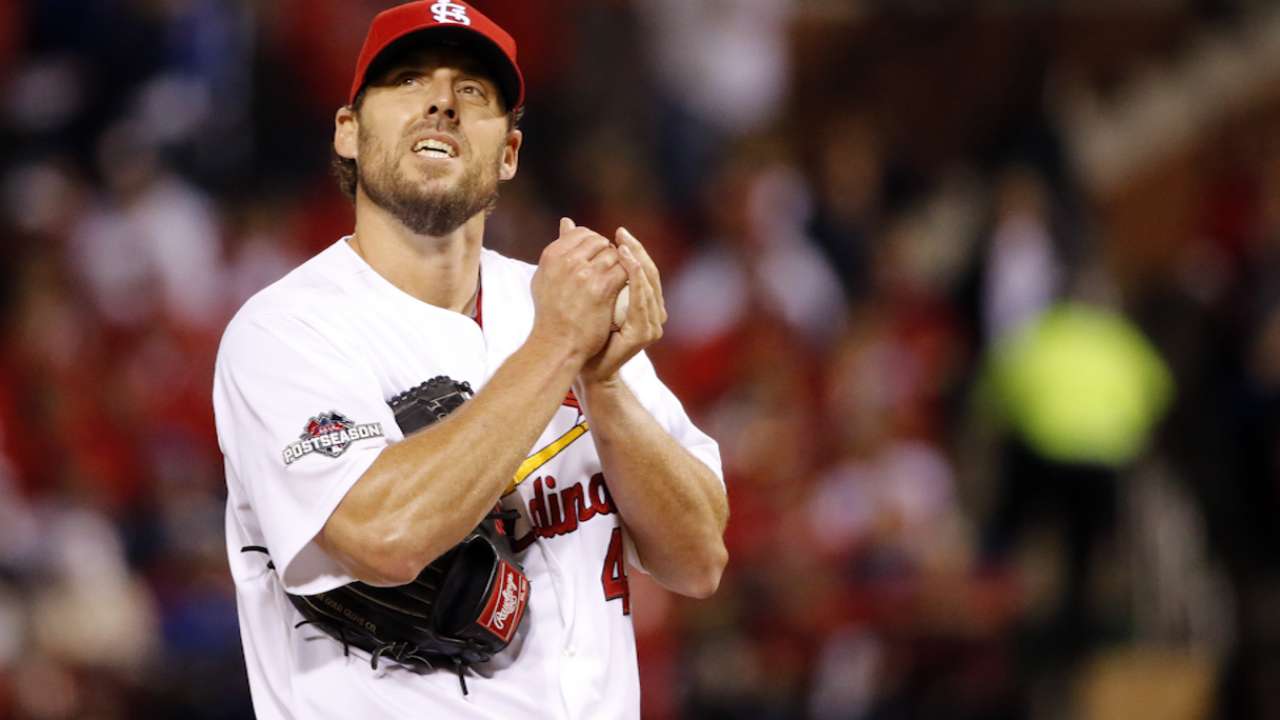 Like Lester, Lackey has picked himself up from the fried chicken-and-beer embarrassment that preceded his elbow surgery in 2011 to become one of the tougher hombres around. He and Lester backed the hitting of David Ortiz, Dustin Pedroia and teammates to carry the Red Sox to a surprising championship in 2013.
Ben Cherington dealt Lackey to the Cardinals midway through '14, and he was a rock for St. Louis at age 36, including the scoreless start against the Cubs in the NLDS.
Lackey, a second-round pick of the Angels in 1999 from a Texas community college, had barely turned 24 (and made only 18 regular-season starts) when Scioscia sent him out to face the Giants' Livan Hernandez in Game 7 of the 2002 World Series. Ramon Ortiz, a 15-game winner that season, was available on full rest, but Scioscia chose Lackey, who was on three days' rest. He left with a 4-1 lead after five innings.
"We wanted him to start that game,'' Maddon said. "We felt really good about him starting that game. … John even demonstrated at that time his ability to handle difficult moments.''
Maddon describes Lackey as being almost fearless in how he carries himself.
"He comes from Texas [and] kind of does the John Wayne strut out there,'' Maddon said, adding that Lester has a similar persona.
While Kyle Hendricks and Jason Hammel both contributed to the Cubs' 97-win season, Maddon had them on tight leashes in October. Epstein said after the Mets' sweep in the NL Championship Series that he wanted to add multiple arms to the rotation mix, so don't expect the Cubs to stop with Lackey.
As for Lackey, he said it in October. He's playing for the rings, and in Lester and Maddon, he's reuniting with guys who bring back some great memories. But nothing like the thrill they'll get if they can join Epstein in landing baseball's Holy Grail, the first World Series celebration at Wrigley Field.
Phil Rogers is a columnist for MLB.com. This story was not subject to the approval of Major League Baseball or its clubs.