MLB.com Columnist
Jonathan Mayo
Shore thing: NJ lefty No. 1 on Top 50 Draft list
High school hurler Groome, Florida southpaw Puk headline pitching-heavy 2016 class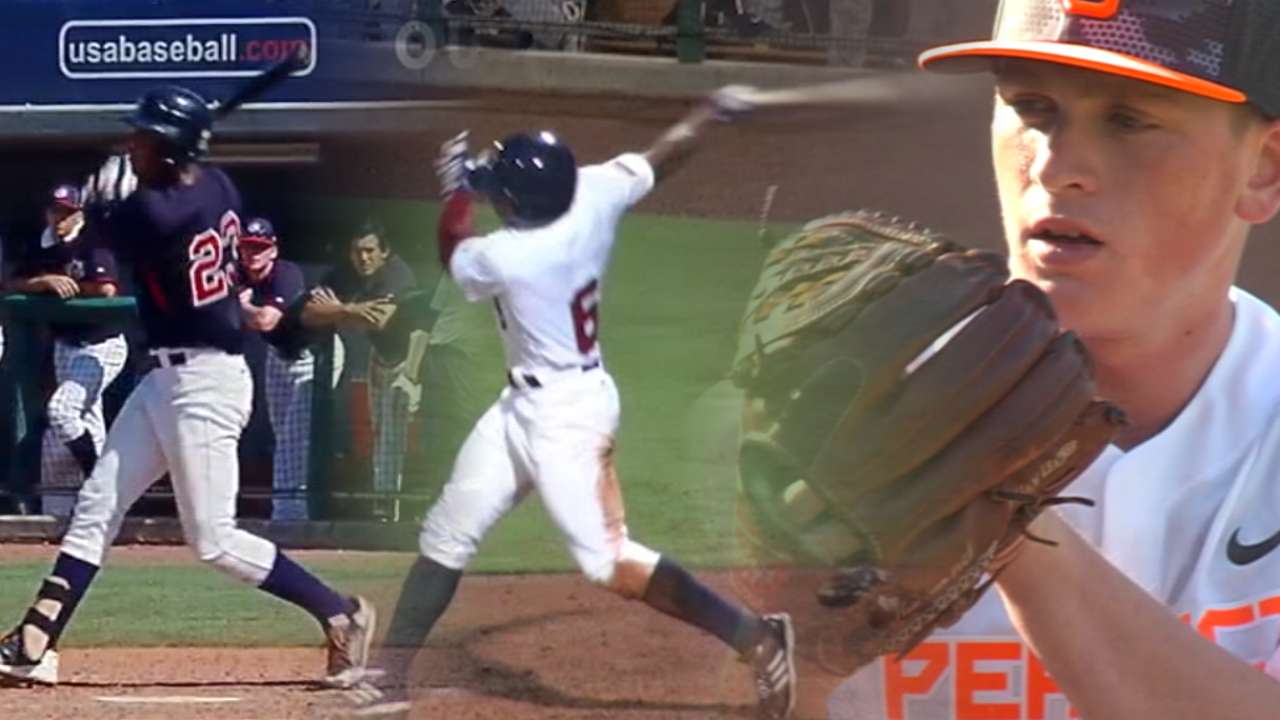 In six months, Commissioner Rob Manfred will stride to the podium and say, "With the first pick of the 2016 Draft, the Philadelphia Phillies select ..."
The name Manfred announces as the top pick in June is still very much up in the air, but with the summer showcase circuit, fall seasons and scout days on college campuses in the books, the 2016 Draft class is beginning to take some shape.
MLBPipeline.com's early Draft Top 50 reflects what the Class of 2016 looks like at present. It's a ranking that will undoubtedly change quite a bit once the spring season gets underway and the list is expanded, first to 100 and eventually to 200.
Callis, Mayo take early crack at top 10 2016 picks in mock draft
For now, at least, it's largely about pitching. There are 31 arms out of the 50 players on the list, and depending on who is talking, the mound strength comes in different shapes and sizes.
"Overall, there's some strength in college pitching," one scouting director said of the 21 college arms on the list. "I think there's strength and some numbers, even maybe a little deeper than the college arm Draft last year."
"There's some strength in the high school pitching," one scouting director said, pointing to the 10 intriguing prep arms in the Top 50.
Some of that assessment comes from looking at the very top. Right now, there are only three players who appear to be true candidates to be the No. 1 overall pick, held by the Phillies. That can, and will, change -- no one saw Dansby Swanson as top-pick caliber at this time a year ago -- but as of now, high school lefty Jason Groome, college left-hander A.J. Puk out of Florida and Oklahoma right-hander Alec Hansen are the three who stand out the most. Having those arms right at the top to choose from is a major plus for this year's class, even if the overall grade for the crop is so-so.
"You have to like those two lefties up there in Groome and Puk," a third scouting director said. "The class is average, maybe a little bit better. I don't think it's as good as last year's, with the college bats for sure."
Scouting might be the most subjective business in the world, so not everyone is ho-hum about the pool of talent for next June.
"At the same point from a year ago versus today, I'd say 2016 has more recognizable and definitive depth through the top 50-75 guys. Whereas last year, we were waiting for guys to step forward a bit and push themselves into discussion," another scouting director offered.
Below is a quick breakdown of what the class, and more specifically, the Top 50, has to offer.
College arms
At least in numbers, this the best group in the Top 50. Having two big power arms like Puk and Hansen helps, though there are some concerns about Hansen's health. After that, teams later in the first round that like guys who know how to pitch will have plenty to choose from.
"There's some power there, with some pitchability," the second director said. "There's been better years of the 97-98 mph guys. There's a little bit more pitchability guys, with some plus fastballs as well, just not as many. A lot of 60 FB type guys, but guys who can pitch a little."
"It's a pretty solid group," the third scouting director added. "That's giving Hansen the benefit of the doubt. Two power pitchers right at the top of the Draft, then you have kids who can pitch. There's a big dropoff."
Both directors pointed to an arm like Florida's Logan Shore (No. 27) as the poster boy for that kind of advanced pitchabilitiy arm, one who may not take all that long to be big league ready.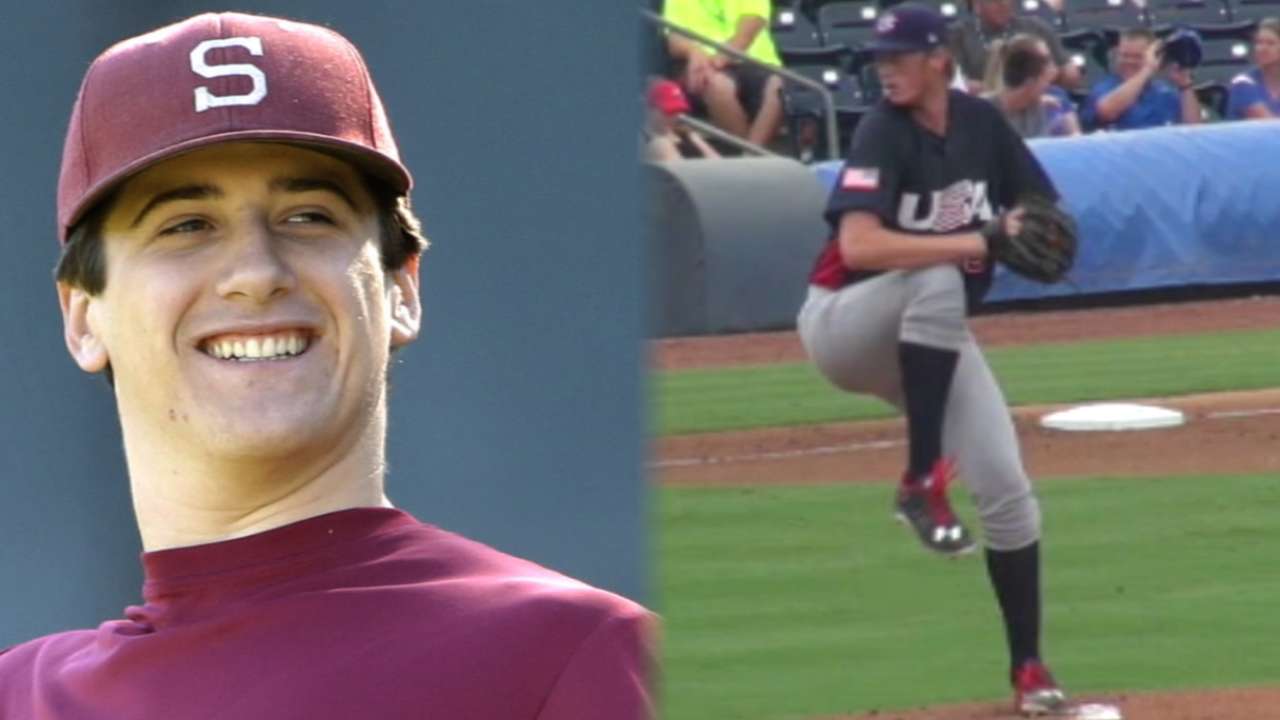 High school arms
Almost universally, Groome, the New Jersey southpaw who moved back home for his senior year after a year at IMG Academy in Florida, is the player who separated himself the most over the summer. Riley Pint in Kansas is the top prep right-hander, giving scouts two cold-weather pitchers to worry about late in the Draft season.
After that, it's all about projection, with pitchers like Alex Speas in Georgia or Reggie Lawson in California poised to make big jumps in the spring if their feel for pitching catches up with their raw stuff. This is, historically, the most volatile group in any Draft class.
"There's a decent crop, but we'll have to see," the first director said. "There'll be some guys who'll we'll have up high who will drop out of the picture. Then another guy will have moved himself into a more signable range."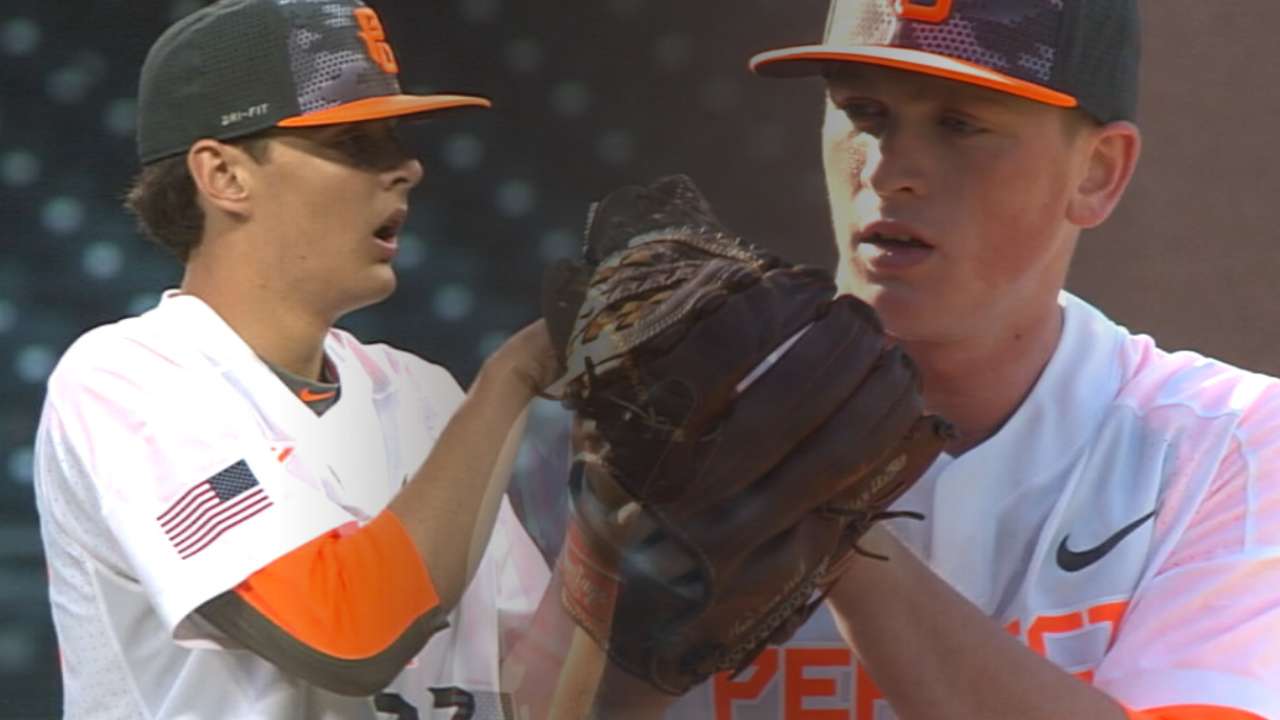 College bats
This appears to be the weakest group in the class. There are 10 college hitters in the Top 50, but right now, none of them seem poised to make a Swanson-like jump to the top of the list in the spring. College outfielders Corey Ray and Buddy Reed might have the best chances to do so, with Reed having the higher ceiling and Ray having the higher floor. There's some power with guys like Arizona third baseman Bobby Dalbec, but it comes with a lot of swing and miss. A year after Swanson and Alex Bregman went first and second and two years after Kyle Schwarber and Michael Conforto went in the top 10, the 2016 crop pales in comparison.
"I don't know this group is as strong as that," the second director said. "Some of these kids are benefitting from the fact that this isn't the deepest class in terms of college bats."
"Usually, I come out of Team USA and say, 'There's my bat,'" the first director said. "I was a little underwhelmed."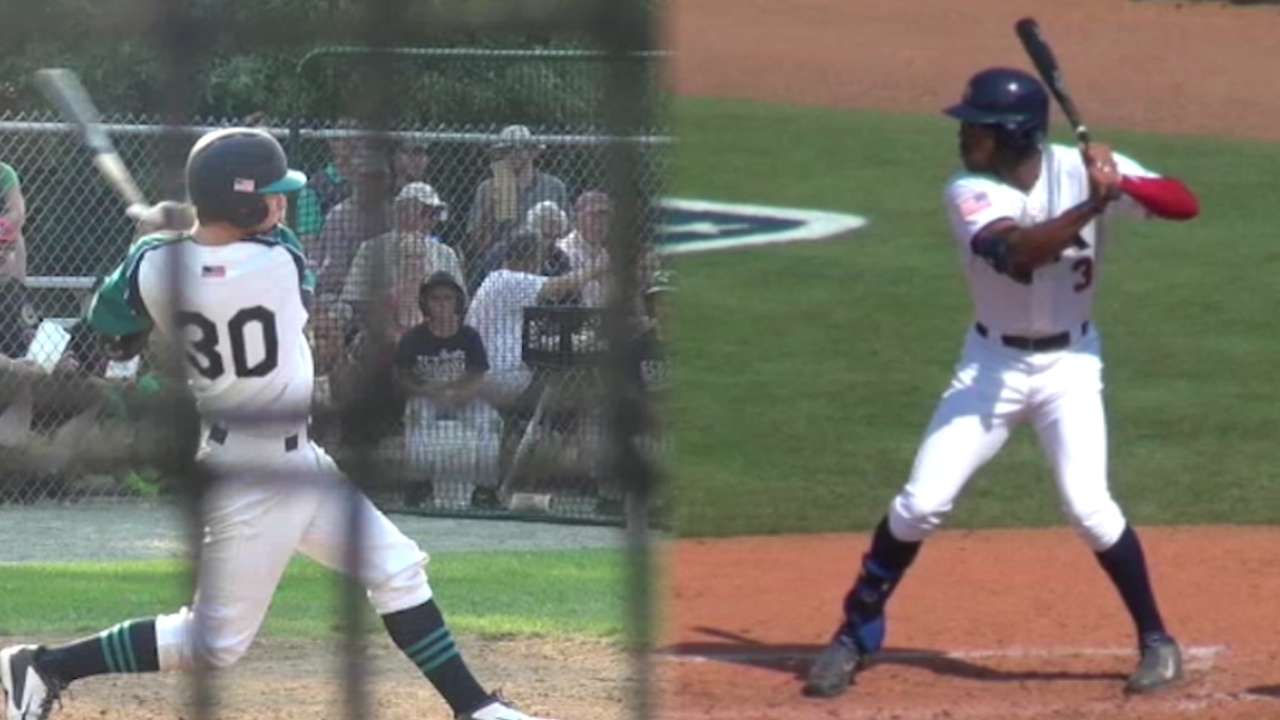 High school bats
Outfielder Blake Rutherford from Southern California tops this list, coming in at No. 6. He's been on the map for a while and is coming off a good, but not great, summer. Rutherford has the kind of all-around tool package, though, where he could emerge in the spring and reach the top of the list. There are pure hitters like Mickey Moniak, another SoCal product, and Drew Mendoza from Florida. And there are "wait and see" type guys like William Benson in Georgia and Avery Tuck in California. In the end, though, there are only nine high school bats on the Top 50.
"When I was looking over the follows, I had more hitters who were high school guys," the first director said. "Will they make it in my top 100, the guys I make sure I'll see? I think I counted 22 high school bats and like 14 college hitters. The rest was pitching. It was about 64 pitchers out of the 100."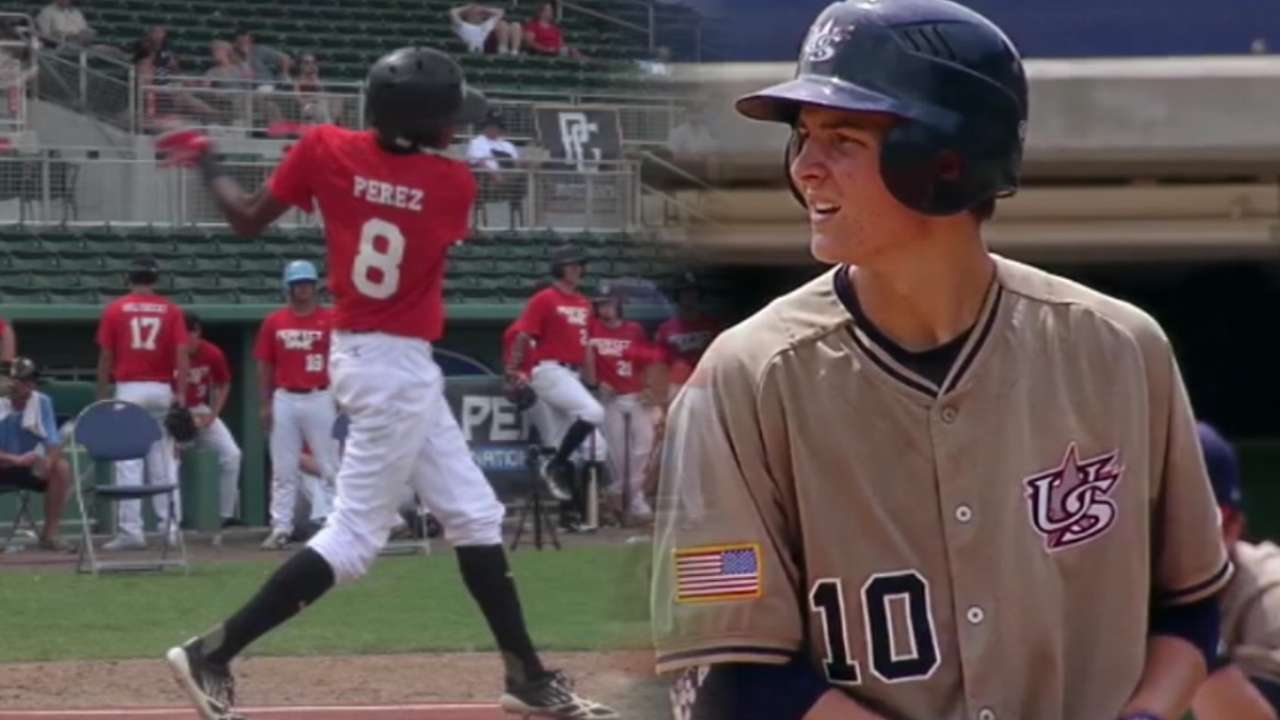 Jonathan Mayo is a reporter for MLBPipeline.com and writes a blog, B3. Follow @JonathanMayo on Twitter. This story was not subject to the approval of Major League Baseball or its clubs.